Holiday Retail Forecast 2014 Part II: Online Presence, Cloud And Mobile, And Small Retailers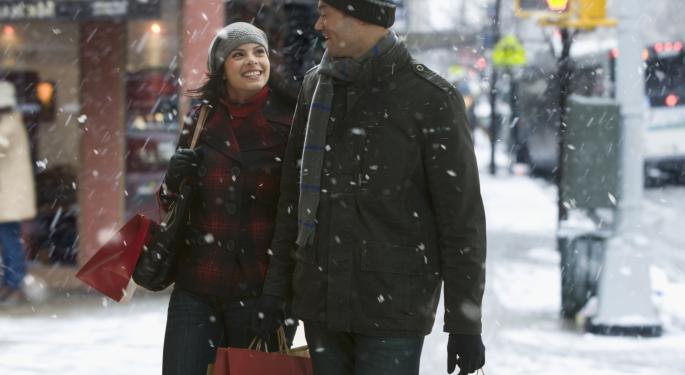 Read Part I of this story here.
MediaFirst Vice President Becky Boyd told Benzinga that online purchases are going to generate more sales than those in-store. The coming sales opportunity means companies' online stores need to be more streamlined and easier to use than ever.
Cleaning Up The Online Presence
Ben Zifkin, CEO of the product information sharing network Hubba, told Benzinga:
"Retailers are ramping up the back-end of their e-commerce sites in order to give consumers a simple, streamlined shopping experience. They're making the maze-like complexities invisible to holiday shoppers by weeding out unnecessary steps, shortening field inputs and providing a clear path to purchase."
Perhaps even more important, companies are working to get their brand image unified across all channels: in-store, online and otherwise.
Related Link: Holiday Retail Forecast 2014 Part I: Industry Predictions And The Importance Of Omni-Channeling
According to Zifkin, retailers must clean up their online presence and make sure product information is completely accurate. Zifkin cited CFI Group, which provides customer feedback insights to companies via analytics, for a chilling statistic: A full 75 percent of digital product information is incorrect.
The Cloud And Mobile
Gordon Russell, founder of point-of-sale (POS) software company Springboard Retail, told Benzinga that companies are moving their POS to the cloud and mobile.
"A move to the cloud gives [retailers] real time data at their fingertips so they see how each store is performing up to the minute, source and optimize inventory across locations, and mak[e] more customers happy and sell more because they can actually see what they have and where it is."
Along with giving up-to-date sales metrics, this can help stores to run more efficiently with all of the holiday foot traffic. As Russell stated, "By adding cloud POS and taking it mobile, retailers can add stations in store to allow them to close more transactions at once, eliminating long lines and wait times and potentially lost business for those who just don't want to wait around."
What happens when the holidays are over?
Russell said retailers "can then scale back when the holidays are done. The benefit of the cloud is that you can throttle up and back as you need and since it's on the web there are no systems or downloads."
How About Smaller Retailers?
Target Corporation (NYSE: TGT), Wal-Mart Stores, Inc. (NYSE: WMT), Best Buy Co Inc (NYSE: BBY) and all the other major retailers have huge consumer demand to look forward to this holiday season, but small retailers also need to take steps to prepare for the mad rush.
Kristi Pawlowicz, owner of Envy Boutique in Evanston, Illinois, revealed to Benzinga a step that she and her store are taking: "For the holidays, we try to find items that are one-size-fits-all and that make a complete gift.
For example, we sell sweaters and complement them with one-size leggings, scarves or necklaces. This way, the gift is complete with trendy items but the gift giver doesn't have to worry about the touchy subject of size. In addition, we don't have to dread returns. Even more, right now the trend in sweaters is loose fitting and oversized. Therefore, it doesn't need to be a 'perfect fit.'"
Whether they're streamlining omni-channel efforts, making their website more efficient, bringing their POS to the cloud or employing other strategies to deal with the holiday season craziness, it's safe to say that every retailer is getting ready. It is probably also safe to say that retailers are hoping sales will be more in line with the National Retail Federation's upbeat forecast than with PwC's gloomier numbers.
Read Part I of this story here.
Posted-In: cloud Envy Boutique holiday retail mobile POSAnalyst Color Topics General Best of Benzinga
View Comments and Join the Discussion!