Are Investors Wrong About Tesla's Model D?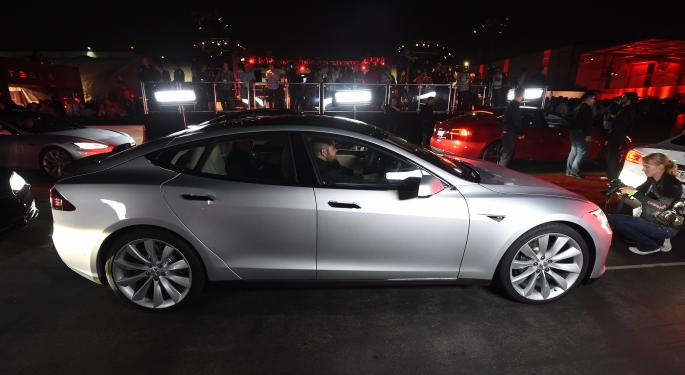 Analysts had a mixed reaction to last night's Tesla Motors Inc (NASDAQ: TSLA) reveal, but are they missing something?
Global Equities Research analyst Trip Chowdhry attended the launch event himself and walked away very impressed. He said investors should have done the same.
"Wall Street has got it wrong," Chowdhry told Benzinga. "Why? Because they haven't experienced the product. They haven't experienced the crowd of 2,500 to 3,000 people who were exuberant. You cannot experience Tesla on a YouTube video."
Chowdhry spoke to "no less than 150 people" at the event who came from all over the United States and Canada (one attendee flew in from Norway). Some were current Tesla customers; others were interested in the new reveal but had not yet purchased a Tesla automobile. "Most of these people were completely enthusiastic about what they saw," said Chowdhry.
Related Link: Analyst Expectations For Tesla 'D' Revealing
Tech industry expert and analyst Jeff Kagan was also impressed. "The technology that Tesla brings to the marketplace goes far beyond the traditional automobile," Kagan told Benzinga. "They're dragging the rest of the automobile industry into the future."
Kelsey Mays, consumer affairs editor for Cars.com, told Benzinga that most people have underestimated the P85D's achievement in speed and acceleration. "It's significantly quicker than [its] competitors," said Mays. "[Achieving] 3.2 seconds, that's pretty insane acceleration. That's well into the realm of Ferrari/Lamborghini territory."
Price Drop Or Market Correction?
Some investors are concerned about Tesla's decline today, but Mays isn't too worried.
"It certainly is going to be a very good play for them in terms of performance," he said. "Shareholders didn't really like it. The stock fell six, seven, eight percent in early trading. That is after it went up six, seven percent over the last week after Elon Musk announced something big was coming. So it's kind of readjusting now to what it…should have been all along."
Related Link: Why Selling Used Cars Could Work For Tesla Motors Inc
No Mainstream Car Yet
"Getting a low price point in the $35,000 range is going to determine the success of Tesla in the next two to three years," Ed Hellwig, executive editor of Edmunds, told Benzinga. "If they can hit that and do that with a car that delivers on people's expectation of what a Tesla has come to mean, that's gonna be the thing that helps Tesla become a mainstream car company."
On the other hand, Hellwig said that if the car is either A) less impressive than customer expectations or B) more expensive than the $35,000 price range, Tesla will "continue to be a bit player in the industry."
Tigress Financial Partners analyst Ivan Feinseth wants a lower-priced vehicle as soon as possible.
"You've got a $120,000 car," Feinseth told Benzinga. "That's an expensive car. They really need to announce and move more quickly to a more mainstream…sub-$50,000 car. Something actually below $40,000, because that will make them a mainstream car company. The market for $120,000 cars is limited. As cool as they are, as cool as Tesla is, that's a little bit of a disappointment."
Don't Expect A Truly Mainstream Vehicle From Tesla
Tesla might release a mainstream, entry-level luxury car, but consumers shouldn't expect a car in the $20,000 range.
"At least so far, they've always presented themselves as a luxury brand," Karl Brauer, senior analyst for Kelley Blue Book, told Benzinga. He noted that even the cheapest Mercedes-Benz (which is supposed to start at $29,995) is transacting at around $37,000.
"The cheapest Mercedes is a high $30,000 car. If [Tesla is] going to be a premium brand and maintain that image and pack those kinds of features into a Model 3 -- if they can do it, then they can price themselves as a luxury brand. And a luxury-branded car for $35,000 to $40,000 that happens to be all-electric and get hopefully 200-plus miles on a charge -- that's mainstream for luxury brands."
Disclosure: At the time of this writing, Louis Bedigian had no position in the equities mentioned in this report.
Posted-In: Ed Hellwig Elon Musk Ivan Feinseth Jeff Kagan Karl BrauerAnalyst Color Top Stories Tech Best of Benzinga
View Comments and Join the Discussion!