5 Analyst Theories On The Tesla Motors Inc 'D' Tweet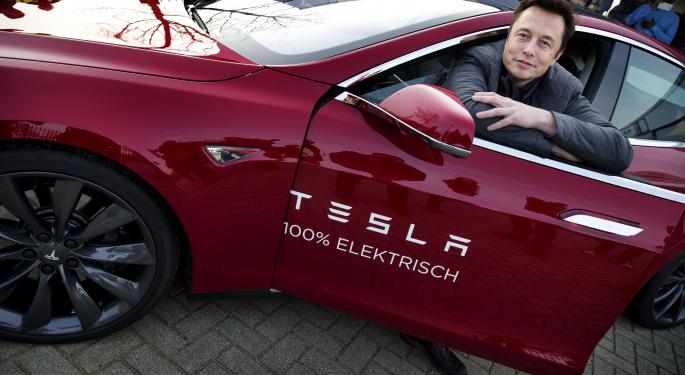 On Wednesday night, Tesla Motors Inc (NASDAQ: TSLA) CEO Elon Musk sent out a tantalizing tweet that sent its shares up and journalists into a frenzy.
The tweet is accompanied by an image of a garage door opening on a car, but only the bottom half of the car is visible.
Benzinga reached out to auto analysts to see what they thought the "D" could be.
About time to unveil the D and something else pic.twitter.com/qp23yi59i6

— Elon Musk (@elonmusk) October 2, 2014
Renamed Model 3
Mark Takahashi, Edmunds.com auto editor, told Benzinga that this could just be a new name for the Tesla Model 3, the automaker's affordable, entry-level vehicle.
The vehicle was originally going to be called the Model E, according to Fortune, but Tesla abandoned its application for the name with the U.S. Patent and Trademark Office after Ford also applied for the rights to the name.
Related Link: Cadillac Needs More Than Just A New York HQ, Experts Say
Tesla then renamed its third generation car the Model 3, but Takahashi said that doesn't make sense with Tesla's naming convention of the Model S and Model X.
"So many they just went on up and went with 'D,'" he said.
Sports Car
It could also be a sports car, according to Tigress Financial Partners Chief Investment Officer Ivan Feinseth.
"I think they're going to round out to an SUV, a sports car and an entry-level car to have more product choices," he told Benzinga.
Truck Or Van
Kelley Blue Book Senior Analyst Karl Brauer told Benzinga he thinks Tesla could unveil some sort of truck or van, since the automaker already has a luxury sedan, SUV and entry-level luxury sedan.
"There were rumblings he wanted to do a truck several months ago, and of course that market, along with the van market, is extremely active right now," he said.
Brauer said a small delivery-type electric van would make sense for small businesses in urban environments where there are already issues with pollution.
All-Wheel Drive Model S
Cars.com Executive Editor Joe Wiesenfelder told Benzinga that speculation includes an all-wheel drive version of the Model S because the teaser photo looks like the existing Model S.
Takahashi, meanwhile, examined the the tweeted image in Photoshop and remarked that it looks like the car in the picture has a fairly wide tire. He said this means that it could either be a smaller, sportier car than the Model S, or just a different version of it.
Related Link: 3 Problems With General Motors Company Moving Cadillac To New York
"One of the theories is that it might be a dual-motor, all-wheel drive Model S, which would make sense," he added. "But from a product standpoint, it doesn't make sense to rename the Model S just because it has all-wheel drive."
Another theory Takahashi and his team had is that the "D" stands for distance, and perhaps, Tesla is about to reveal a long-distance version of the Model S with more battery capacity.
Speculation On Something Else
Musk's tweet also ended with a mysterious "something else" that could be unveiled on October 9. Analysts speculated over this as well.
Feinseth said he wouldn't be surprised if Tesla opened another factory for cars because the automaker needs more manufacturing capacity.
"The gigafactory is for batteries, so they need more factories for making cars," he said.
Takahashi suspects that the "something else" will be a refresh on the Model S. "Elon Musk said that in model year three or four, they're going to do a slight refresh to keep it current," he said.
Disclosure: At the time of this writing, the author had no position in the equities mentioned in this report.
Posted-In: auto Elon Musk Model S Model X TeslaAnalyst Color Analyst Ratings Tech Best of Benzinga
View Comments and Join the Discussion!