Morgan Stanley's Top 5 REIT Picks For Q4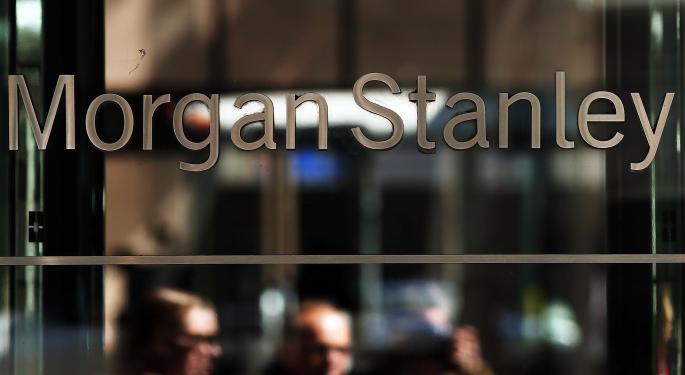 Morgan Stanley has identified some challenges for the REIT sector between now and the end of the year. However, given the head winds facing the sector as a whole, there are a handful of REITs that Morgan Stanley analysts feel deserve a long look as the markets head into the last quarter of 2014.
The REITs selected were: American Residential Properties Inc (NYSE: ARPI), Duke Realty Corp (NYSE: DRE), Spirit Realty Capital, Inc (NYSE: SRC), Taubman Centers, Inc. (NYSE: TCO) and Liberty Property Trust (NYSE: LPT).
Prior to looking at these five REIT contenders a bit closer, here are some of Morgan Stanley's concerns for the REIT sector as a whole.
REIT Sector Challenges
1. Rising interest rate risks.
2. Stretched valuations after strong YTD performance.
3. Slowing internal and external growth outlooks for 2015 and 2016.
4. Pipeline of new equity paper creating a potential oversupply; $2 billion of secondary offerings and $4 billion of IPOs identified by Morgan Stanley in the near term.
Institutions may choose to sell some winners to book profits and recycle capital to invest in new issues. Large, liquid, interest-rate sensitive REIT sectors, which have outperformed YTD, have the potential to be under the most pressure as 2014 winds down.
However, "wild cards" that could change the playing field include: Federal Reserve actions or comments, unusually strong Q3 earnings, and merger and acquisition activity.
A Closer Look At Five Overweight Picks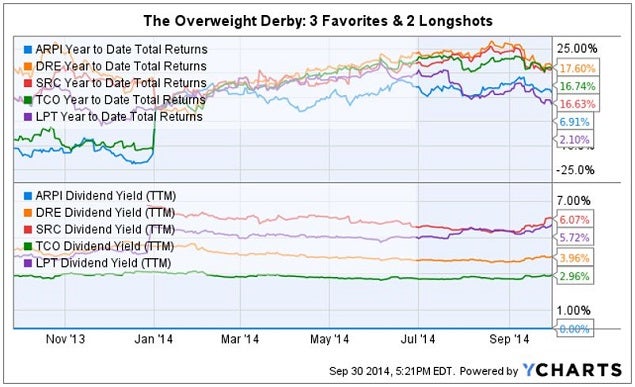 Regarding these five Morgan Stanley picks for the balance of 2014, if this were a horse race, Mr. Market appears to have three "favorites" and two "long shots" in the running for investor dollars.
Long Shot: American Residential Properties
ARPI is a small cap single-family home rental REIT. This is a new REIT asset class with no track record for the business model of buying thousands of single-family homes to operate a rental business.
These homes were acquired after the burst in the real estate bubble a few years ago -- the genesis of this new REIT single-family-for-rent asset class -- and the ARPI portfolio of homes has appreciated significantly since acquisition.
Related Link: Blue Chip Companies Leading On Climate Change
However, this subsector is the worst performing of all REIT sectors YTD. REIT investors are often attracted by a competitive dividend yield, and the single-family rental sector is also at the bottom of the pack when it comes to paying out dividends. American Residential Properties does not pay a dividend.
The ARPI earnings conference call for the quarter ended Sept. 30, 2014 has not been announced.
Favorite: Duke Realty Corp.
Duke Realty, with a near-$6 billion market cap, is the largest REIT focused on industrial assets solely in the U.S. Duke also owns and develops medical office buildings (MOBs), and expects suburban office exposure to be reduced to 20 percent by the end of 2014.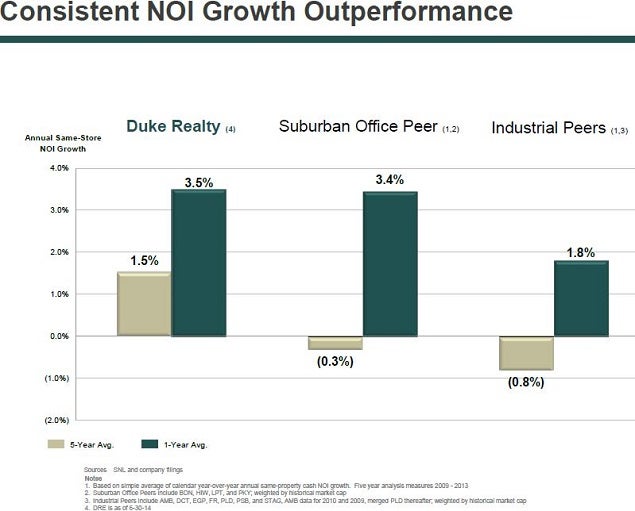 During the Great Recession, Duke focused on developing an MOB portfolio occupied by "A" rated investment grade tenants.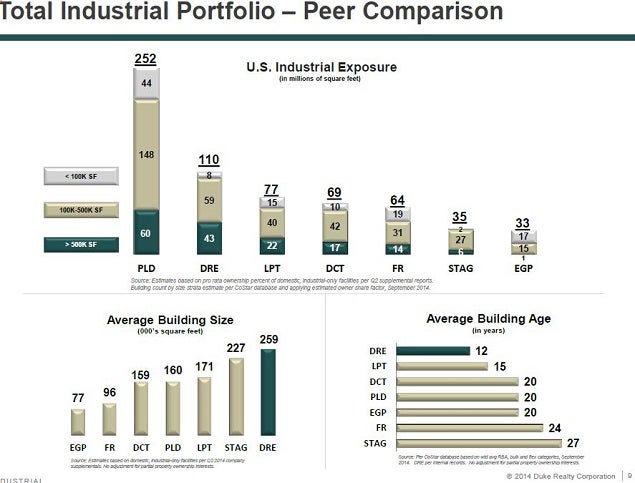 Duke has a "sweet spot" in big box build-to-suit industrial buildings, which has resulted in a portfolio with both the youngest average age and the largest average size.
Duke is not a pure-play industrial REIT and owns land for future development, primarily for industrial/build-to-suit. However, Mr. Market appears to approve of the overall strategies being executed by Duke Realty, as reflected in its leading 17.6 percent return this year.
The Duke Realty Q3 earnings conference call is scheduled for Oct. 30, 2014.
Longshot: Liberty Property Trust
During July and August, Liberty Property shares were downgraded by UBS, Oppenheimer and BMO Capital Markets. Liberty has been the weakest performer YTD with a total return of 2.1 percent, which has resulted in a dividend that currently yields a relatively high 5.7 percent.
Liberty owns and develops office and industrial properties in the U.S. and United Kingdom with a portfolio totaling 103 million square feet. In addition, Liberty owns considerable commercially-zoned land for future development on its balance sheet (about 1,700 acres). It sports a market cap of $5 billion and a BBB investment grade rating.
As of June 30, 2014, average base rent (ABR) by asset type is 49 percent distribution, 39 percent office and 12 percent flex. REITs, which own multiple types of properties, often trade at a discount compared to "pure-play" peers. Both Liberty (at 12.7x), and Duke (at 13.4x), trade below the industrial REIT average of 16.4 times 2015 expected funds from operations.
The LPT earnings conference call for Q3 is scheduled on Oct. 21, 2014.
Favorite: Taubman Centers
Despite many headlines forecasting doom and gloom for regional malls, owners of Class-A mall real estate have performed quite well YTD. In fact, during 2013, Taubman mall sales averaged $721 per square foot -- a record for both the company as well as the entire industry. Taubman has returned 16.7 percent for its investors heading into the last quarter of the year.
Taubman has also led the way for U.S. mall REITs when it comes to pioneering investments in Asia. The company is involved in four large mall development joint ventures in China and South Korea. Taubman is currently developing six properties in the U.S. and Asia containing more than 5.6 million aggregate square feet.
The Taubman Centers earnings conference call for Q3 is scheduled for Oct. 30, 2014.
Favorite: Spirit Realty Capital
Spirit is a member of the single-tenant net-lease REIT space, which includes well known competitors like Realty Income, National Retail Properties, W.P. Carey and American Realty Capital Properties, or ARCP. These REITs own some of the most valuable real estate in the U.S. leased on a long-term basis to credit-worthy tenants.
Spirit Realty owns 2,100 freestanding "operationally essential" properties spread out over 48 states.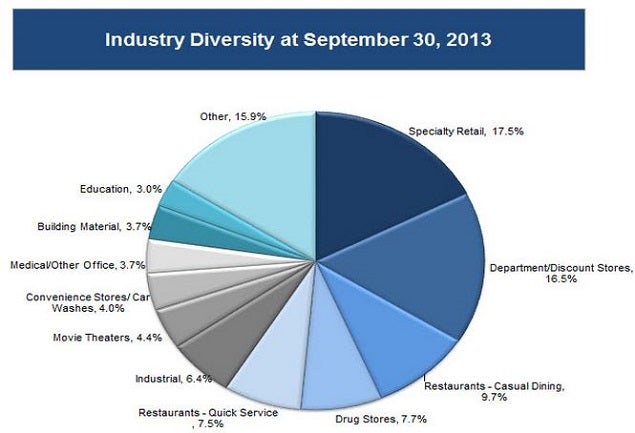 Spirit's top tenants include Shopko, Walgreens, Church's Chicken, Circle K and The Home Depot. In addition to monthly rent, these tenants pay for taxes, insurance and almost all facility maintenance.
Because these are primarily long-term leases, this sector is viewed as being one of the most vulnerable to rising interest rates. The concern being that while income is fixed, the increased cost of borrowing will reduce the growth of cash available for distribution.
However, in many instances these long-term leases include contractual rent bumps or increases based upon CPI (unlike most bonds, an asset class often compared with triple-net REITs).
Spirit Realty has returned 16.6 percent YTD, and is currently paying out a dividend yield of just over 6 percent -- the highest of the Morgan Stanley REIT picks for Q4.
The SRC earnings conference call for the quarter ended Sept. 30, 2014 has not been announced.
Disclosure: At the time of this writing, the author had no position in the equities mentioned in this report.
View Comments and Join the Discussion!
Posted-In: Morgan StanleyAnalyst Color REIT Trading Ideas Real Estate Best of Benzinga