10 Investor Questions About The eBay Inc-PayPal Split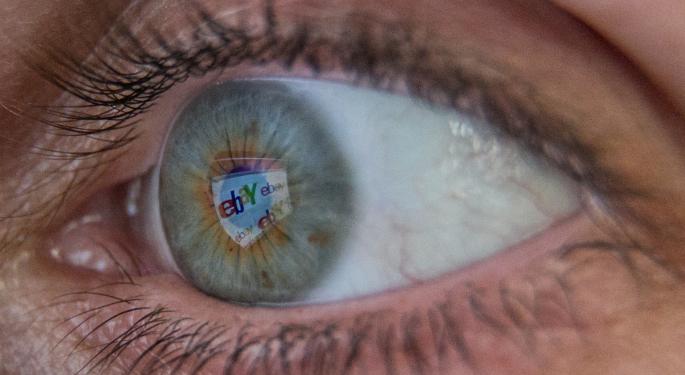 News of the eBay Inc (NASDAQ: EBAY) PayPal split is hitting the market this Tuesday morning. Some analysts have already theorized about the scenario.
Back in March, Robert S. Peck, managing director and Internet equity analyst at SunTrust Robinson Humphrey (STRH), explained his take.
In a research note titled "Should eBay Spin PayPal?," Peck discussed the top 10 questions he'd heard from investors on the subject. Excerpts from his analysis are quoted below; the emphasis is in Peck's original.
Related Link: eBay Inc - PayPal Split: What The Market Thinks
Can you quantify what the difference can be in total asset value with a spin vs. the status quo?
STRH: We think the onus here is on Mr. Icahn's team to provide a detailed breakout of potential asset values, post a spin. There are likely both revenue synergies and incremental costs to gauge, coupled with various valuation multiple scenarios relative to comps. We provide some of our scenarios below.
What exactly is the data that is shared between PayPal and eBay, and why couldn't that be done contractually if there was a spin?
STRH: We believe there is valuable data shared between PayPal and eBay, particularly on the risk modelling side with regards to sellers. However, we would like more clarity on what that data is exactly and whether it could be shared through a contractual agreement.
What Are the Current Revenue Opportunity Costs for Both, if any?
STRH: Are there situations where PayPal loses out on business because of its affiliation with eBay (i.e., 11Main.com or Amazon)? We think there could be, but any clarification would be helpful.
Further, could Marketplaces miss out on any opportunities by not permitting any other payment networks example internationally - Pago, Alipay, etc). Management has noted that CBT for PayPal and Marketplaces is helped by entering the market together and we agree but would look for clarity on why preferred vendor status wouldn't provide a similar lift.
Is a Partial Spin a Good Compromise?
STRH: Investors have also been asking us if a good compromise be a partial spin (20-30 percent) – perhaps that would serve both purposes (still permit data sharing and yet highlight PayPal value)? We think both sides could expound on this question.
Can Capital Structures be Better Optimized?
STRH: If the two different companies can be split, can each company get an optimized capital structure for the respective asset's growth and cash flow profile? Further, perhaps PayPal can be spun with some cash or tap the cheap debt markets to give them a balance sheet to make necessary investments. Lastly, both assets would have their own equity currency.
How Core is Marketplaces to PayPal's FUTURE Growth?
STRH: eBay has been and continues to be a valuable discovery and onboarding partner for PayPal. With the bulk of PayPal's usage and growth being off eBay now (~70 percent of TPV growing 13 percent vs. 14 percent for on-eBay), is PayPal really reliant on the eBay funnel any more or could it expand its funnel if it worked with an even larger number of large merchants?
What are the Incremental Costs if the Assets are Separated?
STRH: Management has stated that the general shared overhead is ~3-4 percent for all of eBay and we would seek to better understand where there are costs synergies and where there may be shared services and how big they are in order to make a more clear assessment of what the increased cash costs could be for separate companies. Also, in considering the possible need to have agreements to share data, we believe eBay and PayPal would likely pay each other for the data, mostly cancelling out the net costs.
How Does the Growth of Mobile and Offline Impact the Decision?
STRH: Two of the driving trends in payments industry are mobile and off line payments growth. Given those large driving secular trends, how does that position the assets going forward (for better or worse).
Competition Dynamics
STRH: Competition in the payments space is increasing – how would a split impact the positioning of PayPal going forward? The tug of war here centers around would PayPal be stronger tied to a larger parent with a balances sheet? Or would a smaller PayPal be more focused, nimble, and able to attract the right talent going forward. This question is at the heart of a spin decision.
Investor Alignment
STRH: With two very different assets being created that have different growth rates and cash flow generation, would a spin allow managements of the two companies the freedom to make better decisions for that particular asset given the support of investors in that asset?
This is a question that investors need to ask themselves, but two different assets would allow investors to invest more appropriately to their style and goals. Both assets could benefit with supportive shareholders.
Disclosure: At the time of this writing, the author had no position in the equities mentioned in this report.
Posted-In: eBay PayPal split Robert Peck Robert S Peck SunTrust Robinson HumprheyAnalyst Color Analyst Ratings Tech Best of Benzinga
View Comments and Join the Discussion!