Analysts React To Google Inc.-eBay Inc. $85 Billion Merger Rumor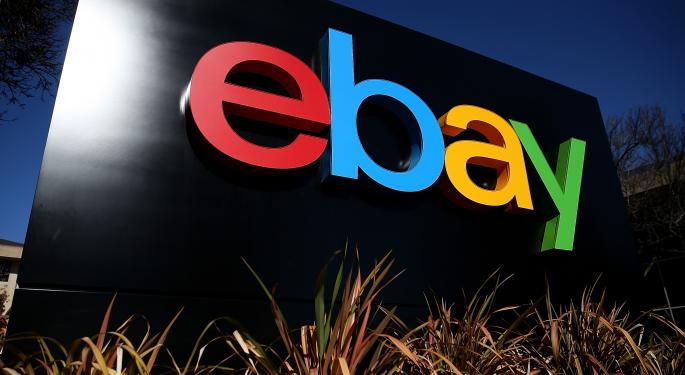 Google Inc. (NASDAQ: GOOG) (NASDAQ: GOOGL) is rumored to be interested in purchasing a 40 percent stake in eBay Inc. (NASDAQ: EBAY) for $85 billion at $68 per share.
Is this possible, crazy or likely to be false?
"I heard the rumor and it just went in one ear and out the other," tech industry expert and analyst Jeff Kagan told Benzinga. "Google is in so many different businesses. It wouldn't surprise me if Google wanted to get into this business as well."
'A Lot Of Money'
Rob Enderle, principal analyst at Enderle Group, said there are times when companies have to make a big bet. "[But] even for Google, that's a lot of money," Enderle told Benzinga.
"The reason to do it though is that eBay is already where Google wants to be. EBay is 'the power' in the industry and overnight that would make Google 'the power' in the industry. It would probably cost them that much to try and compete with eBay and build the same thing. And there'd be a lot of risk they wouldn't succeed. If they can make the numbers work, it wouldn't be a bad idea because it assures that they get to where they want to go."
Enderle isn't sold on the 40 percent number, however.
He said that could break the deal. "For that kind of money they'd want control," Enderle added. "Forty percent (depending on how the other ownership is), while they wouldn't have 51 percent -- which would be absolute control -- 40 percent might effectively give them control. It might give them the largest block of stock in eBay and it might prevent regulatory. If they go to 51 percent they own the company and regulatory kicks in and Google is already under an antitrust cloud. So 40 percent might be to keep them from getting in trouble with antitrust but they would still effectively be in control of the company."
Related Link: Carl Icahn Isn't Happy About eBay's Board Member Rejection
Taking Advantage
Sean Udall, CIO of Quantum Trading Strategies and author of The TechStrat Report, told Benzinga that if eBay does not take advantage of its biggest asset (PayPal), someone else will.
"There is zero doubt in my mind that PayPal is probably worth the vast majority of the market cap that eBay is trading at right now," said Udall. "I do think that eBay has made a mistake in waiting this long to basically spin out PayPal as a separate entity. I kind of see this as a multi-factor deal right now. If eBay is not going to do something with PayPal and really monetize it -- let it run on its own, let it be everything it can be as a standalone entity -- well guess what: the market is going to take care of it."
In addition to Google, Udall said that Microsoft Corporation (NASDAQ: MSFT) may also be interested in acquiring eBay. Udall has serious doubts about the $85 billion figure, however.
He thinks Google is more likely to pay somewhere around $10 billion for a stake in eBay. At $85 billion, Udall believes Google could essentially acquire eBay for a "low premium" on the intraday market cap of $65 billion.
Disclosure: At the time of this writing, Louis Bedigian had no position in the equities mentioned in this report.
Posted-In: EBAY Google Jeff KaganAnalyst Color News Rumors Analyst Ratings Tech Best of Benzinga
View Comments and Join the Discussion!