Chipotle Mexican Grill Strives To Revolutionize Fast Food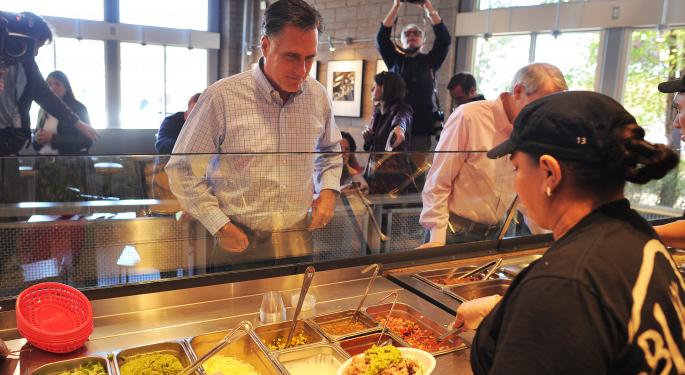 There is no denying the fact that Chipotle Mexican Grill (NYSE: CMG) is on fire.
What the company's co-CEO Monty Moran recently told Brian Sozzi of Belus Capital Advisors is generating some serious buzz over the state and the future of the fast-food and restaurant industry.
"Another way you change fast food is by causing customers to understand how irrelevant traditional fast food is," Moran told Sozzi.
"By traditional fast food I mean where the predominant goal is the cheapening of the raw ingredients, the automation of the work such that anyone could do it that you don't need training so that they turn over their employees without any care for them, where it's a game of value meals and cheapening and cheapening the food experience.
"That is traditional fast food, and we think that's going away. We, and others like us, will replace that."
Related Link: Chipotle Opens Up; Analyst Says Street Comp View Too Low
Does This Mean War?
McDonald's (NYSE: MCD) invested $360 million in Chipotle and was a majority shareholder in 2001. When McDonald's decided to divest itself from non-core assets in 2006, it profited over $1 billion.
When Chipotle was let loose from its majority owner, it embarked on a journey that not many would have accurately predicted and gained a reputation of being the anti-McDonald's.
Chipotle created a new eating culture and still continues to reinvent what fast food is supposed to be: healthier, fresher, better tasting, and free of hormones and additives in its products.
McDonald's could be seen as a dying breed with the same menu, new food items that perform poorly, unhealthy and calorie-dense meals, and most notably a belief that the company uses "pink slime" and other chemicals in its products.
McDonald's denies it uses any pink slime in its Chicken McNuggets, but the fact that millions of consumers believed it to be true is a testament to McDonald's image.
"We are really encouraged by how many other restaurants are trying to do something with responsibly raised ingredients, or organics, or local products, or whole ingredient," Moran told Sozzi. "We are very encouraged by that because we think that the more that folks get into making food that actually matters and is better for you, the more traditional fast food becomes irrelevant and starts to fade away."
The Consumer Responds
When McDonald's reported its second-quarter results on July 22, comparable sales in the quarter were flat, falling short of expectations for a 0.8 percent gain. Meanwhile, same-store U.S. sales fell 1.5 percent, worse than a 0.3 percent decline analysts expected.
Related Link: 6 Of The Most Successful Fast-Food Campaigns Of All Time
McDonald's blamed its negative comparable guest traffic on "ongoing broad-based challenges."
Chipotle reported its second quarter results just a day before McDonald's did. Chipotle's same-store sales rose a staggering 17.3 percent, a notable improvement from the 13.4 percent rise in the first quarter.
In a note to clients in February, Sozzi wrote "unlike Starbucks and McDonald's essentially forcing new items on consumers before there is a demand for them, and slowing their lines in the process, Chipotle believes 'letting you customize the experience' as vital to its ongoing success."
Chipotle is looking to bring its proven strategy and expand to other types of cuisines including, Asian-inspired and pizza concepts.
Posted-In: Brian Sozzi Chipotle Mexican Grill McDonald's Monty MoranAnalyst Color Restaurants Success Stories General Best of Benzinga
View Comments and Join the Discussion!