Why High-Yielding REIT Spirit Realty Capital Is Crushing It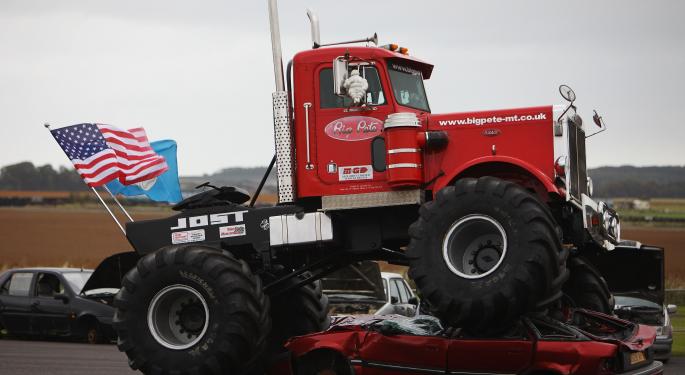 With 10-Year Treasury Notes hovering around historically low rates, investors looking for high-yields have increasingly been turning to companies like $4.67 billion cap Spirit Realty Capital (NYSE: SRC) a member of the triple-net, single-tenant REIT sector.
This sector has handily outperformed the S&P 500 around 8 percent return year to date with an overall triple-net REIT sector average return of 15.4 percent, according to the latest MLV & Co. research report.
An Elegant Business Model
Basically, Spirit Realty provides its customers (corporate tenants) with sale/leaseback real estate financing. REITs in this sector combine their experience in owning and operating real estate with keen credit underwriting to decide which properties to own in return for a long-term net-lease.
In addition to monthly rent, triple-net tenants pay all of the taxes and insurance, and almost all of the property maintenance. This makes the income stream of this REIT asset class very predictable; in fact, some investors even compare these REITs to some lower quality bond yields.
Tale Of The Tape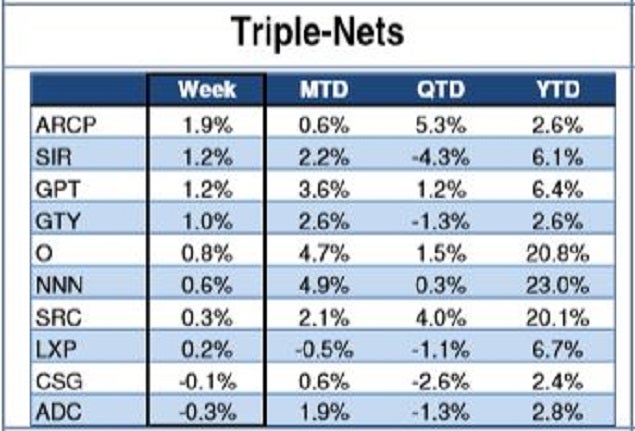 (Table courtesy of MLV & Co. Investment Research - week ended 8/22/14)
This table clearly shows how $4.67 billion market cap Spirit Realty returns compare favorably with sector leader $4.66 billion National Retail Properties (NYSE: NNN) and the much larger industry stalwart, $10 billion cap Realty Income.
Related Link: 530 Reasons To Buy Realty Income
Back in July, Benzinga reported on a Morgan Stanley note that reflected favorably on Spirit Realty Capital in comparison with both Realty Income and National Retail Properties. However, my sense is that when you look at the long-term, very few investors have done well betting against these two horses.
Spirit Realty vs. Smaller-Cap Peers
Smaller REITs can often "move the needle" by acquisitions that are accretive to earnings much easier than larger peers. At first glance, it would seem that Lexington Realty Trust (NYSE: LXP), Chambers Street Group (NYSE: CSG) and Select Income REIT (NYSE: SIR) should all be easily outperforming.
However, larger REITs with well-managed balance sheets are often able to achieve an investment grade rating. This in turn results in lower borrowing costs and increases the spread between cost of capital and acquisition cap rates allowing for consistent growth in FFO, or funds from operations.
Larger REITs are also able to compete for larger asset portfolios to help them grow at rates similar to smaller peers.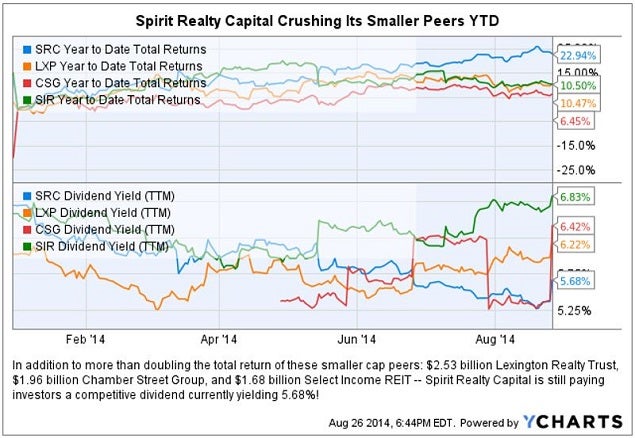 FFO is a metric that REIT investors follow closely, because this cash-flow is the source of funds used to pay shareholders a minimum of 90 percent of taxable income as dividends in order to avoid paying corporate income tax afforded by REIT status. That is one of the main attractions for REIT investors.
In a sense, it all comes down to which management team is able to consistently execute on its strategy when it comes to picking REITs to include in your portfolio.
So What Has Spirit Realty Capital Done Lately?
Through the first six months of 2014, Spirit Realty Capital acquired 190 properties leased in 36 transactions, and the company also raised over $1 billion through a combination of equity and debt offerings.
The Spirit Realty asset portfolio is highly concentrated in the U.S. retail sector. Its top 10 holdings include Shopko, Walgreens, 84 Lumber, Church's Chicken and Circle K.
On August 26, 2014 Spirit Realty reported that its acquisition activity for the first half of the year included businesses operating under prominent brands such as Brookshire Brothers Grocery, Burger King, Chevron, Circle K, Dollar General, Family Dollar, O'Reilly Auto Parts, Planet Fitness, Popeye's, Shell Oil, Sportsman's Warehouse, Twin Peaks and Yard House.
Also, Spirit Realty Capital has acquired real estate leased to surgical and medical imaging centers, as well as successful medical and dental practice groups.
"Approximately 71% of our acquisitions in the first half of 2014 were sale-leaseback transactions in which we purchased real estate directly from a seller and simultaneously negotiated to become its landlord under a long-term lease agreement. Our tenants depend upon real estate that is 'operationally essential' to their businesses; however, they recognize the capital that is tied up in those properties," said Gregg Seibert, chief investment officer of Spirit Realty Capital.
Seibert continued, "By offering the option of a sale-leaseback, we help business owners unlock that capital often to increase their profits, maintain cash flow, and expand. The cash generated from the transaction can be used to repay debt, fund acquisitions, renovate and expand properties, or provide a return to shareholders. We also offer potentially tax-deferred or otherwise tax-advantaged structures to sellers of properties. Many of our tenants have worked with us multiple times over the years as we effectively become their provider of low-cost capital."
This is likely why the single-tenant triple-net REIT business model continues to flourish and provide investors outstanding risk-adjusted yields vs. 10-Year Treasury Notes.
Posted-In: Gregg Seibert MLV & Co.Analyst Color REIT Trading Ideas General Real Estate Best of Benzinga
View Comments and Join the Discussion!