Jefferies Mostly Positive On Retailers Ahead Of Earnings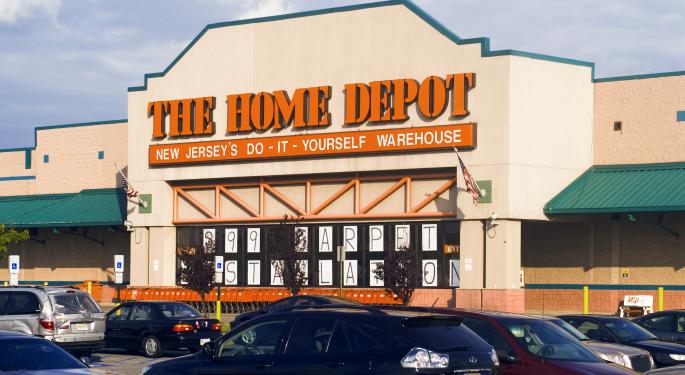 Jefferies analyst Daniel Binder released an earnings preview ahead of major retailers that are set to announce quarterly results.
"We started the second quarter with conservative estimates and early reports have been mixed," Binder wrote in a note to clients on Tuesday. "We generally expect some sequential improvement in Q2 retail sales as weather improved."
The analyst added that comparisons are easier in the second half of the year for the broader group. Coupled with improvements seen in the Fed's Senior Loan Officer Survey yields an optimistic outlook on retail for the second half of 2014.
Related Link: RetailMeNot: Coupons Drive Brand Loyalty & Higher Sales
Macroeconomic & Microeconomic Data Generally Positive
According to Binder, housing data has been "soft," but strong home prices are encouraging and the largest contributor toward home improvement spending and comp store sales in the industry. Mortgage data points within the Fed's Senior Loan Officer Survey has been "encouraging" while the NAHB remodeling index improved in the quarter, as did the Architectural Billings Index.
Home Depot (NYSE: HD) is the recommended name in the home improvement space, as it is a "high quality large cap still playing the recovery in remodel spending."
Kohl's: Expect Flat To Lower Comp Sales
Binder estimates comp sales will be flat to down one percent at Kohl's (NYSE: KSS) which would make an improvement over last quarter's 3.4 percent decline and 2.0 percent decline in the quarter before.
The analyst noted Kohl's implemented several initiatives to improve its sales, specifically, merchandise improvements, introduction of new brands while enhancing marketing and e-commerce are all expected to contribute positively. However, Binder believes that the initiatives Kohl's laid out will have a larger impact in the second half of 2014, especially when the company's loyalty program rolls out nationally in October.
"It takes about three months for a market to see a lift from the loyalty program, so this will likely be a bigger benefit late in Q4 and into next year," the analyst claimed. During Kohl's conference call, Binder is expecting the management team to follow up on previous discussions relating to the addition of a new brand that could improve sales in categories were sales are lagging such as activewear, soft home and men's contemporary. Binder is estimating Kohl's will earn $1.08 per share in its second quarter results.
Shares are Buy rated with a $64 price target.
Dollar Tree: Decent Quarter Expected Following Acquisition News
Binder estimates Dollar Tree (NASDAQ: DLTR) will see a 3 percent rise in comp store sales, which could prove to be the best comps in the dollar store space. Binder added that he is "surprised" that Dollar Tree announced it will enter into a definitive merger agreement with Family Dollar (NYSE: FDO). The analyst believes that Dollar General (NYSE: DG) would realize more synergies with Family Dollar.
"Dollar Tree shares are now trading, in part, on the prospects of gains through the merger," Binder wrote. "We believe the merger could be complex for the company given the usual challenges of integration combined with a required turnaround at Family Dollar." Binder is estimating Dollar Tree will earn $0.64 per share in its second quarter results.
Shares are Hold rated with a $56 price target.
Dollar General: Low Single-Digit Comps Expected
Binder upgraded shares of Dollar General on the prospects of a deal with Family Dollar, which has not yet materialized. This doesn't mean that Dollar General will stay on the M&A sidelines as the analyst believes the company could implement a "consolation prize" with a step up in leverage and share buyback. For the coming quarter, Binder is lowering his comp store sales estimates from 2.5 percent to 2.0 percent. The analyst also revised his EPS guidance from $0.84 to $0.83.
Shares are Buy rated with a $75 price target.
Related Link: 4 Consumer Staples Stocks Trading Higher This Quarter
PetSmart: Online Competition A Headwind
Binder said that he is not enthusiastic over PetSmart's (NASDAQ: PETM) current business outlook, but that doesn't matter as shares are boosted by the presence of activist investors who are seeking a sale of the company.
"PetSmart has struggled in the last year as traffic and comp store sales have decelerated, margins look like they have peaked and we are seeing downward EPS revisions," Binder wrote. "We think macro forces have less to do with the stall in growth and more to do with online competition picking up as free deliver is resonating with pet food shoppers."
Despite the rising e-commerce threat, Binder noted that PetSmart's strong mix of proprietary and exclusive merchandise and services gives the company some protection against online competition. As such, PetSmart's management is guiding toward growing its private label and exclusive sales by double digits over the coming three to five years. In the second quarter Binder is estimating PetSmart's comp store sales will be flat to slightly down and will earn $0.92 to $0.96 per share.
Shares are Hold rated with a $70 price target.
Best Buy: Product Cycle & Turnaround Should Help Second Half
Consumer electronic retail sales "remained lackluster" according to Binder's channel checks and consumer spending data. With that said, Binder believes that a fresh product cycle in the second half of 2014 will help Best Buy's (NYSE: BBY) sales. Potential comp drivers in the second half of 2014 include 4G TVs, mobile and gaming devices.
Binder is projecting Best Buy's online presence to be more noteworthy in the second half of 2014 than it was a year ago. In the second quarter, Binder is estimating Best Buy to see comp store sales decline by 2.5 percent, worse than a 2.1 percent decline previously projected.
Shares are Buy rated with a $38 price target.
Posted-In: 4G TV Daniel Binder dollar generalAnalyst Color Price Target Previews Analyst Ratings Trading Ideas Best of Benzinga
View Comments and Join the Discussion!