Will Netflix Produce Another 'House Of Cards'-Sized Hit?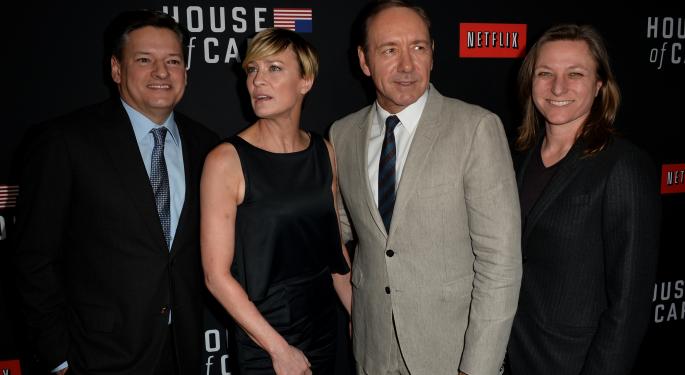 Netflix (NASDAQ: NFLX) has delivered two hit shows: House of Cards and Orange is the New Black.
Several more are on the way, but will any of them have what it takes to live up to House of Cards' legacy?
New Marvel Shows
Netflix is developing five series based on various Marvel characters, including Daredevil. Little is known about these series, but Albert Fried & Company analyst Rich Tullo has high hopes for all of them.
"The Marvel content is likely to be good, but it could go either way," Tullo told Benzinga. "Based on [the success of] Guardians of the Galaxy, [the content] should be good."
Related Link: Will Twitch Overtake YouTube And Netflix?
When looking at the ratings for ABC's Agents of S.H.I.E.L.D, Tullo is a bit more concerned.
"That makes it a little more of a risky proposition, because that doesn't get a lot of viewership relative to what they're paying," he said. "They'll keep it on, but it's not necessarily a huge home run, it's just a show that survived."
Ultimately, Tullo said that if the production values are good, the Marvel shows should work out.
"They are characters that haven't been successful before, but maybe times have changed and they will be successful," he added.
Grace And Frankie
Grace and Frankie (from Friends co-creator Marta Kauffman and Sullivan & Son executive producer Howard J. Morris) sounds like it could be a hit. Unlike Friends and Sullivan & Son, however, Grace and Frankie doesn't have a cast of fresh faces. Instead, the showrunners have chosen to hire Jane Fonda and Lily Tomlin.
"It's gotta be really good to work, because that's not something I would go out of my way to watch," said Tullo.
Chelsea Handler's Talk Show
Chelsea Handler's next talk show will debut exclusively on Netflix in 2016. The news has received a ton of hype, especially after the media hoopla surrounding Jimmy Fallon and Stephen Colbert.
Tullo isn't sure how Handler's show will perform, but he provided a few words of caution.
"Talk shows, in general, don't get huge followings outside of The Daily Show," said Tullo. "So we'll see what happens there."
Marco Polo
Marco Polo is a big-budget drama from The Weinstein Co. and Electus, which are filming the show at Pinewood Studios in Malaysia. Tullo said that they received $30 million from the Malaysian government to build the studio. He noted that while that show is slated to launch in December, shooting only began in July. Historically, the Weinstein brothers don't move that quickly. This worries Tullo, who fears the launch will be delayed and suspects that the project will go over budget.
A possible delay could be hidden within Netflix's own press releases.
"In the last couple of press releases, they didn't…highlight [Marco Polo]," Tullo noted. "It's a bigger show this year that's incremental to the portfolio, and they didn't talk about it in a press release."
Tullo also pointed out that, despite its deal with Netflix, The Weinstein Co. might sell its TV unit. This furthered Tullo's belief that the project will go over budget.
Related Link: 4 Reasons Netflix Will Kill Cable
Arrested Development: Season 5
In 2003, Fox introduced a critically acclaimed sitcom that struggled to find viewers: Arrested Development. The show was canceled after its third season, but fans held out hope for a continuation -- a movie, a mini-series, anything -- in the near future.
Ten years after the show premiered, Netflix picked up Arrested Development for a fourth season. TV critics were much less amused this time around.
"They spent a lot of money on the show, and they refuse to believe it was a failure," said Tullo.
Netflix has not said how many people watched the fourth season (or how many people watch any of its shows, for that matter), but Arrested Development did cause a temporary surge in broadband traffic when it debuted in May 2013. Two months after its release, Netflix CEO Reed Hastings told investors that the show was "not tremendously significant in the short-term" for subscriber growth.
Regarding the reports of a fifth season, Tullo said that the showrunners/Netflix say the same thing every year.
"Depending on [the] schedule, everybody's busy, but it'll happen, we just don't know when," said Tullo. "It was the same quote last year."
Ironically, that is essentially what Netflix content chief Ted Sarandos told USA Today earlier this week.
Disclosure: At the time of this writing, Louis Bedigian had no position in the equities mentioned in this report.
Posted-In: Agents of S.H.I.E.L.D. Albert Fried & Company Arrested Developmet Chelsea Handler commentsAnalyst Color Success Stories Tech Best of Benzinga
View Comments and Join the Discussion!