4 Analysts Agree: Airliner Alpha Potentially Facing A Layover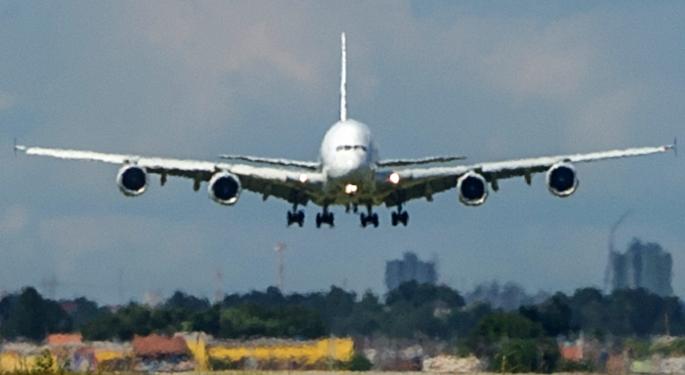 The airline industry has come under pressure on Monday as traders digest information contained within four separate research notes released this morning.
Overall it appears that a slowdown in production coupled with less than expected demand in Asia is putting pressure on major airliners. Singapore Airlines reported last Wednesday that its profits fell on weaker revenues thanks to aggressive competition from budget firms like AsiaAir.
Depressed freight traffic growth and depressed passenger demand growth has caused airliners to fall out of bed with investors.
Sterne Agee noted business jet aircraft for sale increased 6 percent; inventories are also sitting at 12 percent of the global fleet. The first half of 2014 saw deliveries from the big five manufactures increase 17 percent from the first half of 2013.
Second quarter and year over year takeoff/landing data have shown gains of 5 percent each.
Credit Suisse offered the most in-depth review. The Research & Analytics team noted Singapore Airlines faces stiff competition as it continues to succumb to pressure from overcapacity.
Profits fell 71 percent on weak revenues (revs fell 4.1 percent) as more seats were sold at a discount in an effort to fill planes. Asian demand for air travel has not lived up to the expectations of the region's premium airlines, and the demand that is present faces head winds from "highly aggressive budget airlines."
Aero Defense earnings have largely produced upside surprises with eight of the 15 equities highlighted by CSFB beating expectations: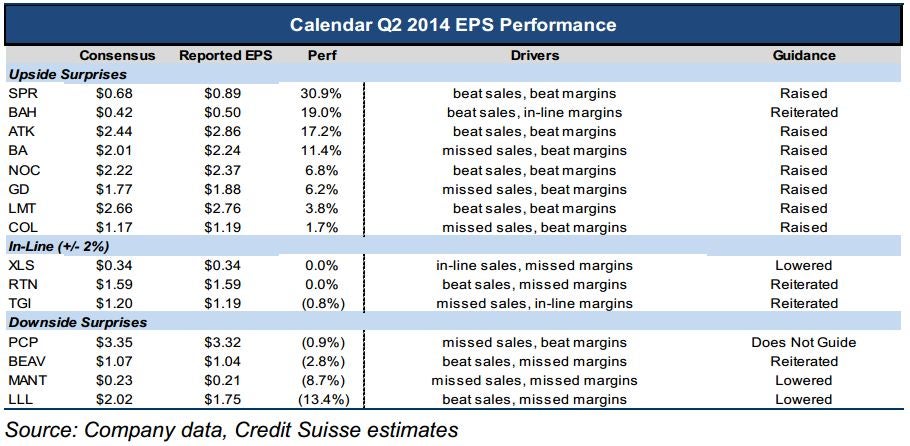 (Click To Enlarge)
Addressing growth for the near-term UBS (NYSE: UBS) says it sees strong aftermarket growth for Q2 and says it sees growth "decelerating modestly" in H2. The record production rates coming out of AirBus and Boeing (NYSE: BA) face sustainability risks.
Deutsche Bank analysts comment that the aerospace industry has returned to 2007 levels in terms of 12-month rolling average aircraft orders from Airbus and Boeing (NYSE: BA).
Boeing is expecting 2014 year over year aircraft orders to increase 12.5 percent before contracting in 2015 and 2016 posting 5.4 percent and 2 percent, respectively.
Ticker
Airline

PRASM Forecast

(In Percent)

(NYSE: ALK)
Alaska Air Group
0.0
(NASDAQ: AAL)
American Airlines
2.0
(NYSE: DAL)
Delta Airlines
3.0
(NASDAQ: JBLU)
Jet Blue
2.5
(NYSE: LUV)
Southwest Airlines
3.0
(NYSE: UAL)
United Continental Airlines
3.0
Airbus sees 2014 total aircraft deliveries increasing 1.3 percent before surging in 2015, 2016, and 2017 by 6 percent, 3.5 percent and 11.7 percent, respectively. Boeing's stock price has disconnected from it's usual correlation to the Book-to-Bill ratio.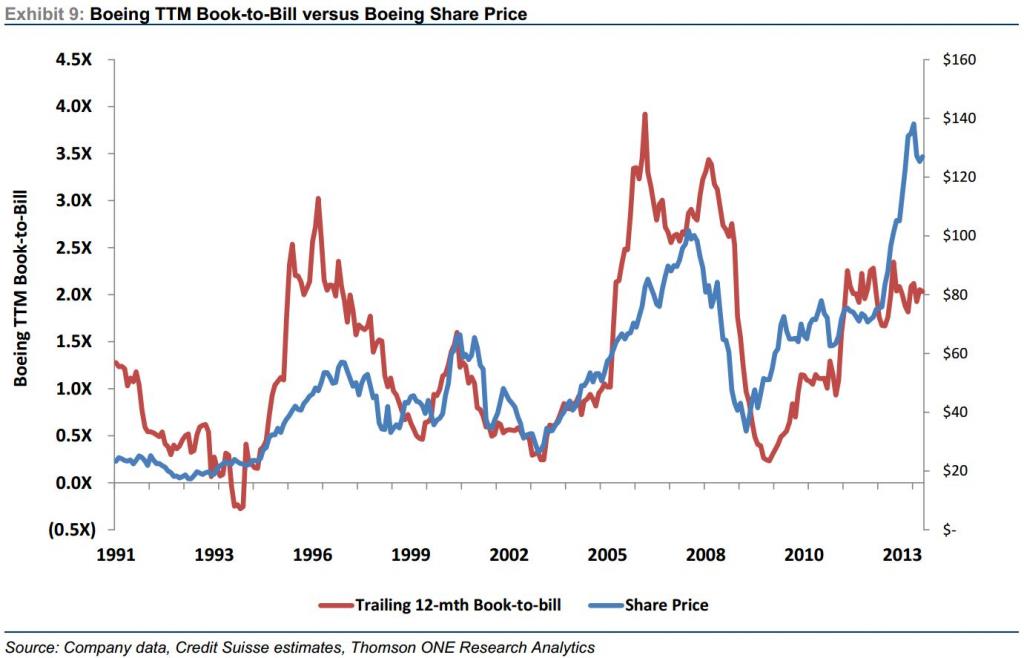 Airliners may benefit from the recent drop in oil prices, but any benefits gained from that windfall may be offset by poor performance and weak demand.
To counter this, companies such as Southwest (NYSE: LUV) have added destinations and others are trying to squeeze space out of already cramped cabins in an effort to boost PRASM readings.
Posted-In: AsiaAir Credit Suisse Deutsche Bank Singapore Airlines Sterne AgeeAnalyst Color Top Stories Analyst Ratings Best of Benzinga
View Comments and Join the Discussion!