2 Airline Startups Picking Up 'Scraps' From Large Airlines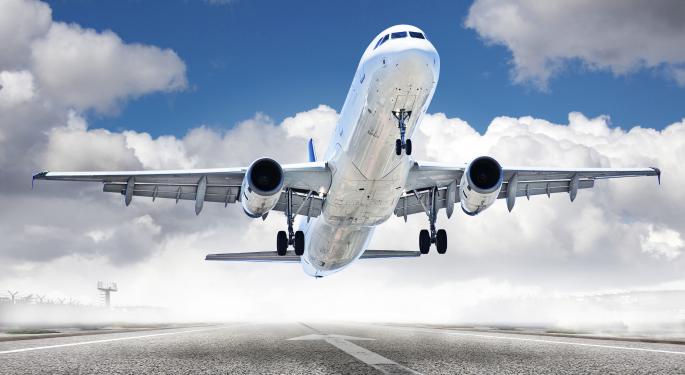 In a recent article, The Wall Street Journal noted that the U.S. airline industry has seen a rise in startups. The newcomers use a variety of business models to try to survive in an industry that has historically not been kind to newbies.
One of the main obstacles to success for many startups, The WSJ said, is the fact that the four largest carriers in the U.S. control 82 percent of domestic capacity, leaving virtual "scraps" for remaining airlines.
Opportunity Knocks
Many new entries see opportunity in areas abandoned by major airlines. Jeffrey Erickson, CEO of low-fare startup People Express, told The WSJ as much, saying, "In one fell swoop, we're replacing those seats [that Southwest cut]."
However, John Thomas of L.E.K. Consulting commented, "I don't think there's going to be success." Thomas noted that the major carriers serve the high end well and that the low-fare space was crowded, adding, "It doesn't leave a lot of room."
Related Link: Intralinks Deal Flow Indicator Predicts Significant Increase In 2014 M&A Volume
Two airlines have taken a different approach in an attempt to beat the odds and avoid becoming part of the startup landscape litter.
Surfair
Featuring 30-second booking, first class service and a novel, first-in-the-industry, "all you can fly" membership plan, Surfair aspires to "Take the pain points out of flying," according to Justin Hart, a senior executive in Memberships & Marketing, who spoke with Benzinga Monday.
One of Surfair's primary attractions, "all you can fly" for one monthly price, has helped the airline pick up 800 members in a little more than a year of existence. Hart likens it to the "Netflix" model and says members can book four flights at a time. Once those flights are over, the member can book four additional flights.
Surfair flies up to 28 daily departures between Burbank, San Carlos, Santa Barbara, Hawthorne and Lake Tahoe, according to Hart.
B2 Aviation
B2 Aviation plans to launch a hybrid membership service similar to Surfair this fall, according to CEO Bernie Burns, who also spoke to Benzinga.
Explaining B2 Aviation's approach, Burns said, "I've always been a proponent of taking some of the elements of private aviation and merging them into the traditional airline startup."
Successful startups, Burns said, will likely follow a similar path, finding a niche and filling it. Like Surfair, B2 Aviation isn't striving to be a low-cost alternative, offering instead what Burns calls simply, "efficiency."
B2 Airlines' membership offering, which hasn't been named yet, will begin with service from Chicago to Harbor Springs, Mackinaw and other Midwest destinations at first. Eventually the company hopes to expand to St. Louis and replicate its model elsewhere.
At the time of this writing, Jim Probasco had no position in any mentioned securities.
Posted-In: B2 Aviation BenzingaAnalyst Color Travel Startups Analyst Ratings Media General Best of Benzinga
View Comments and Join the Discussion!