3 Reasons Video Game Sales Will Decline In 2019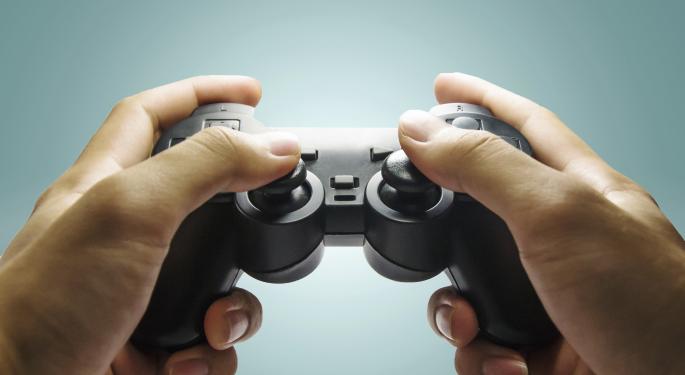 Domestic video game sales increased in May and June, but the upward trend could come to an end in 2019.
Eva Hunyadi, a research analyst at Juniper Research, recently authored a report about the future of video games. While Hunyadi is optimistic about present-day sales, she is concerned about what will happen as the new consoles -- PlayStation 4, Xbox One and Wii U -- begin to age.
"The lifetime unit sales of all three next-generation home consoles, which we gathered from individual company data, shows that the PS4 has sold significantly more than the other two devices," Hunyadi told Benzinga.
Sterne Agee analyst Arvind Bhatia, meanwhile, predicted that the industry will continue to grow in 2015. "I think 2015 is setting up to be a nice double-digit software growth year for the video game industry," Bhatia said in an interview with Benzinga. "That's why all these stocks have been doing well for quite some time."
Related Link: China's Video Game Approval Could Be Worth Billions To Sony, Microsoft And Nintendo
All Things Must Pass
All good things must come to an end, however. Juniper Research believes that while global revenues (from PC and console games) will reach $46.5 billion in 2014, revenues will decline to $41 billion by 2019.
"If you look at just the numbers, you can see that Wii U has sold more than Xbox One," said Hunyadi. "But if you actually put that number into perspective, you can get a very different picture because Nintendo's Wii U had already been on the market for a year when Microsoft released the Xbox.
"Microsoft managed to generate over half of the unit sales of Nintendo's within a significantly shorter time frame," he continued. "So I think the eighth generation, so far, is doing good -- especially Sony. But I don't see right now what would reverse the trend of consoles, PCs and handhelds declining in general."
Lengthy Lifecycles
Hunyadi said that, as the hardware lifecycle progresses, "sales will go down." This is a byproduct of the industry, which is why new hardware is so important. It revitalizes and reinvigorates the industry when consumers tire of old technology.
Unfortunately, game consoles are expensive to produce, so hardware makers are not eager to release new models every five years (the former standard in console development).
"I would say that with the technology of consoles…you just get sort of lost in the same technology for five, six years," said Hunyadi. "I think that's one of the reasons why software sales go down with time. Obviously, hardware providers who want to generate a return on their investments are gonna sell less and less new games on their hardware as the hardware's lifecycle progresses."
Hunyadi does not expect to see any new consoles before 2018 or 2019. If the new consoles follow their predecessors, it could be 2020 or 2021 before the next PlayStation or Xbox arrives.
Cheaper Alternatives
Hunyadi said the increasing competition from other (generally cheaper) platforms -- such as smartphones and tablets -- "will steer players away from traditional platforms." However, this theory hasn't proven to be true just yet.
Ouya (a cheap Android-based console) should have been a smash success, but it flopped at retail. Additionally, smartphones aren't exactly a cheap alternative to traditional game systems. The iPhone 5S retails for $649 -- more than any game console currently available.
It might seem cheap to someone who planned to buy a phone anyway, however. That, of course, could prove to be the industry's biggest threat: the simplicity of playing games on devices that consumers already plan to buy.
Lousy Handheld Games
When the Nintendo 3DS arrived in March 2011, it lacked something important: good games. It also came with a hefty ($250) price tag. Sales didn't improve until Nintendo lowered the price and released new software, but the damage was already done. Instead of setting the stage for record-breaking success, Nintendo disappointed its loyal fans and turned off casual gamers.
"Sales have been going down," Hunyadi said of the handheld market. "Games were mostly … not as good as some core gamers expected." Hunyadi said that, if this trend continues, "then handhelds are definitely losing ground.
"We here at Juniper believe that this trend will continue," she added. Hunyadi also said that PS Vita, Sony's second handheld game system, could be the company's last.
"Unless the company finds a way to improve sales and make these products financially viable, it's not gonna survive," she warned.
Disclosure: At the time of this writing, Louis Bedigian had no position in the equities mentioned in this report.
View Comments and Join the Discussion!
Posted-In: Eva Hunyadi iPhoneAnalyst Color News Rumors Analyst Ratings Tech Interview Best of Benzinga