Should Apple And Google Develop Cross-Compatible Devices?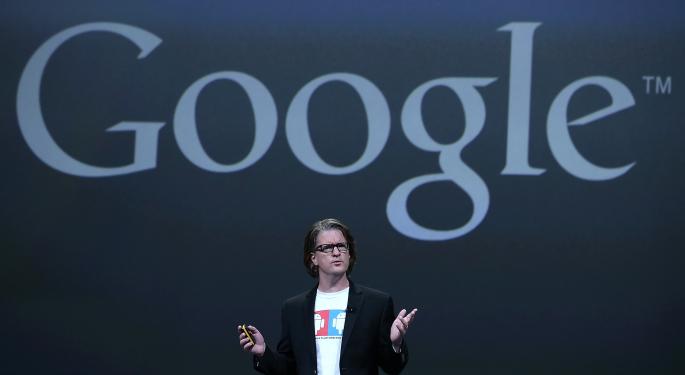 Google (NASDAQ: GOOG) (NASDAQ: GOOGL) made a number of announcements regarding Android Wear, Android TV and Android Auto this week, but cross-compatibility remains an issue for external devices.
"Do you have to buy into all of these pieces to have a good experience, or can you pick and choose?" Jeff Orr, a senior practice director at ABI Research, told Benzinga. "Can you get the automotive component and the watch or a wearable and is that enough?"
Orr, whose research focuses on mobile devices, is very concerned about the lack of cross-compatibility between the Android and iOS ecosystems. He said that these developers continue to face the challenge of finding a sizeable audience that is interested in an entire portfolio of products from one manufacturer.
Related Link: How Will Google's Wearable OS Impact The Stock?
"Even the largest brands, such as Apple or Samsung, have been challenged with that in their own lineups," said Orr. "Maybe one person in a household is buying into a particular brand, but when you go across all members of the family, inevitably you find a mixture of brands and different activities that they want to perform. Having those unique ecosystems of capability and compatibility will probably be the limiting factor for any one vendor's message."
In a nation like South Korea (where Samsung and LG are two of the strongest brands), Orr said that there are families that grew up with one of the two brands.
"Even within that household you start to see the generational separation," he said. "They may have grown up with Samsung in the household, but LG is the one they prefer because they had a good experience with them. Does that mean that Samsung and LG products will work together?"
If it's an Android device, the answer may be yes. But when non-Android devices are added to the mix, compatibility becomes an issue.
"Why can't an Apple TV set-top box work with Android-powered mobile devices and act as an input device or controller?" Orr questioned. "Those are all questions that people do not think to ask when they go looking for a solution. They expect it to just work."
Related Link: The One Thing Google's Smartwatch Needs To Succeed
Google IO
Google held its long-awaited conference this week. It may have lived up to the rumors, but Orr said that nothing "really stood out" for him.
"It's good to see Google put a face to the concept of Android Wear," he added. "[Google showed] what the user experience [should] be like across mobile devices and into new wearables, without constraining developers into making a cookie-cutter product design."
As far as the Android One initiative is concerned, Orr said that it is in no way a departure from Google's existing strategy. In the end, it's all about getting Google's products and services in front of more eyes.
"Whether that's through the integration of the wearables or whether it's supporting the development of smartphone reference designs for emerging markets, I think those are all appropriate activities that continue to extend its broader strategy," said Orr.
Disclosure: At the time of this writing, Louis Bedigian had no position in the equities mentioned in this report.
Posted-In: ABI Research Android Auto Android TV Android Wear Apple Apple TVAnalyst Color Tech Best of Benzinga
View Comments and Join the Discussion!