Twitter Finally Warms Up To Wall Street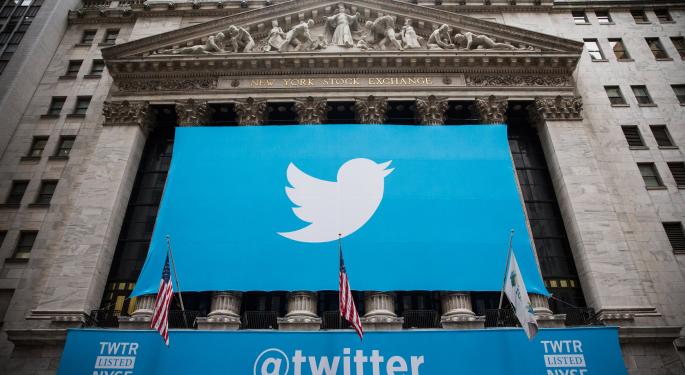 Sometimes Wall Street analysts get it wrong, but sometimes they get it right.
On many occasions, analysts chase the price of an issue by raising its price targets until they find the top.
However, this was not necessarily the case with Twitter (NYSE: TWTR) off its IPO in November. Many analysts were still licking their wounds from misjudging the reaction of Facebook (NASDAQ: FB) off its IPO, and remained on the sidelines during its ascent from $38.80 to $74.73 in its first two months of frantic trading.
Trading Action On The Day Of Lock-up Expiration
Instead, several analysts remained on the sidelines and did not attempt to make calls on the issue until after its first lock-up period expired on May 6. As the issue swooned from its May 5 close of $38.75 - coincidentally within $0.15 of its low during its first week of trading -- to its all-time closing low on May 7 ($30.66), analysts were happy they had not joined in on the initial frenzy in the issue.
Related: Did Tyson Really Win The Hillshire Takeover Battle?
Then, with short interest at record levels and the only stock to borrow for a short commanding ridiculous rates, the Street joined in force to revive the issue.
Wall Street Comes To The Rescue
SunTrust Robinson Humphrey was the one of the first firms to defend the issue, upgrading it from Neutral to Buy on May 12. That action instigated nearly a two-point rally, from $32.05 to $33.94. That rally faded out, and the Upgrade by Pivotal Research -- from Sell to Hold -- on May 14 did little to reinvigorate it.
Also, the upgrades over the next two days by Atlantic Equities ,from Underweight to Neutral with a $35.00 price target, and by Wunderlich from Sell to Hold with the same price target, did not catch the Street's attention -- as the issue wallowed in the $32.00 handle.
Two days removed from its new all-time closing low ($30.51), Nomura Securities upgraded Twitter from Neutral to Buy and maintained a $43.00 price target. As a result, Twitter rallied over three points ($30.51 to $33.77). The following day another upgrade by Cantor Fitzgerald, from Hold to Buy, only boosted the issue another $0.23 for a close at $34.00.
Related: Takeover Whispers Add To Achillion Pharmaceuticals' Momentum
Once again, Twitter was unable to sustain its gains and flopped back to $31.75 over the next two trading sessions, to settle at $31.75. As the issue drifted back to the mid $32.00 range, Pacific Crest initiated coverage on June 4 with an outperform rating and the shares still had a muted reaction, only rallying from $32.58 to $32.90 on that day.
With Analysts On The Sidelines, The Real Rally Takes Place
As Twitter quietly rallied from that level to $34.47, Wells Fargo was the last firm to join the party -- and it upgraded Twitter from Underperform to Market Perform on June 10. Off this news, Twitter rallied nearly another $1.00 to close at $35.37.
After Wall Street had made their case for the issue, Twitter rallied from the mid $35.00 range to as high as $38.55. Once again, within striking distance of the low from its first week of trading at $38.80.
What Will Drive Twitter Even Higher?
Now that the rally in Twitter appears to be pausing, with back-to-back closes on Monday and Tuesday at $38.02, coupled with decent volume at the level in Wednesday's session, what can move the issue higher?
Perhaps the recent trend of bottom fishing of former momentum stocks by investors will be enough to raise the issue back its closing price from its first day of trading at $44.90. Alternatively, more Wall Street analysts could join in and raise its ratings on the issue and attract more retail and/or institutional buying.
In absence of one of these catalysts, it just may take a good old fashioned earnings beat next quarter to build on the upward momentum Twitter has gained since bottoming on May 7 at $29.51.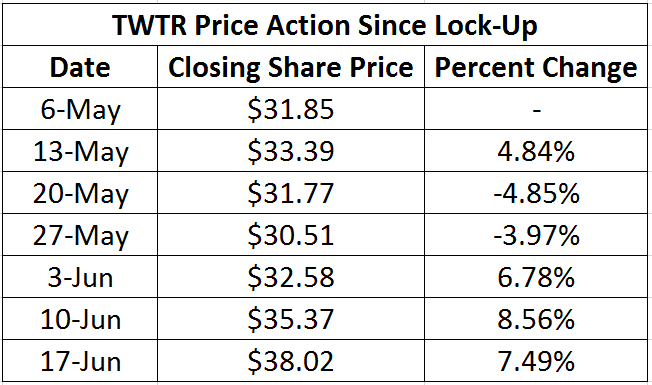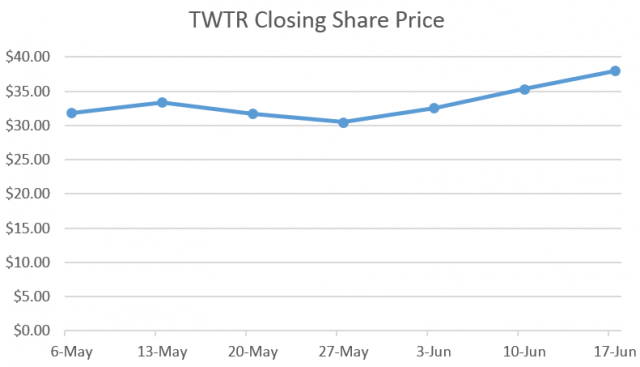 Posted-In: initial public offering IPOAnalyst Color Technicals Analyst Ratings Movers Tech Trading Ideas Best of Benzinga
View Comments and Join the Discussion!