Will Destiny Be The Biggest Game Launch In History?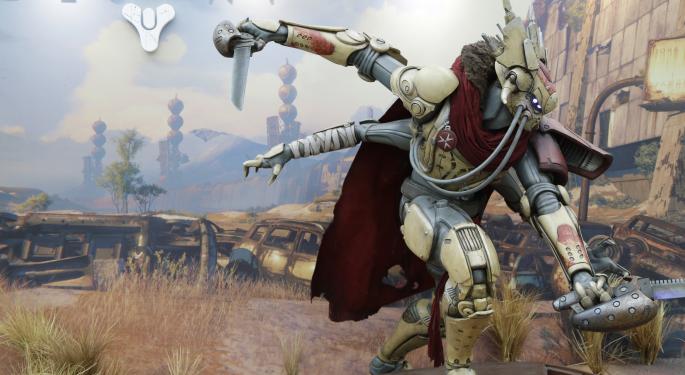 Activision (NASDAQ: ATVI) could set a new industry record by teaming up with Bungie, the creator of the Halo franchise.
Bungie is one of the most respected developers within the video game industry. The company was once owned by Microsoft, which used the Halo franchise to launch and promote the first Xbox. Without that game, Microsoft Game Studios might be in a very different place right now.
Rumors claim that Bungie also got the attention of Apple co-founder Steve Jobs, who was once thought to be interested in acquiring the firm. It could be difficult to picture Apple as a game developer, but consumers might have thought the same thing about Microsoft before Halo was released.
Related Link: Activision Could be a 'Natural' Buy for Microsoft
Activision has so much faith in Bungie that it will spend as much as $500 million to develop and promote its next game, Destiny.
Bobby Kotick, Activision's CEO, recently promised that Destiny will deliver the biggest new IP launch in history.
"You take that with a grain of salt, but I sat in on the 20-minute showing of it, followed by 10 minutes of hands-on gameplay, and I can tell you that it is extremely impressive and it will do very, very well," Hilliard Lyons analyst Jeff Thomison told Benzinga.
Thomison said that he believes people are "salivating" for Destiny's release.
"It's just a great-looking game, and what Activision is excited about is they're trying to capture all ages here," said Thomison. "With the young folks they've got the Skylanders franchise. With the more mature, experienced gamers they've got the Call of Duty franchise. This Destiny franchise is sort of in between."
It might have what it takes to set a new sales record.
"There [are] huge, massive fans of Bungie," Thomison added. "They're sort of among the elite of the elite. And here's a game they've been working on for three or four years. People are so excited about it. The Halo franchise is really no longer much of a threat. It's still around but it's not Bungie and it kind of died in terms of how good it was. People are so excited about this [new] franchise. It's insane."
Disclosure: At the time of this writing, Louis Bedigian had no position in the equities mentioned in this report.
Posted-In: Activision Bobby Kotick Bungie comments Destiny HALOAnalyst Color Tech Best of Benzinga
View Comments and Join the Discussion!