3 Stocks To Watch After Strong Earnings Reports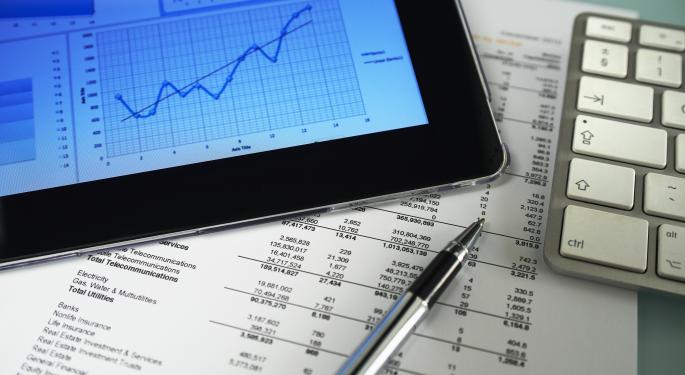 The U.S. stock market recorded healthy gains last week and the S&P 500 closed at a new all-time high on Tuesday. Stocks have been in a bull market now since the lows of March 2009, but the investment landscape has certainly become more difficult in 2014.
As the bull market continues into a fifth year, investors have become more discerning about the equities that they own and stock picking is back en vogue. Correlations in the stock market and other asset classes have been falling and risk assets are no longer rising in lock step.
The variance in returns between different sectors in 2014 has been fairly significant. For example, the energy sector has risen nearly seven percent versus a loss of four percent for industrials.
Related Link: 6 Stocks That May Be Worth Buying Right Now
In order to continue to generate positive returns, active investors have been looking for specific situations that have an attractive risk/reward profile. One way to pinpoint potentially attractive trading opportunities is to bet on companies that have recently reported strong earnings.
Cracker Barrel (NASDAQ: CBRL) - The Lebanon, Tennessee based restaurant company has been a phenomenal stock to own over the last couple of years. This stock broke out of a long-term range in the summer of 2012 and it has been off to the races ever since. Over the last five years, shares have risen better than 219 percent with the vast majority of those gains coming in two years' time.
One of the main catalysts behind the stock's big move has the been the efforts of Sardar Biglari whose Biglari Holdings (NYSE: BH) owns a 20 percent stake in the company.
The activist investor recently lost a proxy fight with the Cracker Barrel. Biglari was pushing the board of directors to pursue "extraordinary transactions," or an outright sale. He also wanted the company to attempt to amend Tennessee law so that he could potentially purchase the restaurant chain himself.
Although Biglari's proposals were rejected by a wide margin, the investor's sabre rattling in recent years has contributed to the stock's huge rally.
Last Wednesday, Cracker Barrel released its quarterly earnings results. The company reported third-quarter net income of $28.73 million or $1.20 per share, compared to $24.60 million or $1.02 per share, in last year's corresponding period. On an adjusted basis, EPS was $1.23 compared to analysts' consensus estimates of $1.22.
Sales in the quarter came in at $643.30 million from $640.41 million last year. This also came in ahead of Wall Street revenue estimates of $642.87 million. Although Cracker Barrel's sales growth certainly was not that impressive, the stock may be able to continue its rally in the coming weeks after the beat on both the top and bottom line.
Michael Kors (NYSE: KORS) - This has been another phenomenal stock. Since going public in December 2011, Michael Kors has been the unquestioned standout among high-end retail equities. The company has a market cap of over $19 billion and the stock has tripled in recent years.
Michael Kors released its fiscal fourth-quarter earnings results last Wednesday morning, beating Wall Street estimates. The company reported earnings per share of $0.78 on sales growth of 53.6 percent to $917.45 million. This easily beat analysts' consensus estimates calling for EPS of $0.68 on revenue of $816.15 million.
Despite the extremely impressive results, the stock is actually down slightly since the company reported last week. In fact, shares have lost more than three percent over the last five trading days. Now might be a good time to buy this best-in-class retailer at a discount.
The other stock that investors will want to keep a close eye on in the wake of the results from Kors is competitor Coach (NYSE: COH). To a large extent, Michael Kors' success has come at the expense of Coach, which has been getting trounced.
Year-to-date, Coach shares are down around 30 percent and the company reported an abysmal 21 percent decline in same-store sales last quarter. Analysts at Morgan Stanley opined in a May 12 report that they believe a long-term shift in market share from Coach to Michael Kors is continuing.
The rivalry between the two high-end retailers is centered to a significant extent around the market in high-end handbags. In their report, the Morgan Stanley analysts noted that Kors' handbags continue to lead the way in Google searches -- which is bad news for its rival.
Toll Brothers (NYSE: TOL) - Housing stocks have been fertile ground for active investors in 2014.
The housing market has been sending mixed signals in recent months and this has triggered increased volatility in a whole host of different names. The sector has been a strong performer over the last couple of weeks as a couple of different economic reports suggested that the housing market may be on better footing than some economists had assumed.
Despite fears about a slowdown in home sales, both existing and new home sales rose in April compared to March. New home sales came in slightly better than expected while existing home sales fell just shy of consensus estimates.
Toll Brothers, among the largest U.S. homebuilders, released its quarterly earnings results last week on Wednesday. The company reported net income of $65.22 million or $0.35 per share, compared to $24.67 million or $0.14 per share, in last year's corresponding period. Sales were $860.4 million versus $516.0 million last year. This came in ahead of Wall Street analysts' consensus estimates calling for EPS of $0.26 on sales of $827.83 million.
Despite the very strong results, the stock actually sold off on the news. Year-to-date, Toll Brothers is down around three percent and well off of its highs. Nevertheless, this could be a name to buy on the expectation that the real estate market will continue to recover in the coming years.
View Comments and Join the Discussion!
Posted-In: Coach Cracker Barrel Housing Market Michael Kors Morgan StanleyEarnings Long Ideas Trading Ideas Best of Benzinga