'Watch Dogs' Reviews Are In - Is It A Hit For Ubisoft?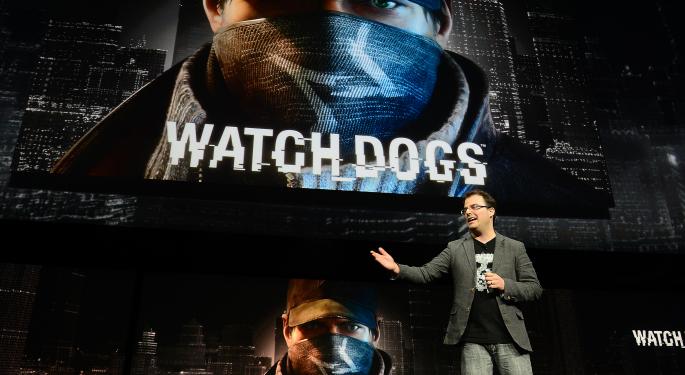 Ubisoft's (OTC: UBSFY) open-world action/hacking game, Watch Dogs, has finally arrived, allowing dozens of embargoed reviews to flood the Web.
The PlayStation 4 version currently dominates with 32 reviews and an average score of 82.5 percent on GameRankings.
Metacritic found similar results with 44 reviews tallied for the PlayStation 4 version.
Watch Dogs has not performed as well on Xbox One, but only a handful of reviews have been counted. Thus far, this iteration has received an average of 78.75 percent on GameRankings (out of four reviews) and 78 percent on Metacritic (out of seven reviews).
No one seems to have reviewed the PlayStation 3 or Xbox 360 versions -- likely because the media wants to focus on the next-gen editions first. The Wii U version does not currently have a release date, so investors should not expect a review of that one any time soon.
Related: Are Massive Xbox One 'Titanfall' Sales To Blame For Xbox 360 Game Delay?
On the PC, Watch Dogs' average currently stands at 81 percent on Metacritic (out of six reviews) and 76.75 percent on GameRankings (out of four reviews).
Both sites are owned by CBS Interactive (NYSE: CBS).
Sales Impact
Reviews are thought to have a bigger impact on the sale of video games than they do for any other medium.
This could be due to the high cost ($59.99 for a new game versus $10 for a movie ticket or music download), as suggested by The Wall Street Journal. But it may also be due to consumer tastes, which often appear to be in-line with those of major video game blogs and websites, such as IGN.
Game publishers take reviews very seriously. In addition to publication embargoes (which the media routinely honors, even in the worst of circumstances), some companies base their decisions on critical scores.
In 2008, Microsoft told Edge Online (then known as Next-Gen) that Xbox Live Arcade games could be de-listed if they receive a Metacritic score of less than 65 percent. That was only one factor -- the game would also need a conversion rate of less than six percent to be eligible for de-listing. Even so, this move showed that the industry is paying attention to what reviewers say.
Just Like An Assassin
If investors are wondering how Watch Dogs will perform, they might want to look at Ubisoft's biggest franchise: Assassin's Creed.
Related: Xbox One Price Cut Will "Split The Market" Between Microsoft And Sony
The first Assassin's Creed received an average GameRankings score of 82.92 percent (out of 80 reviews) on Xbox 360, the preferred version. On Metacritic, 77 reviewers gave it an average score of 81 percent.
Watch Dogs seems to be following a similar path.
There isn't any data to show that the reviews influenced how Assassin's Creed performed at retail, but the game sold roughly 11 million units.
"Good Enough"
Michael Pachter, the Managing Director of Equity Research at Wedbush Securities, said that Watch Dogs' initial scores are "pretty much in line" with what he expected. He said they shouldn't have much of an impact on sales.
"A review score between 80 [and] 89 is 'good enough' for a game to sell really well," Pachter told Benzinga. "Most big sellers are rated in the 80s. Only a handful of games get 90+ scores."
Pachter doesn't do first-week sales projections, but he said that he expects Watch Dogs to sell five million units during the quarter.
Disclosure: At the time of this writing, Louis Bedigian had no position in the equities mentioned in this report.
Posted-In: Assassin's Creed CBS CBS Interactive comments Metacritic Michael PachterTop Stories Tech Best of Benzinga
View Comments and Join the Discussion!