Hewlett-Packard Earnings Preview: Analysts See Strong PC Sales, But Are Still Not Impressed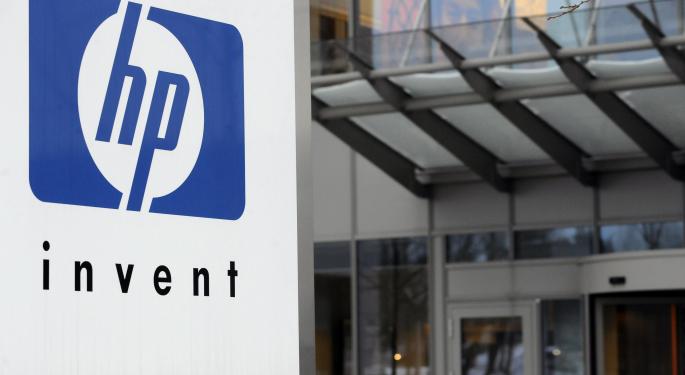 Hewlett-Packard's (NYSE: HPQ) earnings for the quarter are expected to come in at $0.88 per share, just 1.15 percent higher than the same quarter last year.
However, Hewlett-Packard beats EPS estimates almost every quarter.
Revenue is projected to be $27.42 billion for the quarter, a 3.31 percent year over year drop.
Credit Suisse
Credit Suisse sees revenue of $27 billion generating $0.87 per share of EPS for the quarter. Analyst Kulbinder "While the company has achieved stability and improved the cost structure,"analyst Kulbinder Garcha writes, "anemic IT spending and long-term structural issues are likely to keep a lid on earnings power."
Kulbinder also sees strong PC sales helping the top line. According to Gartner, PC sales are up 2.1 percent year over year.
Credit Suisse currently has a Neutral rating on the company, with a $30 price target.
Mizuho Securities
Abhey Lamba of Mizuho expects revenue to be in-line, but sees upside potential on EPS, with it ranging from $0.88 to $0.90.
Like Credit Suisse, Mizuho sees strength in the company's PC business.
"HP's results will benefit from continued strength in commercial PCs," he said, "which would help on the pricing front as well. The strength in commercial PCs will likely offset continued weakness in consumers. However, expectations for the PC performance seem to have taken into account the improving conditions in the PC segment."
Mizuho also has a Neutral rating and $30 price target on Hewlett-Packard.
Related: Will Hewlett-Packard Surprise This Earnings Season?
Wells Fargo
Wells Fargo is much more bullish on HP than other analysts, and has a $38 to $40 price target on the company based on ten time forward PE.
Along with positive remarks on the PC business, Wells Fargo commented, "We believe business critical systems and technology services will likely continue to see moderating yr/yr declines. We expect enterprise services to be roughly in line with our forecasts for six percent yr/yr revenue decline and 3.0 percent operating margin with improving margin through FH2."
Deutsche Bank
Sherri Scribner of Deutsche Bank likes that the company significantly increased its stability, but wants to see proof that HP can expand its business.
Regarding the turnaround, Scribner writes, "Over the past two years HP has undergone significant restructuring actions and has made tremendous progress right sizing its cost structure, having reduced headcount by 28,000 or more than eight percent. In addition, HP has stabilized its PC business and printing continues to be an attractive source of cash flow, giving HP the financial flexibility to re-invest and re-tool more strategic segments."
Like most analysts, Scribner expects strength in the PC business. However, while most analysts see a downturn in printing, she sees it as a cash cow. Additionally, the note implies that she is more comfortable with the business' stability than her peers.
Deutsche Bank currently has a buy rating and $40 price target on the stock. The price target is based on ten times forward earnings.
Posted-In: Abhey Lamba Credit SuisseAnalyst Color Earnings News Analyst Ratings Tech Press Releases
View Comments and Join the Discussion!