Is Macau Casino Growth A Sure Thing?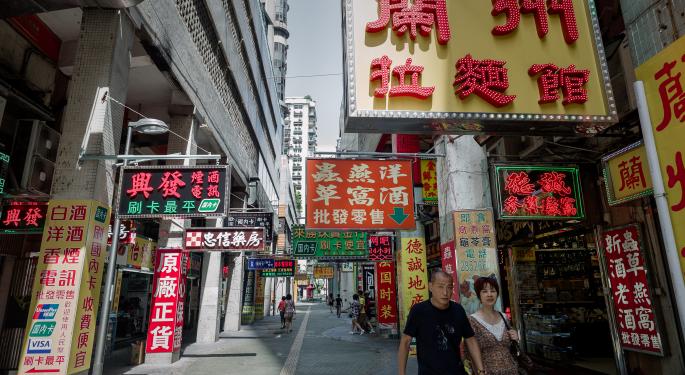 Macau is home to the world's largest gaming market and the preferred gaming hub of the rapidly expanding Chinese wealthy class.
Located just one hour away from the financial center of Hong Kong, Macau, a former Portuguese colony, offers wealthy gamblers a choice of several top notch gambling resorts and facilities to chose from.
Luckily for investors, exposure to this lucrative and rapidly growing market is easy to invest in and should provide high returns for years to come, right?
Not so fast, says Praveen Choudhary of Morgan Stanley, who lists three major areas of concerns that could hamper growth.
Chinese Crackdown On UnionPay
Casino stocks were hit hard on May 8 when Chinese authorities seized China UnionPay cards that were illegally used in casinos in Macau.
Many Chinese gamblers would use UnionPay cards to conceal gambling activity by sneaking currency from mainland China into Macau. A Chinese gambler would lend items to a pawn shop in exchange for Macau's currency. On this news, shares of Las Vegas Sands (NYSE: LVS) dropped more than six percent, MGM (NYSE: MGM) gave up almost five percent and Wynn (NASDAQ: WYNN) was down more than four percent.
Related: Casino Stocks Crash On Chinese Crackdown
According to Choudhary, if gambling funds from pawnshops using UnionPay cars are no longer an option for a gambler, the premium mass segment could decline.
"Since premium mass contributes more than 30 percent of EBITDA for the market, we think that could have a negative impact on profit and stock prices for stocks under our coverage," Choudhary wrote in a note to clients on Tuesday. "Mass table yield, measured in revenue/table/day, could drop from $25,000 for premium mass to $9,000 at grind mass tables, a 64 percent decline."
Disappearance Of A Macau Junket
The Wall Street Journal reported on May 2 that a Macau junket figure who is believed to owe investors up to $1.3 billion has disappeared.
Macau, unlike other gambling hubs like Las Vegas, depends on junkets who bring in high-spending gamblers (or "whales") to the casinos from mainland China and issue them credit and collect players' debts in exchange for commissions.
The Chinese government sets limits on how much cash a citizen can take out of the country, even to a Special Administrative Region such as Macau.
Macau's junket operators rely on hundreds of investors for capital, leaving some investors worried of a pending "liquidity crisis." The disappearance of the junket and investors losing out on more than $1 billion could reduce the confidence of the entire Macau gaming system.
"Despite reports that the incident mainly involves side-betting, which is excluded from the reported numbers, it affects the VIP market as a whole, as both side-betting and the money being played on the tables come from the same source of working capital," Choudhary wrote.
According to Choudhary, VIP revenue growth in April slowed to just one percent after growing 12 percent in the first quarter of 2014.
Choudhary believes that the disappearance of the junket operator could be a one-time event and investors will move their money from smaller junkets to larger ones.
Nevertheless, growth in the VIP segment is not guaranteed. Choudhary is projecting the segment growth could contract up to five percent, or grow up to five percent.
Transit Visa Concerns
As a result of a recently discovered loophole in the transit visa system, the length of stay for Macau visitors will be shorted from seven days to three days.
Many VIP players come to Macau for three to four days, thus creating concerns for the casino operators. The less time a VIP player is allowed to stay in the region, the less time they will have to play high-stakes baccarat or $100,000 a hand blackjack.
"These visas are normally used by junkets/agents that need to be in Macau to serve their customers," Choudhary explained. "We believe this could increase the cost of running the junket business, thus a negative for the return profile for junkets."
Bottom line, Choudhary recently visited the Macau region on a "fact finding" mission and concluded that most of the casino operators believe the recent news flows will have a limited impact on the region's revenue and growth. However, Choudhary found that the junket operators are taking a more cautious approach.
Posted-In: casinos Chinese Gamblers Macau Praveen-ChoudharyAnalyst Color Travel Global Analyst Ratings Best of Benzinga
View Comments and Join the Discussion!