British American Tobacco Looks At Possible M&A Deals With Reynolds, Lorillard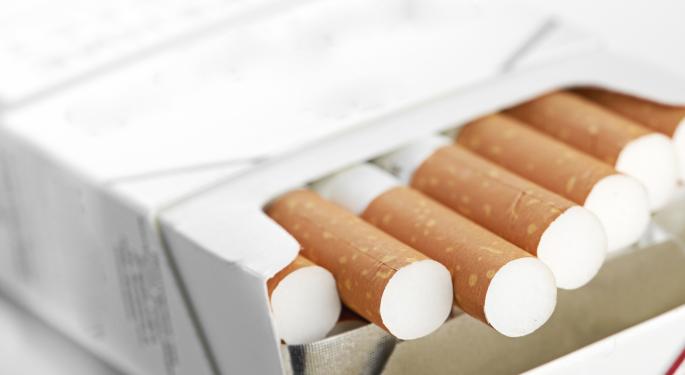 The Times of London on Monday reported that British American Tobacco (NYSE: BTI), Britain's largest tobacco group, asked Deutsche Bank to work with UBS regarding possible financial deals in the United States.
The article stated that British American Tobacco hired the banker to advise the company on possible acquisitions and deals. The Times listed possible opportunities with Reynolds (NYSE: RAI) and Lorillard (NYSE: LO).
Is Lorillard A Better Bet?
Following the report, Societe Generale issued a note stating that Lorillard is a higher quality company than Reynolds. The analyst wrote that British American Tobacco, who owns approximately 42 percent of Reynolds, turned down a deal this year as the companies did not have enough synergies due to a lack of comparable geographies.
Societe Generale added that speculation over the possibility of Reynolds American merging with Lorillard to create a strong U.S. position, "may have changed British American Tobacco's Company's thinking."
Related: Hillshire Brands Acquires Pinnacle Foods
Lorillard currently has 15 percent of the market share in the United States. Despite being significantly smaller than Reynolds, the company holds the number two strong premium Newport cigarette brand and the top U.S. e-cigarette brand. Societe Generale reported that British American Tobacco may believe that it could introduce two brands internationally.
The analyst prefers British American Tobacco to look at emerging markets for mergers and acquisitions. Societe Generale specified the tobacco company to look at Indonesia or even buy out Brazil and Malaysia minorities.
Premature Timing For A Deal
Bank of America analyst Lisa Lewandowski on Monday wrote that news of a potential merger with Reynolds or Lorillard is not new news. She commented, "Anticipated further consolidation of the global tobacco industry as well as LO's attractive market position with Newport makes it an appealing takeover candidate in our view. We would highlight that we have no knowledge of such merger and believe that the timing could be premature given that the issue of menthol remains unresolved by the FDA."
Approximately 75 percent of Lorillard's sales last year were made up of menthol, with over 85 percent of profits. Lewandowski remarked that if an entity were to acquire Lorillard, they would have to be "very comfortable" with the menthol situation in the United States. If British American Tobacco were to merge with Lorillard, they would own approximately 70 percent of share in menthol. The analyst wrote, "We expect that its menthol share would likely be deemed too high for government regulators."
Bank of America raised the price objective on Reynolds American and Lorillard from $57.00 to $60.00, expecting market rotation and the companies "strategic" premium to continue.
"There's a Lot Going On"
On March 3, 2014, the Financial Times reported that Reynolds American hired Lazard. Lazard was hired to analyze the financials and other needs for a possible bid for Lorillard. Reynolds declined to comment on the rumored bid for Lorillard.
Over a month later, British American Tobacco CEO Nicandro Durante said that the company would never go to Reynolds with a hostile bid.
CNBC's David Faber on April 29 commented that Reynolds "may be trying to sell menthol brands before pursuing Lorillard....There's a lot going on."
Stock Action
Shares of Lorillard are up more than 16.5 percent year-to-date. The stock jumped to $55.26 on March 4, following news on the rumored bid for Lorillard and saw some sell-off. Shares continued a gradual climb in the past months. Lorillard closed at $58.59 on Friday and is currently trading at $59.41, up 1.40 percent.
Reynolds American common stock is up more than 15 percent year-to-date. Shares gained more than 18 percent from February 19 to March 4, hitting $56.31. The stock closed at $56.32 on Friday and is currently trading at $57.74, up 2.52 percent.
Posted-In: Analyst Color Rumors Financing Price Target M&A Events Global Analyst Ratings
View Comments and Join the Discussion!