Analysts Almost Unanimously Bullish On Candy Crush Maker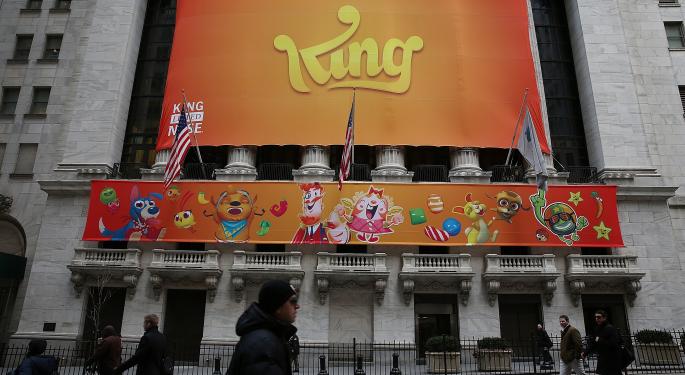 King Digital Entertainment (NASDAQ: KING) on February 18 filed for a $500 million IPO on the New York Stock Exchange. King is best known for its extremely addicting Candy Crush app.
King saw its net profit surge to $567.6 million in 2013 from $7.9 million in 2012. The company derived most of its revenue from Candy Crush users paying at least $0.99 for additional lives or special moves.
Needless to say, investors were hungry for a King IPO.
Shares opened for trading on March 26 at $20.50 after pricing its IPO at $22.50, as investors and traders questioned the company's $6 billion+ market cap.
Shares continued to sell-off over the following trading sessions and established a 52-week low of $15.84.
The "quiet period" came to an end on Monday, as analysts and research firms were permitted for the first time to initiative coverage. A total of nine firms established bullish ratings while only one firm established a Neutral rating.
Despite a more than five percent surge in shares of King to $18.90 on Monday, there is still some catching up to do before returning to the $22.50 IPO price.
Related: BlackBerry To Proceed With $278 Million Real Estate Sale
Deutsche: It's Good To Be The King
Lloyd Walmsley, research analyst at Deutsche Bank sees more risk to the upside than downside, despite a largely valid negative sentiment.
"We see sentiment as skewed to the negative and view the risk/reward as compelling given 54% upside in our bull case versus a 33% downside in our bear case (most investors' base case)," Walmsley wrote in a note on Monday. "The stock is likely to be highly volatile, particularly when King reports 1Q results, with Candy Crush Saga in its second quarter after peak. Given extreme volatility likely, we recommend bulls step in with eyes wide open, knowing the downside could be severe in the event of (1) a failure to ramp new games and/or (2) a faster-than-expected decay of Candy Crush."
Looking past the first quarter, Walmsley paints a different picture and sees long-term trends as highly favorable.
Walmsley notes that the smartphone install base will grow to three billion in 2016 (from approximately one billion today), with gaming the top category for mobile downloads and revenues. Given the fact that King derived 70 percent of its 2013 revenue from mobile, the company is likely to benefit from a continued smart-phone adoption.
Walmsley notes that King isn't a one-trick pony and has developed games across multiple platforms, including desktop with Royalgames.com, games for the Facebook platform and games for mobile devices.
King has an ability to spend heavily in marketing initiatives, which could come in handy given the company's under-penetrated status in high growth markets such as Japan, South Korea and China.
Shares are Buy rated with a $27 price target.
Credit Suisse: Well Positioned For Growth
Stephen Ju of Credit Suisse believes that King is appropriately positioned to benefit from a continuing trend of smart-phone adoption and the surge in demand for games on these devices.
"Smartphones and tablets are the dominant modality of play for King's games, and with nearly one third of the consumer's time spent on mobile on games, the company is highly levered to the proliferation of connected devices, more so than traditional video-game publishers," Ju wrote in a note on Monday. "Additionally, King's development strategy allows the company to remain platform agnostic in the event of a shift in consumer preferences."
While Deutsche's Walmsley estimates smart-phone users will total three billion globally in 2016, Ju notes that the video-game industry will reach $100 billion globally by 2017, of which 60 percent will be online.
Ju is not only forecasting online gaming to outpace the growth of the overall gaming market, but King may already be performing better than video game publishers such as Take-Two Interactive (NASDAQ: TTWO).
According to Ju, King's gross bookings in 2013 totaled $1.98 billion versus Take-Two Interactive who generated $1.95 billion in sales in the same time period.
King's bookings compare "quite favorably" according to Ju, who notes that Take-Two Interactive booked an approximate $115 billion development cost for Grand Theft Auto V, a $500 million royalty payment to Rockstar and a five-year development cycle.
"When taking these factors into account, it is likely that Candy Crush is multiples more profitable than Grand Theft Auto V as well as other top selling console franchises," Ju wrote.
Shares are Outperform rated with a $28 price target.
Barclays: King Is Different
Christopher Merwin of Barclays believes that King is a stand-out in an industry that is full of competition and low barriers to entry.
"We believe King stands out as a business that has created a sustainable competitive advantage through an industry-leading player network that it can leverage to cross-promote its new games and further diversify its revenue mix," Merwin wrote in a note on Monday. "Since the IPO, fears about the revenue concentration from have weighed on the Candy Crush Saga stock. However, our checks already show greater title diversification in 1Q, as King has been successfully cross-promoting titles like Farm Heroes Saga."
King's market-leading base of 304 million users creates an "under-appreciated" competitive advantage for King which results in a lower cost per install and creating incremental revenue streams.
Merwin explains that King has three titles in the top 10 charts on both Android and Apple app stores. These games include the classic Candy Crush, Farm Heroes and Pet Rescue.
According to Merwin's checks, bookings for Farm Heroes grew to 14 percent of total revenue in the first quarter and haven't reached its peak yet. Farm Heroes will continue to contribute a larger portion of King's revenue, which will result in Candy Crush's revenue contribution falling to 55 percent at the end of fiscal 2014 from 64 percent in the first quarter.
Shares are Overweight rated with a $23 price target.
Piper: Not So Fast
Michael Olson of Piper Jaffray is the lone analyst not to initiate coverage of King with a bullish rating, for the time being.
Olson notes that King's massive mobile user base presents a "significant revenue opportunity" over the next decade, but that is no reason to jump into the stock.
"We would become more construction on the stock with better diversification away from Candy Crush or after a further pullback," Olson wrote in a note on Monday.
Olson, like his peers, can agree that the mobile gaming market is rapidly growing with emerging markets such as China presenting opportunities that can partially offset declines in established markets.
According to Olson, King's management team will be forced to address investor concerns that bookings and profit are too dependent on its cash-cow Candy Crush.
Unless management is able to provide evidence that growth is a possibility in 2014 and 2015, valuation is simply too high, according to Olson. Olson notes that shares are trading at around a 5x 2015 EBITDA estimate, compared to the group trading at an 8x valuation.
Olson notes that Zynga (NASDAQ: ZNGA) is trading at a 12x 2015 EBITDA estimate, and as such modest declines in Candy Crush may already be factored in to the stock price.
Elsewhere on the Street
JP Morgan initiated coverage with an Overweight rating and $30 price target.
RBC Capital initiated coverage with an Outperform rating and $24 price target.
BMO Capital initiated coverage with an Outperform rating and $25 price target.
Stifel initiated coverage with a Buy rating and $22 price target.
Cowen initiated coverage with an Outperform rating and $31 price target.
Pacific Crest initiated coverage with an Outperform rating and $21 price target.
Editor's note: This article was originally published on Monday, May 5, 2014 and was updated on Tuesday, May 6, 2014.
Posted-In: Candy Crush Christopher Merwin Grand Theft Auto King Digital Entertainment King IPOAnalyst Color Initiation Analyst Ratings Best of Benzinga
View Comments and Join the Discussion!