Trade Review Of Taminco Corp: The Ultimate Trading Range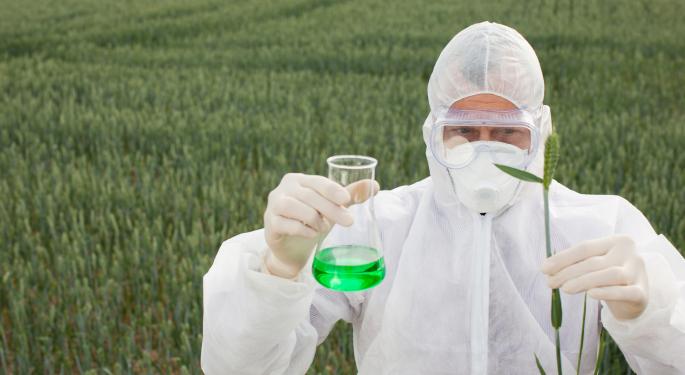 Taminco Corp (NYSE: TAM) presents a fantastic opportunity to get in at a great entry price to swing-trade its incredible trading range.
TAM is a specialty chemicals stock. Specialty chemicals have been quite good for some time now (see: POL, DOW), though TAM doesn't seem to move with the space. While that would appear to be a negative, considering TAM has been lagging behind leadership in this industry by a considerable margin, what the stock has developed is much more intriguing from a trading standpoint.
Since June of 2012, TAM has been trading a sideways range. That is no typo; this trading range from roughly $19.50 - $23-ish has been going on for nearly a year. TAM has never closed above $23, nor has it ever closed below $19.
When looking at the range a little more closely, there are a few characteristics that are worth noting.
First, while $23 is definitely the "top" of the range, $22 appears to be a significant "hurdle" price. $22 proved to be a firm resistance level in late-November, mid-January and more recently in early April. So while $23 marks the top, $22 is a more likely area to target as a sell point, as TAM tends to struggle with this price.
Second, the "bottom" of the range is subject to interpretation. Closing-basis support looks to be very strong at $19.50, though the stock did close below that level a few times back in November and December, and has dipped below on an intraday basis on numerous occasions. The de-facto "bottom" on a closing basis is $19, though the stock tends to respond to the $19.50 support favorably. In 2014, $19.50 has been the line in the sand.
Related: Can The Blue Chips Continue Moving Up With All Of This Destruction?
Based on the characteristics of this trading range, the most appropriate levels here seem to be a target of $22, with a stop at $19. One great thing about TAM is that it trends in a fluid manner, maneuvering to and testing each important price level before making its way to the other. This gives a fair amount of predictability to the direction moving forward, as the stock tested and held $19.50 two weeks ago, based, and is beginning to trend higher again.
TAM is at a very favorable entry point for a swing trade to $22. From a buy at current prices, a run back to this price would produce a gain of +8.70%. Should TAM close below $19.50, it might be best to sell and err on the side of caution, limiting the downside risk of this setup to -3.75%. This makes the reward to risk ratio comfortably above 2:1.
Trading ranges usually aren't very hard to find, but TAM is a special case. The range has been going on for nearly a year, is clearly defined, and the stock looks to be starting its journey from one end to the other. We'd hop on at current prices for a ride up to $22. Perhaps then, we'd even take a second look and consider a short back the other way.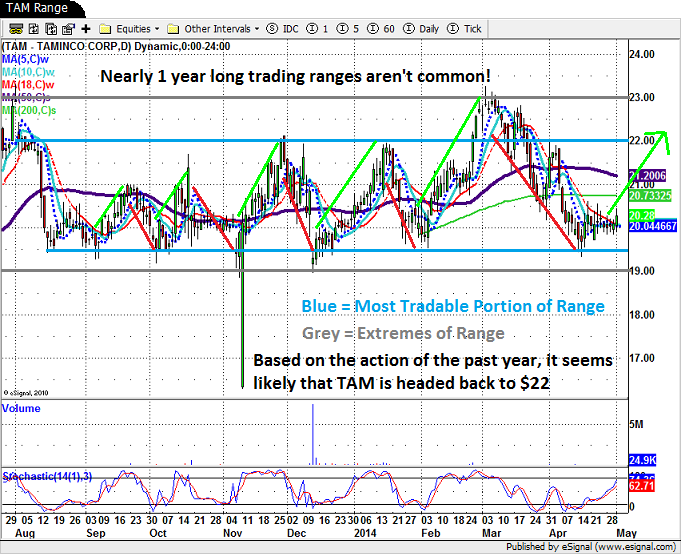 For more free, daily swing-trading ideas and set-ups, check out SoTM's Trade of the Day hosted on Marketfy
Entry Method:
Buy at the current price (~$20.25).
Exit Method:
Sell at a close below $19.50 (Breakdown) / An intraday price of $22.00 or above (Profit-Taking)
Company Profile:
Taminco Corporation is a producer of alkylamines and alkylamine derivatives. The Company's products are used by its customers in the manufacturing of everyday products primarily for the agriculture, water treatment, personal and home care, animal nutrition and oil and gas end-markets. It operates in 19 countries with seven production facilities and, as of Dec. 31, 2012, had an installed production capacity of 1,272 thousand tons. The Company has three business segments: Functional Amines, Specialty Amines, and Crop Protection. In March 2014, the Company announced that it completed the acquisition of the formic acid business of Kemira Oyj.
Stock Rating:
The Stock Rating indicates the combined score of our proprietary Earning Strength and Company Performance models. The rating scale is 0 - 10 with 10 being the highest.
Disclosure:
At the time of publication the editor and affiliated companies own the following positions: None
Note: Positions may be bought or sold while this publication is in circulation without notice.
Tags: Specialty Chemicals Industry
Posted in: Analyst Color Long Ideas Education Technicals Analyst Ratings Trading Ideas General Best of Benzinga