Belus Capital's Brian Sozzi: Nike Should Take Hints From Under Armour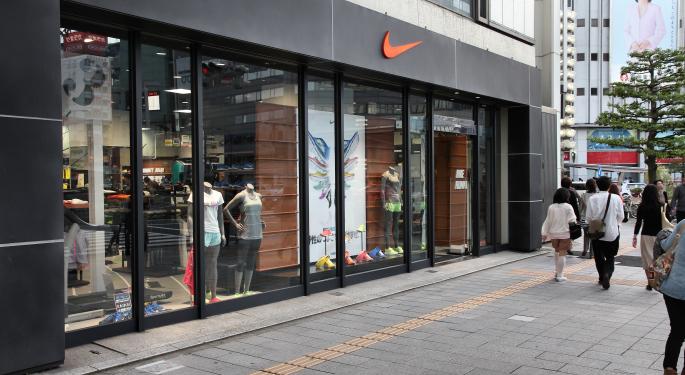 Benzinga's #PreMarket Prep broadcast on Thursday, April 24, interviewed Brian Sozzi, CEO & Chief Equities Strategist of Belus Capital Advisors, who discussed his early take on retail earnings.
Sozzi emphasized that his research is more involved with what he is hearing and seeing, and less on technicals. He reported that there has been a surprising turn of events in the earning season. The Belus CEO added that March and April are expected to be strong with better weather.
Summary of Important Retail Movers
Brian Sozzi noted Under Armour's (NYSE: UA) "very, very strong quarter." The strategist sees the company continuing to win, emphasizing its significant share of floor space in Macy's (NYSE: M) and in Dick's Sporting Goods (NYSE: DKS).
In the interview, Sozzi commented that "Nike Should Start Taking Notice of What Under Armour is Doing," citing that Nike (NYSE: NKE) can learn from Under Armour's quality.
Lumping Chipotle Mexican Grill (NYSE: CMG) in the retail sector, Belus Capital Advisors CEO remarked on the company's three consecutive quarters of sequential acceleration in same store growth. He noted that trends and traffic are encouraging as individuals "continue to pack these stores in all hours of the day."
Sozzi added that even with price increases, it is unlikely to see down traffic in stores.
With Chipotle maintaining strength, Brian Sozzi commented on McDonald's (NYSE: MCD) operational challenges. He noted that they need to get people in and out quicker and said that they are losing market share on breakfast.
Sozzi examined some pricing concerns, questioning if some of their burgers are even profitable. He hedged that the two percent price increase may not be enough with the introduction of new food items.
The strategist recently upgraded shares of J.C. Penney (NYSE: JCP) after having a sell on the company since January 2012. Sozzi reported that people are returning to J.C. Penney. Although the company's promotional levels are "not as promotional as you would think", J.C. Penney is seeing increased traffic and sales.
Brian Sozzi commented that the company could return to profitability by the Holiday Season of 2014.
With Dunkin' Brands (NASDAQ: DNKN) reporting first quarter earnings this morning, Sozzi noted that he would've liked to see more in the U.S. Dunkin' business. The Chief Equities Strategist said that they are doing great things with marketing, with stores "jammed pack with marketing."
He remarked that Dunkin' stores are looking more appealing and called Baskin-Robbins the "great comeback story".
From one extreme to another, Sozzi remarked "if you want to lose money, go ahead and buy Wal-Mart Stores (NYSE: WMT)." The CEO said there is no reason to own Wal-Mart or Target Corp. (NYSE: TGT) shares. Brian noted that Wal-Mart is "severely disconnected" in the U.S. business with inventory planning issues and margins under pressure.
He added that the company's financials continue to underwhelm.
Almost along the lines of Wal-Mart, Brian Sozzi has a sell rating on Best Buy (NYSE: BBY). The Chief Equities Strategist said that there is no reason to own the stock as Best Buy doesn't have the upgrade cycle at their back.
Sozzi remarked that they invest so much in price in trying to compete with Amazon.com (NASDAQ: AMZN) but do not have the in-store traffic to support their model.
Belus Capital Advisors CEO remarked that "Amazon continues to not be my cup of tea." Sozzi noted that Amazon doesn't have pricing power as they are in a constant price war relative to Wal-Mart.
Although Amazon is able to sell general merchandise at a loss, the company underwhelms with return metrics and operating margins. Sozzi added that federal taxes could also impact buying and called its disclosure practices "despicable."
Check out the video below for a recap of Brian Sozzi's interview on #PreMarket Prep:

Preview for Friday's #PreMarket Prep
On Friday, the Executive Director of PMG Venture Group and President of Talented Blonde LLC, Kristin Bentz will be on Benzinga's PreMarket Prep show. Bentz is also the founder of the consumer investing blog at talentedblonde.com, which provides an unconventional analysis of the consumer sector, trends, and individual stocks.
Posted-In: Belus Capital Advisors Brian Sozzi Joel ElconinAnalyst Color Technicals Pre-Market Outlook Trading Ideas Interview Best of Benzinga
View Comments and Join the Discussion!