Google Will Dominate Wearable Market Starting This June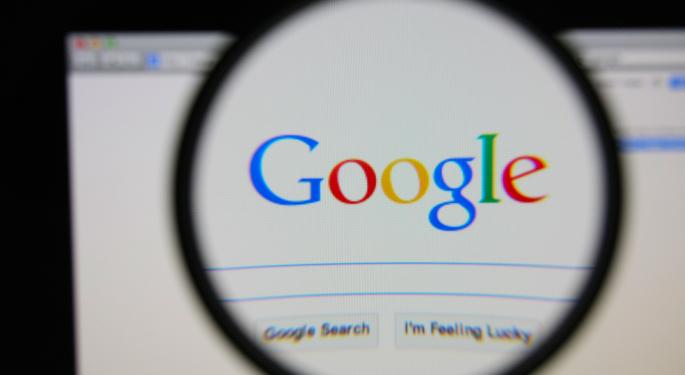 Sony and Samsung may have been the first to market, but Trip Chowdhry thinks that Google (NASDAQ: GOOG) will dominate as soon as it enters the wearable technology market.
"When we go to these conferences and when we talk to the developers, developers are very excited with what Google is going to announce on June 22 regarding wearables," Chowdhry, the Managing Director of Equity Research at Global Equities Research, told Benzinga.
"They'll be announcing [an] operating system for wearable devices. They'll be announcing a wearable SDK (software development kit) where developers can create their own applications. And they will have a stunning smart watch called Moto 360."
Related: Can Wocket, The World's First True Smart Wallet, Take On Google Wallet?
Chowdhry has spoken to developers that have seen Moto 360. He said that they have had nothing but good things to say about the wearable device.
Developers On Board With Google
"And if developers have seen it, Nike has probably seen it, and they have probably sensed they don't have any play anymore," Chowdhry said of Nike's decision to stop producing the Fuelband and other wearable technology. "Come June 22, the wearable world will be changed forever and the leader is going to be Google.
That's the reason why we said that Apple has only 60 days left to come up with an iWatch. If it comes after that, it's too late and they can probably just cancel their product. In this Internet era, the fast will always beat the slow, and the winner takes all."
It is possible that Apple could surprise consumers -- and its competitors -- with an iWatch event before Google's unveiling. But the development community doesn't expect that to happen.
"It's very important to keep the developers abreast," said Chowdhry. "The developers just don't think an iWatch or a wearable SDK from Apple is going to come anytime soon. That is the reason why they have already migrated to Google."
Chowdhry also expressed doubt about the rumors claiming that Apple will dive into mobile payments.
"They need to get the Passbook application improved," said Chowdhry. "Second, they need to get the iBeacon framework improved. They have lost the iBeacon to Qualcomm's Gimbal framework. Passbook is not getting traction in the developer community. They can come to [market], but I doubt there will be any traction in that product because they haven't got the whole ecosystem ironed out."
Disclosure: At the time of this writing, Louis Bedigian had no position in the equities mentioned in this report.
Posted-In: comments Global Equities Research iBeaconAnalyst Color News Rumors Analyst Ratings Tech Best of Benzinga
View Comments and Join the Discussion!