More Downside For Netflix?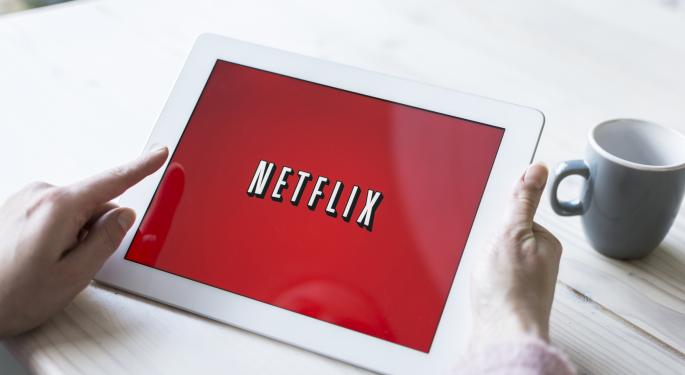 You have to respect an analyst that drops coverage of a stock so he can short it.
Rich Tullo of Albert Fried & Company has done just that with Netflix (NASDAQ: NFLX). Although he has been a bit early on his original call on the issue, he has stuck to his guns and has been finally been rewarded for his efforts.
Tullo prefers to buy cashflow cheap, as opposed to buying momentum at very high prices. There is no doubt what category Netflix falls into.
It's the fundamentals of the company that is the basis for his thesis. First of all, with low barriers to entry, he foresees competition heating up. Amazon Prime Instant Video has been steadily gaining market share and a number of titles are available free to customers with an Amazon Prime subscription.
While Amazon ramps ups it efforts in this arena, others are entering in the space, as well. Hulu and HBO Go could take away Netflix's ability to grow its subscriber base in 2014 compared with previous years. Television addicts may get programming from Hulu Plus, and HBO Go will provide formidable competition in the film category.
Related: The Market Is Not Acting Right
When it comes to price, the Amazon Prime membership of $79.00 per year is cheaper than Netflix's cheapest $6.99 per month option.
Tullo added that the company is not delivering on its projections for original content. "We were promised 15-20 originals this year; looks like it's going to be 8-10. The off-balance sheets of this company for shows they promised they would air is $7.4 billion on a $4 billion top line. That could be a little excessive - competition is streaming into the market, so to speak."
Finally, Tullo is concerned that the company's most popular show, House of Cards may pose some financing and execution problems. Since the rights to the show are held by Spacey's production company, Netflix is not in a strong bargaining position.
"They just had a dustup with the state of Maryland. They could have canceled the show instead cutting arts programs by $15 million to give to Kevin Spacey. I don't know if that's going to gain any traction, but that's what happened."
Further skirmishes with other states could have a devastating effect on the company, especially if Spacey and company attempt to launch the program with other providers.
From a technical perspective, the issue has given back all of its gains from its last earnings beat. After catapulting from $330.00 to $458.00, Netflix has given back all of its gains and has revisited the $330.00 level in Wednesday's trading. This is on a rebound from its $312.10 low reached in Tuesday's session.
With the company due to announce earnings on April 22, the Street will be focusing on the bottom line, as well as the rate of subscriber growth and cancellations.
A miss on any of these three metrics may have a devastating effect on the issue that has already fallen out of favor with the momentum investing crowd. With many investors looking to exit on any kind of rally, an earnings miss may force them to exit in a red tape.
And we can all remember the trading action in the issue back in mid-2011 when Netflix cascaded from the $300.00 level to $75.00 in just 15 trading sessions.
Posted-In: albert fried Amazon Amazon PrimeAnalyst Color Technicals Markets Analyst Ratings Trading Ideas Best of Benzinga
View Comments and Join the Discussion!