'Talented Blonde' Kristin Bentz Talks Retail And Her Favorite Company To Hate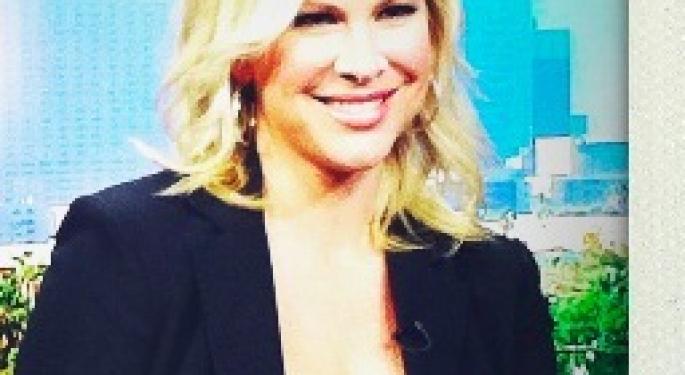 Kristin Bentz is the Executive Director of PMG Venture Group, a private equity firm with expertise in professional sports, media and luxury.
Bentz is also President of Talented Blonde LLC, an advisory firm focusing on the consumer and retail industry and the author of the upcoming book It's Worse Than You Think: The US Economy and the Decline of the Middle Class.
Bentz was a special guest on Benzinga's #PreMarket Prep to talk about her book
Bentz feels that the best way to gauge the shape of the economy, particularly the middle class, is to take a look at retail companies, especially those that cater towards the middle class such asJ.C. Penney (NYSE: JCP) and Sears (NASDAQ: SHLD).
"It's not really a matter of just trimming around a poorly managed or poorly brand company," said Bentz, "their customer base has completely left them, and that's what a lot of investors don't really understand."
Related: OptionsHouse Strategist Steve Claussen Explains Options Strategies
So where did the customers go? Some investors and retail analysts like Brian Sozzi are entertaining the possibility that J.C. Penney "is back" and could return to profitability by year's end.
Shares of J.C. Penney have rebounded from its 52-week lows of $4.90 and have risen more than 40 percent since February.
"There are a lot of investors that like to play J.C. Penney as a day trading stock," said Bentz, defending her position before adding that investors are using any headline that resembles good news to buy shares.
According to Bentz, a company like J.C. Penney requires more than one year to turn around, saying its problems were "self-inflicted" as the company ignored their customer and branding. To further emphasize her point, Bentz noted that The Gap (NYSE: GPS) is still working on re-branding and turning itself around after promising to do so a decade ago.
Switching back to the topic of her book, Bentz noted that a decline in wages and a growing gap in inequality has created an environment where more people are living off of food stamps and other social benefits and this was most obvious a few months ago.
"What happened last quarter, it wasn't just the weather," said Bentz. "You had millions of Americans that stopped receiving that extra assistance via transfer payments and that makes a difference."
Bentz argued the effect of the decrease in government assistance is most obvious at Wal-Mart (NYSE: WMT), who is losing out on sales as desperate consumers are switching some shopping habits to the dollar stores.
But, the one percenters are "doing great," according to Bentz.
The topic of conversation drifted towards specialty retailers, specifically clothing companies that gear towards the teenager market.
"Essentially, the same thing is happening with teen retailers, they are starting to implode," Bentz said before revealing that her "favorite company to hate" is Abercrombie & Fitch (NYSE: ANF) that lost its charm and appeal it once held.
Bentz noted that the marketing strategies and first-mover status Abercrombie held many years ago have essentially disappeared. The company continues its failure to innovate as the store offers the same cargo shorts, the same tank-top, the same "$88 hoodie."
Related: Retailers And Weather: Who Survived The Brutal Start To 2014?
Hollister is kind of the "dirty babysitter" of Abercrombie that continues to lose market share to retailers like H&M and Forever 21 because teens are "smart" and realize that they could buy four items elsewhere instead of just one at Hollister.
Hollister has adapted a strategy of lowering their prices to compete with other retailers, but the core customers just simply aren't returning to the stores because of a recent shift in perceptions.
"They really don't care about logos and branding," said Bentz. "They care about Beats headphones and Apple products."
Look no further than the Twilight saga for further evidence, as Bentz looks at pop culture and other teen fads to gather first-hand insight into the space.
The vampires in Twilight "are skinny white guys with no shirts on, they are not buff Abercrombie guys," said Bentz. "Kind of that whole Dracula/vampire generation for me, was a clear sign of what is happening at teen retailers."
Perhaps today's "cool" is just simply yesterday's "not cool" and is forcing many retailers, not just the teen retailers, to rapidly adapt and enter new areas of business.
Brooks Brothers is opening a steakhouse in New York City near its Madison Avenue headquarters to keep a classic brand modern. French retailer Diesel is expanding to high-end kitchen appliances. Investors could reasonably assume other retailers to shake things up and enter new markets in the coming years.
Bottom line, Bentz is "extremely bearish" on the retailing sector, but thinks that being bullish on luxury providers could be a suitable investment thesis.
Companies like Whole Foods and Williams-Sonoma will perform well in economic times that favor those more fortunate, according to Bentz, as consumers with higher disposable income will chose to spend their money more wisely.
Posted-In: abercrombie & fitch Apple Beats HeadphonesAnalyst Color News Retail Sales Economics Interview Best of Benzinga
View Comments and Join the Discussion!