Oracle's Future May Be In The Cloud, But Its Q3 Results Weren't Sky-High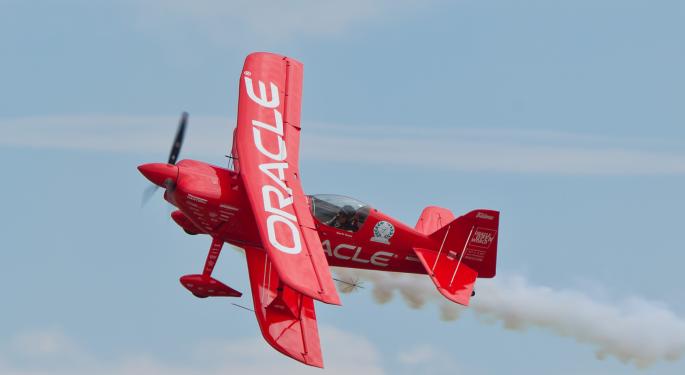 Can Oracle (NYSE: ORCL) meet or beat earnings expectations?
That was the question on everyone's mind on Tuesday. The firm is going through a transitional period, but few analysts expected big results this quarter.
"I am expecting them to put up more or less [an] inline quarter given by strengths in their Exadata and Exa series release," B Riley & Co. analyst Yun Kim told Benzinga before the market close. "And then more or less continue a modest uptick in their core database business."
Global Equities Research analyst Trip Chowdhry had a similar outlook.
"I think we are expecting probably inline revenues and probably [a] small beat on the EPS," Chowdhry told Benzinga. "I think Oracle is also going through a reinvention, and they are reinventing themselves. So it may take, probably, more than a few quarters. I think the revenue catalyst will come around October of this year."
Related: GM Shares Resisting Constant Recall News
Kim also said that he expects Oracle to benefit in the fourth quarter, thanks to the launch of its in-memory option.
In the meantime, Oracle has reported a Q3 EPS of $0.68, which was $0.02 lower than the Street consensus of $0.70.
Revenue arrived at $9.31 billion, which was also lower than the Street estimate of $9.36 billion.
Despite the earnings miss, Oracle's earnings per share were up five percent from the year-ago period. Sales were up four percent year-over-year.
Mixed Trends
Oracle has enjoyed somewhat of an upward trend over the last couple of the years. The stock has risen more than 28 percent since March 2012.
That's a small sum compared to Wall Street's biggest gainers. But Oracle has had some interesting patterns.
The stock plummeted more than four percent during the first week of May 2012 and continued to tumble for the next several days. Oracle ultimately lost more than 13 percent of its value between May 2 and May 18, 2012.
After that, the company began to rise again. Oracle gained more than 28 percent over the next four months. There were a few dips along the way, but the gains definitely outweighed the losses.
This has been the trend for Oracle, which went on to have several more growth spurts. There was a downward trend in 2013 that threatened to diminish the company's value, but Oracle ultimately overcame it and is slowly approaching its all-time high of $45.47, which was achieved in August 2000.
The stock closed today at $38.83 (up 1.6 percent), but is currently down more than five percent in after-hours trading.
Verdict: Oracle's Transition Could Take Longer Than Expected
The lower-than-expected earnings results indicate that Oracle may still have some work to do before it can provide Wall Street with the level of growth it desires.
That said, Chowdhry believes that the company will ultimately persevere.
"Historically, Oracle has proven that it can reinvent themselves and it can make smart acquisitions and they can overcome [its] threats and challenges," Chowdhry concluded, noting that the revenue catalysts are at least six to eight months away.
Disclosure: At the time of this writing, Louis Bedigian had no position in the equities mentioned in this report.
Posted-In: B Riley & Co. comments Global Equities ResearchAnalyst Color Earnings News Analyst Ratings Tech Best of Benzinga
View Comments and Join the Discussion!