Retailers And Weather: Who Survived The Brutal Start To 2014?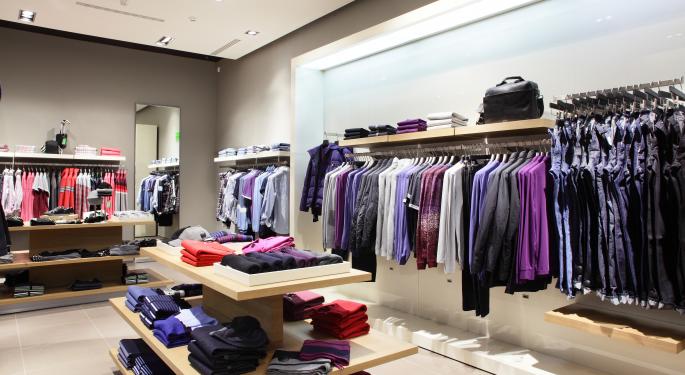 The Johnson Redbook Retail Sales Index on March 4 concluded that national chain-store sales fell 1.3 percent in February from the comparable period in January. The 1.3 percent decrease was steeper than the one percent decline analysts were expecting.
The index also showed that seasonally adjusted sales for the month improved 2.9 percent from a year ago, but this too came in below analysts' expectations who were expecting a gain of 3.2 percent.
Investors continue to debate which retailers are best positioned to emerge as a winner over their peers following two months of harsh weather seen across most of the United States.
Pharmacy sector: Walgreens thrives, Rite Aid not that far behind
Walgreens (NYSE: WAG) reported that sales in February rose five percent from $5.76 billion in February 2013 to $6.05 billion. Sales in comparable stores increased by 4.5 percent in February, while prescriptions filled at comparable stores increased by 2.2 percent in February.
Walgreens offered no guidance on how weather affected February sales, but did note that severe weather negatively impacted its second quarter comparable store front-end sales by 0.6 percent and negatively impacted the quarter's prescriptions filled at comparable stores by 0.8 percentage point. Additionally, the company noted that it incurred incremental selling, general and administrative expenses throughout the quarter due to severe weather.
Related: Congress Steps In To Investigate General Motors And NHTSA
Rite Aid (NYSE: RAD) reported that sales in February rose 2.4 percent from $2.457 billion in 2013 to $2.515 billion. Front-end same stores sales decreased by 1.8 percent, of which 0.5 percent was attributed to a decrease in sales of flu-related over the counter products. Same-store pharmacy sales on the other hand grew 3.1 percent, despite a negative impact of 138 basis points from new generic offerings in the market.
Rite Aid's February sales indicate a potential threat to the pharmacy industry, which is greater than a few weeks of extreme weather and sales of generic drugs. Despite the fact that generic drugs have large margins, they can hurt overall sales because they sell for lower prices.
In a note to clients on March 4, Lisa Gill, analyst at JPMorgan noted that Walgreen's results were "solid despite the impact of weather," but cautioned investors that weather issues may contribute to higher SG&A in the quarter.
In a separate note to clients, Gill noted that Rite Aid's comparable scripts were "essentially flat versus January," excluding the impact of flu-related scripts and flu shots.
Gill nevertheless maintains an Overweight rating on both companies.
Costco holds a unique advantage
On March 6, Costco (NASDAQ: COST) reported both its second quarter results, as well as February sales metrics.
In February, overall sales rose four percent to $7.9 billion with comparable U.S. sales rising three percent. For the full second quarter, Costco missed its EPS estimate by $0.12 when it earned $1.05 per share and revenue of $26.31 billion fell short of the consensus estimate by $340 million.
"It has been all over, particularly in the U.S., snow, rain, just crazy weather. We estimate that the weather impact to February sales results represented about one percentage point hit to the four-week reporting period," Costco's Chief Financial Officer Richard Galanti said during the company's second quarter conference call.
Christopher Horvers, analyst at JPMorgan wrote in a note to clients on March 7 that Costco is uniquely positioned to "weather out the storm," as the company's 27 percent exposure to California "had buffered Costco from the impact most retailers have seen from the weather east of the Mississippi."
Horvers believes that longer term, Costco remains a growth story and is "unique in retail" with both offensive and defensive characteristics.
Related: Target CIO First Executive To Leave Following Massive Data Breach
The Gap vs. L. Brands: battle of two specialty retailers
On March 6, The Gap (NYSE: GPS) reported that total February sales declined three percent year-over-year to $929 million, while same-store sales fell seven percent in what management described as "clearly a difficult month."
Gap Brand comps were down 10 percent, Banana Republic comps were down seven percent and Old Navy comps were down six percent.
The Gap noted that more than 450 stores were closed for at least one day during February due to weather, compared with 180 stores that were closed for at least one day in January.
The Gap's management did not quantify its performance in non-storm affected regions, but did note that it was a pretty big differential.
Paul Lejuez, consumer analyst at Wells Fargo wrote in a quick research note to clients on March 7 that The Gap's seven percent decline in February comps is steeper than his estimates of a decline of one percent to three percent. Additionally, March sales could be hurt by the shift of Easter into late April.
Lejeuz lowered his first quarter EPS estimates from $0.72 to $0.69 and full year 2014 estimates from $3.02 to $2.99. The Gap is expected to report its first quarter results in May.
Lejuez also noted that February's harsh weather hurt the Gap more than L. Brands (NYSE: LB), whose total February sales rose 5.23 percent year-over-year to $750 million and same-store sales rose two percent driven by February traffic up 20 percent.
Brian Sozzi, CEO and Chief Equities Strategist at Belus Capital Advisors argues that investors could let Gap's poor performance slip as "weather was a major factor." Sozzi explained in an email to Benzinga that Gap quickly sets out its spring products after the holiday shopping season ends and these products naturally aren't going to sell.
Weather issues is not a structural issue, Sozzi argued, and added that cold weather has certainly added to the structural problems in specialty retail right now. Investors should hope that warmer weather arrives quickly, which would lead to opportunities for retailers to sell their products at non-discounted prices.
Sozzi views the entire specialty apparel market being under "intense pressure" as "it's almost a land of permanent markdown."
Posted-In: Brian Sozzi Christopher Horvers Costco Johnson Redbook Retail SalesAnalyst Color News Retail Sales Analyst Ratings Best of Benzinga
View Comments and Join the Discussion!