Ford More Likely To Pick Google Over BlackBerry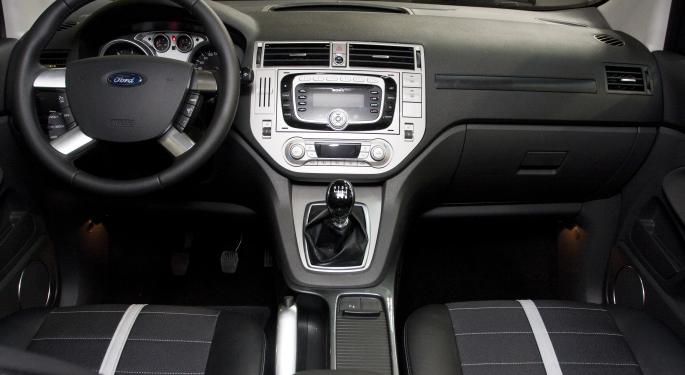 Contrary to the unconfirmed report, Ford (NYSE: F) might not replace Microsoft's (NASDAQ: MSFT) in-car devices with technology developed by BlackBerry (NASDAQ: BBRY).
And if Ford did decide to drop Microsoft, BlackBerry wouldn't be the most likely replacement.
"In my view, if they were to drop Microsoft they would pick Google because the Google ecosystem is much bigger," Tigress Financial Partners analyst Ivan Feinseth told Benzinga.
While Google has an established navigation system (among other popular features), Feinseth said that BlackBerry is heavily known for offering a secure operating system.
"I don't know how much in the messaging side you're really gonna do in the car," said Feinseth, referring to the value of BlackBerry's security. "They want to eliminate texting, so why would they have some kind of in-car messaging?"
Related: Report: Microsoft About To Slash Price Of Windows 8.1
Good For BlackBerry, Not Bad For Microsoft…
If Ford chooses BlackBerry, Sanford C. Bernstein analyst Mark Moerdler thinks that it would be good for the mobile phone producer. But it wouldn't necessarily hurt Microsoft.
"BlackBerry has been trying to do this for a while," Moerdler told Benzinga. "I was at an Adobe conference two years ago where they were showing their technology for cars.
"Does it mean much? For Microsoft it means nothing because the [special version] of Windows business is blended into everything else. They're in so many different things it would probably be immaterial to them. For BlackBerry it would be good."
Whether or not it would be good for Ford is a whole other story.
Moerdler speculated that Ford and BlackBerry may sign a deal that allows the automaker to swap BlackBerry for Microsoft technology, if necessary.
"And I think it's just the fact that BlackBerry is going to give them a pile of stuff that they weren't gonna get elsewhere," Moerdler added.
…But It Could Be Bad For Ford
Feinseth said that one of the main things Ford has to consider is sustainability.
"Even though this may be positive for BlackBerry, you don't want to partner with a company whose future is not strong," he said. "If they were to partner with BlackBerry and BlackBerry went out of business, [Ford] would be screwed."
Disclosure: At the time of this writing, Louis Bedigian had no position in the equities mentioned in this report.
Posted-In: Blackberry comments FordAnalyst Color News Rumors Analyst Ratings Tech Best of Benzinga
View Comments and Join the Discussion!