Nordstrom's Quarterly Results: Analysts Calm About Long-Term, But Short-Term Questions Remain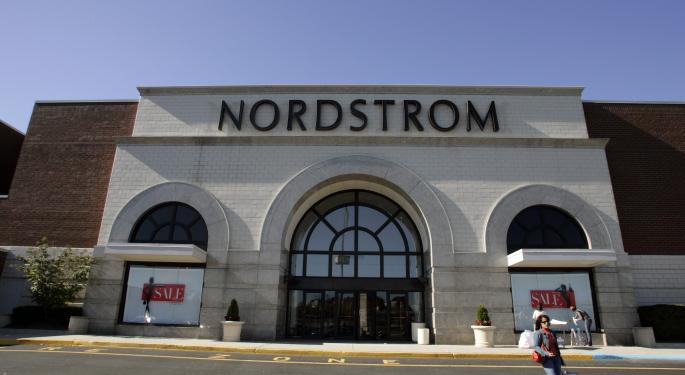 High-end retailer Nordstrom (NYSE: JWN) reported mixed fourth quarter results on Thursday.
Revenue of $3.61 billion fell short of the consensus estimate by $110 million, while an EPS of $1.37 was good for $0.03 beat.
Profit for the quarter was hurt by a promotional frenzied holiday season that also hurt many other retailers. In the quarter, Nordstrom's net income fell nearly six percent to $268 million from $284 million, compared to the same quarter last year. Gross profit, as a percent of net sales, fell 55 basis points to 37.2 percent
In a press release, the company said the lower income was "due to increased markdowns in response to heightened promotional activity during the holidays and higher occupancy costs related to Nordstrom Rack's accelerated store expansion."
Related: G Asset Management Proposes Acquisition Offer To Barnes & Noble
Nordstrom issued guidance and sees its full-year EPS to be $3.75 to $3.90, lower than the consensus estimate of $4.07. The company guided its revenue to increase 5.5 percent to 7.5 percent, suggesting sales of $13.2 billion to $13.5 billion. The high end of that guidance coincides with the consensus estimate of $13.5 billion.
Nordstrom plans to spend between $840 million and $880 million in fiscal 2014 to invest in its long term strategy. By comparison, the company spent $714 million in fiscal 2013.
Analysts were generally split, following Nordstrom's fourth quarter results.
Deutsche Bank: Guidance Appropriate
Paul Trussell, analyst at Deutsche Bank, believes Nordstrom will succeed in a difficult environment -- and showed investors plenty of reasons to remain optimistic over its current operations and future investments.
"During a challenging holiday period, the structural advantages of the Nordstrom business model allowed the company to outperform its peers and provide a surprise beat," Trussell wrote in a note to clients on Thursday.
"One, Nordstrom saw 30 percent growth in both its direct business and at Hautelook, demonstrating that its focus online is leading to sales conversions. Two, the Rack showed consistent trends again (+3.6 percent), illustrating the importance of servicing the value-oriented customer during a promotional period. Third, and most importantly, the company used impressive SG&A cost discipline to offset another tough quarter on the GPM line, leveraging both the retail and credit operations despite ongoing infrastructure investments."
Looking forward, Trussell believes shares are still attractive -- despite the company issuing downside guidance which "reflects a continuation of the trends experienced in the first few weeks of February and the exclusion of share buybacks (over $500 million spent in Fiscal 2013) from the forecast."
Trussell remains "comfortable" recommending shares, and maintained a Buy rating with a lowered price target of $67 from a previous $69.
Morgan Stanley: Not Fully Convinced…Yet
Kimberly Greenberger, analyst at Morgan Stanley, believes Nordstrom is still in its early stages of investments, which limits the potential upside for the time being.
Greenberger noted the company plans to spend $3.9 billion in capital expenditure from 2014 to 2018, which is close to double what it spent in the previous five years.
"While Nordstrom delivered positive comps in a tough retail environment, ongoing channel shift and promotions eliminated EPS growth," she wrote Thursday, in a note to clients. "Until the heightened investment cycle passes, 10 percent plus EPS growth likely remains elusive unless comps accelerate meaningfully."
Greenberger believes in management's long term strategies, but finds it difficult "to get more constructive on the stock at this price."
Shares were reaffirmed as Equal Weight, rated with a price target lowered to $60 from a previous $63.
Topeka: Exceeded Expectation
Dorothy Lakner, analyst at Topeka Capital Markets, believes Nordstrom exceeded expectations and, despite a lowered guidance, still views the company as a leader.
"Growth was strong in direct, Rack and Haute Look, though still tepid in full-line stores," Lakner wrote in a brief note to clients on Friday. "We continue to see Nordstrom as a multichannel leader and believe plans to re-energize full-line stores should bear fruit in 2014. Canada is a catalyst too in 2014 -- a great market for Nordstrom."
Shares were reaffirmed as Buy rated, with a price target reduced to $68 from a previous $71.
Stifel: Long Term Positive, Short Term Negative
Richard Jaffe, analyst at Stifel, maintains a long-term positive view of Nordstrom,  but he sees no catalysts that can drive a near-term upside.
"Nordstrom delivered a strong 4Q despite the challenging environment and inclement weather," Jaffe wrote in a note to clients on Thursday.
"More importantly, Nordstrom management shared their view of the future and its ongoing investments to insure future growth,"he added. "Management has taken a long-term view, recognizing that the retail world is changing rapidly and dramatically, and has adjusted its growth investments to be consistent with the changing environment."
Jaffe is not entirely convinced regarding the company's E-commerce initiatives, which include an expanded merchandise offering and the use of mobile devices to shop.
"These efforts, however, have an accelerated depreciation rate and an uncertain correlation to sales growth and increased profit contribution," he wrote. "It appears that Nordstrom's e-commerce presence is essential; an additional and highly efficient way for JWN to fulfill its promise of outstanding service and excellent selection. However, there appears to be a trade-off as store sales have suffered as e-commerce has grown. Net, Nordstrom is still growing total sales but we are observing some deleveraging of store expenses as store sales have declined."
Jaffe is also not convinced on the company's planned expansion to Canada despite the fact that Canadian consumers are familiar with the Nordstrom brand.
"Canadian retail real estate in prime locations is different than the US. There are fewer high quality locations and as a result they are costly; requiring upfront expenditures, build-out expenses and monthly rent to be paid," Jaffe argued.
Despite these hurdles, "around these locations, the density of the population is high and the shopping opportunities are limited. This is a favorable situation, suggesting out-sized productivity and profitability from these stores over the long term."
Jaffe concluded by emphasizing his belief that Nordstrom's initiatives will prove fruitful in the long term but contribute to a slowing of earnings growth over the next year or so.
Jaffe feels "compelled" to downgrade shares to Hold from Buy, with no set price target. The previous price target was $65.
Posted-In: Deutsche Bank Dorothy Lakner NordstromAnalyst Color Earnings News Retail Sales Economics Analyst Ratings Best of Benzinga
View Comments and Join the Discussion!