Tesla Share Prices Are Zooming, But The Road Ahead Could Still Have Obstacles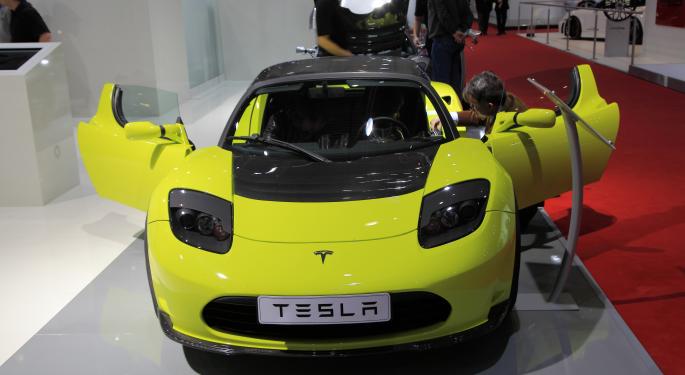 So, what's next for Tesla Motors (NASDAQ: TSLA)?
Shares of the electric car company have taken a jack-rabbit jump, after better-than-expected fourth quarter earnings were announced on Wednesday. Tesla also announced record sales and deliveries of its landmark Model S sedan.
In a company press statement, Tesla pointed to the continued expansion of its free Supercharger power stations -- to the point where Model S owners can now travel coast-to-coast "without ever taking out their wallets."
The company is planning its first Model S deliveries to China this spring, meanwhile, and is putting more R&D funding into its planned Model X vehicle. That sport utility crossover was expected to be released this year, but Tesla has pushed back the start of volume deliveries to customers until the spring of 2015.
Related: Apple vs. Tesla Motors - Which Would You Rather Invest In?
But even as investors may be giving Tesla a green light, some industry analysts have their caution flags out.
Karl Brauer, senior analyst at Kelley Blue Book, notes Tesla's key metrics – factors like production rates, market demand, sales volume, earnings and cash flow – all show the expected improvements. But he says the automaker's current focus on high-end vehicles, cars that remain financially out-of-reach to most consumers, could also inhibit its growth.
"The Model X has the potential to at least double Tesla's total sales if the company can successfully launch it in the next 12 months," Brauer told Benzinga, "but the real potential for volume sales lies in the sub-$40,000 Model E compact sedan that's rumored."
Another wild card for Tesla, according to Brauer, is the ongoing National Highway Traffic Safety Administration (NHTSA) investigation into a highly-publicized series of fires involving Model S battery packs.
"Though the total number is low, we still don't know how NHTSA is going to address them," he adds.
"The safety agency's assessment could range from 'no real problem here'  to 'every car needs a new battery pack with better protection and/or a different cooling system.' The latter would decimate Tesla because of the costs involved in redesigning and replacing every battery pack in every car they're already produced and sold."
View Comments and Join the Discussion!
Posted-In: Alternative Energy alternative energy cars automotive industryAnalyst Color Earnings News Analyst Ratings Press Releases Best of Benzinga