Consumer Analyst Marc Riddick Discusses The New Keurig Carafe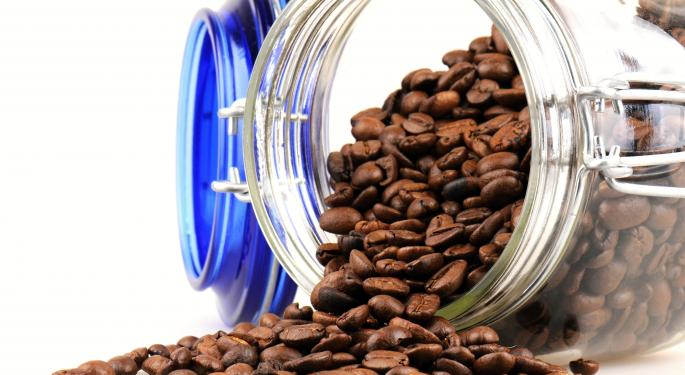 Keurig owners love Green Mountain Coffee Roaster's (NASDAQ: GMCR) machine because it can brew a single cup of coffee. Keurig owners also wish that the Keurig machine can brew a full put of coffee, when needed.
Keurig lovers, meet the K-Carafe, part of the company's new generation of "Keurig 2.0" machines.
"Both current Keurig brewer owners and non-owners told us the brewer functionality they wanted most was the ability to brew both a single serving and a pot of coffee from one system with Keurig speed, convenience and brand choice," said Brian P. Kelley, President and CEO of Green Mountain Coffee, in a press release. "Our next generation Keurig 2.0 brewers will do just that."
K-Carafe packs will brew 28 ounces of coffee into a specially-designed Keurig Carafe, which will only operate in new Keurig 2.0 brewers. The machine will use proprietary interactive capabilities to identify the Keurig pack that a user has selected to brew.
Related: Google's Loss On Motorola Isn't As Bad As It Seems...Here's Why
Benzinga reached out to Marc Riddick, analyst at Williams Capital, who covers Green Mountain Coffee.
Riddick pointed out that the new product may not impact the company's bottom line, depending on its launch date. As Green Mountain closes its fiscal year in September, there is no guarantee that the product will be introduced to the market in time to impact its full-year earnings.
Riddick believes that new product introductions are "partially" priced into current share prices. The company had previously noted new products during its analyst day last year, so Wednesday's announcement is not a surprise to the market.
Shutting out unlicensed brands
Green Mountain's patent on single-serve coffee pods expired in 2012, allowing anyone to enter the space with an unlicensed equivalent to a K-cup. The new Keurig devices make use of "interactive technology" to brew all Keurig brew packs. As such, new devices will not brew unlicensed packs.
Green Mountain's move is intended to shut out unlicensed players, who will now be unable to sell a Keurig machine-compatible coffee pod.
On November 27, 2012, Riddick appeared on Bloomberg TV and said that Green Mountain is fighting a "brutal battle" in a highly-competitive space. Riddick told Benzinga that his "brutal battle" comments still stand, but "that doesn't meant that they won't perform well."
Back in November 2013, analysts at OTR Global reported that Treehouse Foods (NYSE: THS) and other private labels are eating away at Green Mountain's market share. Riddick told Benzinga that "private label isn't something to be feared. It is part of every aisle in the store. K-cups are no different."
According to Riddick, Green Mountain will announce new partnerships with private label brands that are converting from unlicensed to officially being part of the Keurig ecosystem.
Riddick has an Outperform rating on Green Mountain with a price target of $106.
Posted-In: Brian Kelley generic brands keurig Keurig 2.0 Keurig CarafeAnalyst Color News Analyst Ratings Best of Benzinga
View Comments and Join the Discussion!