Social Market Analytics' Joe Gits: Look To Social Media For Under-The-Radar Stocks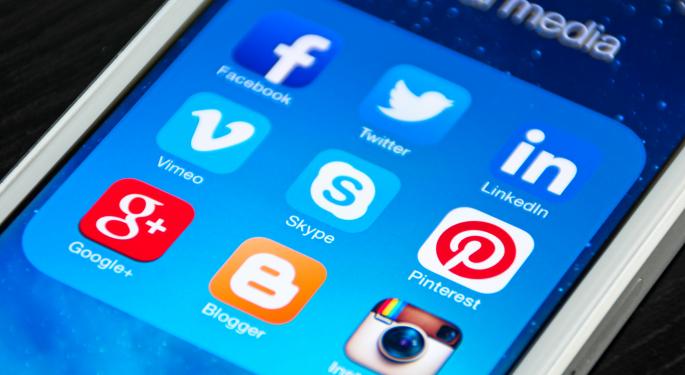 Facebook, Google and other names always take the news. Over one billion users are logged in or searching them everyday, so it comes as no surprise. But many stocks go unnoticed to the average trader, something Social Market Analytics (SMA) has tried to change.
"We are grabbing professional traders actively involved in the market," Joe Gits, CEO and founder of SMA, told Benzinga. He founded the company as a means to quantify social media. Gits said Twitter (NYSE: TWTR) is a leading indicator of stock movement.
"Imagine you're looking at a normal curve," Gits explained, "It's not the level of discussion -- its deviations form that norm. Once a month, metrics determine accounts to follow. Then we look at the profile to determine if they are who they say they are.
"We don't want people who just open an account to try and move a security price. Biggest thing we do is take intentions of professional investors."
For example, CareFusion (NYSE: CFN) had a S-Score of 4.21, which means the current social conversation is 4 standard deviations more positive than normal -- people are speaking positively. Facebook (NASDAQ: FB), which normally doesn't show up, had a S-Score of 3.93, following its positive earnings reports on Wednesday.
The SMA S-Score gives a weighed normalized sentiment, drawn from a standard curve. If the current conversation on social media is a number more positive than normal and a trader bought a particular security with that score, Gits said they will have beaten the S&P by 50 percent.
Related: Is This Facebook's Plan for Growth?
Of the 250 million active Twitter accounts, SMA follows about 400,000, as profiles must pass a specific vetting process. This screening process includes a profiles number of followers, how many tweets it has (retweets) and, perhaps most importantly, what tweets are qualitative. The analytics try to quantify stocks that deviate from the norm, i.e. Apple, Google, etc.
"We provide actionable intelligence in a time-series format," Gits explained. He said there are a high-level of contributors in the technology sector and while utilities are much lower, the tweets are more predictive of a stock's movement.
SMA tracks the performance of high and low sentiment securities. Gits said a high sentiment score outperforms the market by nearly 50 percent the last two years and vice-versa. They publish two premarket reports each day, one to tell traders what's happening on social media and one that later on that explains what's moving. The information has been provided to hedge funds, high-security trading firms and banks or, as Gits said, "People who need breaking news before they see it on CNN or Thomson Reuters."
StockTwits will be integrated in March. Gits said that while Twitter gives a broader signal, StockTwits' smaller subset presents a very strong signal on social movement.
Posted-In: Apple FacebookAnalyst Color Education Tech Trading Ideas Interview General Best of Benzinga
View Comments and Join the Discussion!