Analysts Eager To Bid On Icahn's eBay Proposal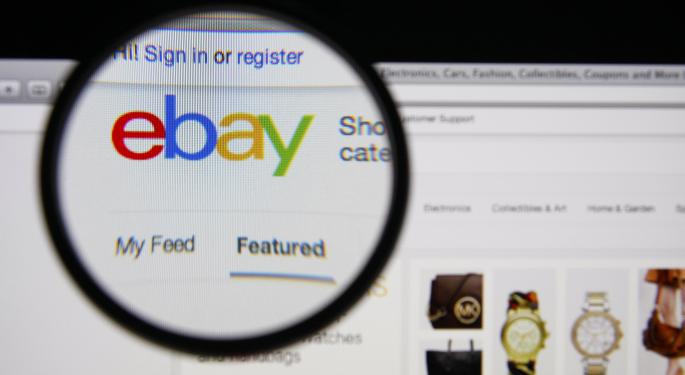 eBay Inc. (NASDAQ: EBAY) reported its fourth quarter 2013 results on Wednesday, January 22. Analysts were eager to share their remarks on Carl Icahn's proposal to spin-off Paypal.
Summary of Q4 Results:
eBay reported that net revenue was up 13% for the quarter at $4.5 billion.

Non-GAAP EPS was up 16%.

Commerce volume was up 22% in the fourth quarter at $61 billion. This is a 7.4% take rate in the quarter, or a 55 decline in basis points.

Operating expenses were down 165 basis points representing 40% of revenue.

eBay added 14 million new customers through mobile in 2013, 40% of the company's total new users.

eBay reported that Paypal mobile payment in the quarter was $8.8 billion. 51% of the mobile payments came from eBay. Overall, the Paypal segment margin came in at 25.7% for the quarter, up 270 basis points.
The company repurchased 4.9 million shares of common stock for $254 million in the quarter.
eBay ended the quarter with $12.8 billion in cash, cash equivalents, and non-equity investments.
Company's Forecast:
eBay expects full year 2014 revenue of $18-$18.5 billion, or a 12%-15% growth.
The company forecasts $3.7 to $4 billion in free cash flow.
For 1Q14, eBay expects $4.15-$4.25 billion in revenue, and non-GAAP EPS of $0.65 to $0.67.
For FY 2015, the company forecasts $20.5 to $21.5 billion in revenue, a 14%-16% in growth.
Analyst Comments:
Benchmark analyst Daniel Kurnos reduced estimates to slightly below the midpoint of guidance for 2014 and 2015 following results. Kurnos noted the company's ongoing expected take rate pressure and the downward pressure on margins as 2014 is an investment year for PayPal. "We continue to believe, however, that eBay has harvested most of the low-hanging fruit, with increased international investment required to keep overall growth in a low-double digit range, below previous expectations of 12- 16%, although we suspect our projections could prove conservative," the analyst continued, "We support an aggressive investment plan for PayPal to maintain and grow market share while optimizing the platform, and suspect PayPal could reach 46% of total revenues in 2015."

Scott Devitt from Morgan Stanley commented on PayPal's integration with eBay, noting that it will produce the most value long-term. In his note, Devitt wrote, "We believe that PayPal is the best performing asset, but it owes much of this to its integration with ebay's other businesses (marketplace and enterprises), and we believe that PayPal's probability of success offline is enhanced considerably by ebay's overall omni-channel strategy."

Keefe, Bruyette & Woods analyst Sanjay Sakhrani reported that eBay enters 2014 with a "lower bar" and that management is more conservative in growth and capital management forecasts. The analyst remarked, "We also believe Carl Ichan's proposal to spin PayPal probably provides the shares support for now. Ultimately though, the long-term growth story at eBay is about the omnichannel strategy and commerce - both online and offline, payments, marketing, and distribution strategies are all parts of executing on this plan. The fact that eBay has the assets to make it happen is a strength. So, it's hard for us to see how extracting PayPal for short-term gain via a spin makes sense."

Analyst Aaron Kessler from Raymond James maintained his Outperform rating following results. Kessler noted eBay's leadership in Marketplaces and Payments and his expectation for low to mid teens EPS long-term growth. Raymond James lowered their price target from $64.00 to $62.00 based on the analyst's revised lowered 2015 EPS estimates.

SunTrust analyst Robert Peck examined Carl Icahn's proposal. Peck reported, "For many years investors have asked whether PayPal should be spun out from eBay to better highlight it and create shareholder value. We think Mr. Icahn's proposal is positive for eBay's stock for 3 reasons: 1) Even if PayPal doesn't spin, the proposal will force investors to revisit their sum of parts value of eBay, 2) eBay could decide to "meet Mr. Icahn halfway" by floating 20% (ala EMC and VMWare) and highlight the value, and 3) eBay could ultimately decide that a spin might serve shareholders best. Any scenario above is positive for shareholders."

Deutsche Bank analyst Ross Sandler reported that the trading range will move up from the TTM $50.00 to $55.00 on Icahn excitement but see a "hostile value-creating event" for shareholders as unlikely. Sandler commented, "eBay just announced a significant buyback on 4Q (and has some limitations from off-shore cash), shareholders are generally upbeat on Donahoe's performance over his tenure, so while Icahn is likely to push for further value- creation and he may get some, we don't anticipate a spin. Our view on the fundamentals at EBAY are unchanged and our estimates are largely consistent with the new guidance. Hold Positives in 4Q Icahn's involvement is a game-changer, no doubting that. However, we agree with mgmt that the spin would damage the fundamentals for each company over the long term (similar to how EXPE is not as strong post the TRIP spin, despite solid financial outperformance). Short term, we expect shares to grind higher as Icahn's involvement typically warrants."

Victor Anthony from Topeka Capital Markets downgraded shares of ebay from Buy to Hold and reduced the price target from $64.00 to $60.00 following adjusted estimates from the company's guidance. Anthony noted, "While shareholder activism could keep a floor on the share price near-term, we see few compelling reasons to buy the stock at current valuation levels, with an after-hours share price that implies a PEG of 1.6x (12% 3yr EPS CAGR). Moreover, challenges growing the core above e-commerce, challenges monetizing off-line initiatives, and stepped-up investments at Payments, are likely to limit management's ability to post beat and raise results over the next year. Further, newer international markets and cross-border initiatives are likely to take time to contribute financially. We applaud management's change in philosophy on buybacks, that is, to be opportunistic, and see an opportunity for added leverage to drive equity returns.
Shares of eBay closed at $54.94 on Thursday, up 0.97% for the day.
Posted-In: Aaron Kessler Benchmark Daniel Kurnos Deutsche Bank Keefe Bruyette & Woods Morgan StanleyAnalyst Color Analyst Ratings Best of Benzinga
View Comments and Join the Discussion!