SunTrust: 10 Reasons Why Alibaba Should Acquire Snapchat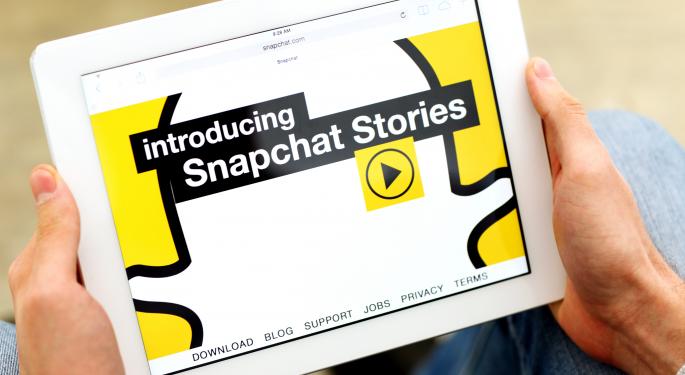 Snapchat has already turned down Facebook's (NASDAQ: FB) $3 billion acquisition offer and does not seem interested in a buyout.
Analyst Robert Peck of SunTrust Robinson Humphrey reported that maybe Snapchat is just waiting for the right company, and that company is Alibaba.
Snapchat exploded on to the social media scene within the last year and shows no signs of slowing down, captivating smartphone users everywhere who wanted to 'snap' and share a moment. SunTrust's Peck reiterates in the report that they are in support of ephemeral (temporary or disappearing) web content and applications such as Snapchat.
Peck notes, "We feel the predominant use of Snapchat is addressing the way many of us share offline. Many times a person wants to communicate a view, feeling or thought and while interesting neither party feels the need to save it. For example, say someone takes a selfie with Donald in a funny outfit; they may want to communicate it with their friends for a quick laugh while the receiver wants to see it for a quick smile. There's no need to save it, but they were happy they saw it. Our point is that there is a definitive use case (utility) in ephemeral content sharing. It fosters sharing and the sense of community (the base of communication) without the web-permanence of other applications."
SunTrust stated 10 reasons why Alibaba Holdings should buy Snapchat:
Alibaba could afford it and make the investment in stock which has been estimated as high as $200b and could also give Snapchat's investor more upside on the Alibaba IPO.
Competition for messaging apps globally continues to increase with several players having large user bases in Asia including Tencent's WeChat, KaKao Talk, LINE, as well as Kik and Whatsapp. Alibaba understands the value of a prominent messaging platform and social networks, as it has demonstrated with its ~$580m investment in Sina's Weibo and partnership on payments.
Alibaba sees the US as a strong growth market and is already making investments, such as its recent investment in Shoprunner – where it supplied the majority of the most recent $206m round according to reports.
If press reports are accurate, Marissa Mayer at Yahoo! (NASDAQ: YHOO) sees the value of Snapchat and could help advise Alibaba on the strategy (given Yahoo!'s 24% ownership in Alibaba).
Alibaba is driven by commerce, and social commerce is still the Holy Grail that many companies like Twitter (NYSE: TWTR), Facebook, Foursquare, and Amazon (NASDAQ: AMZN) have been aiming for.
Snapchat could explode its user base if Alibaba could facilitate growth in China.
Snapchat would find its revenue model: facilities e-commerce transactions.
As many expect Alibaba to enter the US market more robustly in 2014, a fast growing social network would bolster its portfolio of services against the incumbent US competition.
If Alibaba wanted to do a transaction of this size, it should be done while still private (a la Facebook / Instagram).
The combination of Alibaba with a strong social and messaging platform like Snapchat adds to the potential for optionality. They could leverage the sharing network in areas like subscriptions, video content, and search monetization in addition to ecommerce. To put the leverage more in a domestic analogy – what if Amazon owned Snapchat?
Posted-In: Robert Peck SnapChat SunTrust Robinson HumphreyAnalyst Color News Rumors Analyst Ratings Best of Benzinga
View Comments and Join the Discussion!