Brian Sozzi: Retailers Just Letting The Stores Die Everyday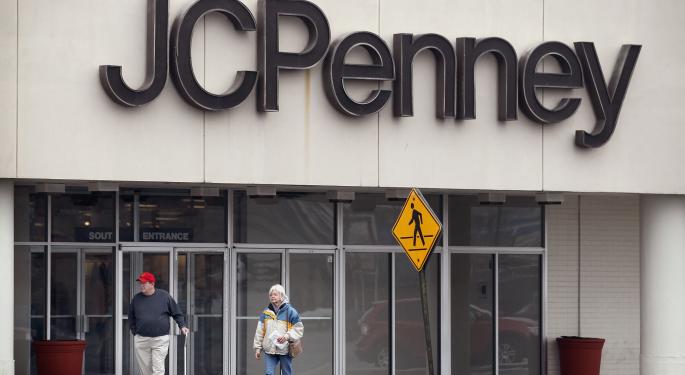 The art of going viral may be redundant in 2014, but that doesn't mean it will stop happening.
Brian Sozzi recently tweeted out pictures of few big-time retail and department stores. The Street and The Huffington Post both picked up on the less-than-desirable pictures, causing some of the mentioned companies to stir.
"The fact that it went viral is the consumers way of saying we've had enough," Sozzi said on Benzinga's premarket broadcast. The CEO of Belus Capital spoke about the retailers in question, and did not seem very optimistic for the future.
"A slow wine down in two iconic chains. Lowering assets to raise liquidity. Only so much borrowing you can do," he said, talking about J.C. Penney (NYSE: JCP), Sears (NASDAQ: SHLD), and Kmart. "In terms of the comments and actions, they're just letting the stores die everyday."
Sozzi said he wouldn't be surprised to see the stores out of business within 5-10 years, thanks to years of under-investment
He said the truth is found in stores, which is what he tweeted out. He said people deserve a much better shopping experience than these retailers give them, with dirty floors, protruding wires, and items out of their stock place.
See also: Brian Sozzi Makes Bearish Call on Wal-Mart
Sozzi, also chief equities strategist at Belus, mentioned Kmart's run of 9 straight quarters of decline sales. He also said that J.C. Penny's recent press release was very inadequate and the market properly responded.
"We have a sell recommendation on JCP -- it's the markets way of saying we are concerned how the company will bring back its customer base. If you're a bull, you need numbers (such as monthly sales updates)."
The analyst did shed some positive light on other retailers, however. He mentioned how lines were very strong at Foot Locker, with the athletics's apparel company being ultimate beneficiary of Nike. Lululemon, another popular athletics apparel company, is also one to keep an eye out for. For the yoga-based store to work, Sozzi said he needs to see a re-acceleration on same-store sales.
Switching topics, Sozzi said Best Buy did a lot of things rights during the holidays, and over the last couple weeks have lowered merchandise price. Not all companies acted the same.
"You want to see price-action improve for these retailers," Sozzi said, speaking of the "dark underworld" for consumers right now. More specifically, consumers not being able to afford certain product, even from places like Target and Walmart "With fear, you tighten your budget even further. It's showing up in the tone of retailer outlets.
Check out the broadcast with Brian Sozzi's interview below:
View Comments and Join the Discussion!
Posted-In: Belus Capital Advisors Brian Sozzi foot lockerAnalyst Color News Retail Sales Media Interview Best of Benzinga