Wedbush Softline Retail Holiday Roundup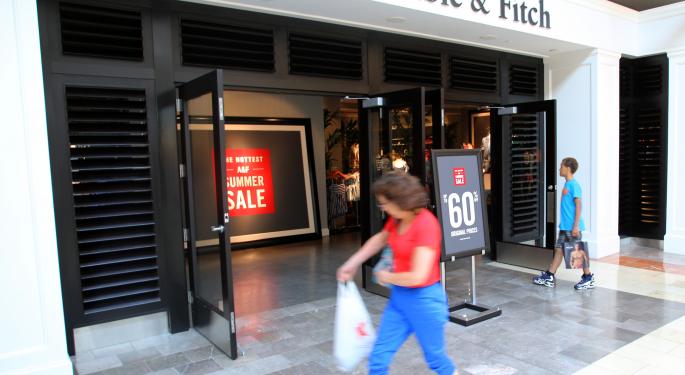 In a report published Sunday, Wedbush analyst Gabriella Santaniello commented on the "Retail Detail," specifically noting specialty retail softlines.
Santaniello noted that mall traffic picked up over the weekend with last-minute shoppers taking advantage of deep markdowns. The analyst reported that Philadelphia was the strongest region followed by San Jose, Chicago, Los Angeles and Dallas.
Grade A Stores:
ANN (NYSE: ANN) LOFT stores had less promotions than last year and were lower on a sequential basis. "Feedback from a store manager in Chicago, who has been with the company for five years, is that the casual-wear group has been one of the best selling December deliveries considering its "lounge" nature, which is a departure for the retailer. Stores within our regions delivered the first spring "transition" floor set prior to the weekend (in line with last year) that sold particularly well in the warm weather regions where customers were shopping "buy now, wear now"."
The analyst noted the "aggressive promotional activity" by Express (NYSE: EXPR). "On Thursday, the retailer started the "50% Off Everything" sale triggering an in-store frenzy as customers shopped for gifts, but mostly themselves, our checkers reporting lines snaking throughout the stores and shoppers carrying multiple units." Santaniello acknowledged that merchandise was selling but noted some missed opportunity.
Grade B Stores:
Pacific Sunwear of California (NASDAQ: PSUN) beat other surf and skate retailers this weekend with the "most compelling storewide promotion." Stores had red banners in the windows, advertised a "Storewide BOGO Free" with a more compelling assortment of brands than last year. "Ample staffing was a key component to moving customers through the lines, with "runners" dedicated to finding specific sizes and colors, and stock associates dedicated to filling in depleted merchandise. One store we check in the Philadelphia region completely sold through the Kendall & Kylie assortment while a store in San Jose twice had to restock girls' private label Nollie long sleeve t-shirts ($29.95) and guys' Bullhead denim and chinos ($49.95)."
Urban Outfitters Inc. (NASDAQ: URBN) ended the "Additional 50% Off" clearance promotion and focused the customer on "regular price" merchandise. "Feedback from a store manager in the Dallas region is positive on the recent pickup in traffic, the guys' and girls' sweater category selling well, both novelty and basic styles. On the girls' side of the store, promotional activity has leveled off with the amount of SKUs offered at a price point remaining consistent since the Monday after Black Friday, and the promoted price in line with to 5% deeper than last year. Continuing to push the envelope, the retailer introduced overalls to the mix (overalls, overall skirts and shortalls, from $69 - $109) that are selling surprisingly well as customers look for the next trend right item taking a cue from late 80's and early 90's fashion."
Grade C Stores:
Wedbush noted inconsistent traffic at Abercrombie & Fitch (NYSE: ANF) despite their aggressive promotional activity. The analyst reported disproportionally high inventory in girls' glitter and sequins style inventory as the customer shops for no brand identification. Santaniello commented, "Last year the stores had already delivered some spring fashion that the retailer excluded from promotional activity, but this year spring merchandise is absent, the retailer clearly focusing on aggressive promotions to clear through high inventory levels. High inventory levels have also lead to deeper than usual markdowns, with first marks going to 60% off and then included in additional off clearance for a net markdown of Overall markdown rates are deeper than last year, with the first markdown at 60% off vs. 30-40% off."
Posted-In: Gabriella Santaniello WedbushAnalyst Color Analyst Ratings
View Comments and Join the Discussion!