Wedbush's Michael Pachter: Best Buy Could Be Gone In Six Years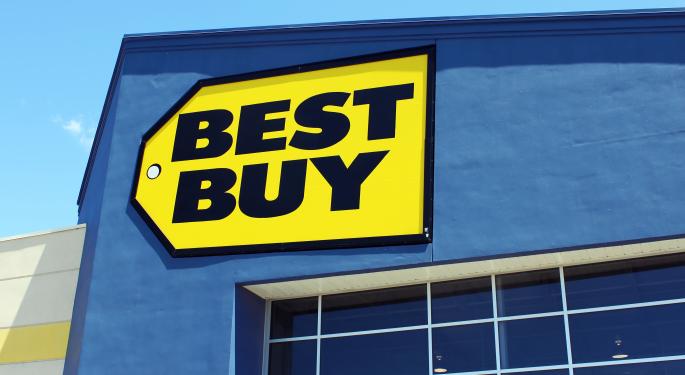 The nation's largest electronics retailer could disappear before the end of the decade.
During an interview with Benzinga, Wedbush analyst Michael Pachter expressed his doubt about Best Buy's (NASDAQ: BBY) future.
"I literally think you're gonna see Best Buy gone in five or six years," said Pachter, who noted that the retailer's media business has been declining for a long time.
"I don't think that anybody even talks about that anymore. But the sale of DVDs and CDs and games have been in a state of persistent decline for the last eight years. That's never gonna turn around, and I think everybody appreciates that."
Part of the problem is that consumers are turning to the Internet (namely Amazon) for what Pachter referred to as "brainless purchases," such as batteries, iPhone car chargers and iPhone cases. Pachter suspects that Best Buy will lose its status as a destination for these trivial and routine purchases.
"They're losing traffic like crazy and it's because the Internet has made it so easy to get that stuff," he said.
Best Buy's chief competitor, Amazon (NASDAQ: AMZN), recently announced that the company acquired millions of new Prime subscribers in the September quarter. Pachter referred to this as a "classic Amazon statistic," noting that the company neglected to specify how many users were actually added. It could be 10 million or just 2.1 million, but investors will never know.
"But the point is that Prime has been around long enough that if they added two million in a quarter, they're very likely at something around 20 million [users]," said Pachter. "If they're at 20 million people -- likely 16 million people or so in the U.S., so literally 15 percent of households with a Prime member -- those people aren't buying batteries or print cartridges or Halloween candy or anything routine at retail anymore."
As a personal anecdote, Pachter said that he recently purchased a few items from Amazon (a case, a multi-charger and three two-port car chargers) for his new iPhone 5S. Pachter said that all of these items were "significantly" cheaper at Amazon than they would have been at Best Buy.
Related: Is Microsoft's Windows Store Concept Good for Best Buy?
"Though I know that Best Buy will match price, why would I bother?" Pachter asked. "I'm on Amazon, I'm a Prime member, all the stuff was gonna be here two days after I [placed the order]."
Pachter said that his multi-charger retails for $119.99 at Best Buy, but he got it from Amazon for $91. Similarly, the Belkin two-port chargers that he ordered were $24.99 each at Best Buy. He purchased them for $13.15 at Amazon.
"There's just no reason anybody who has that kind of experience on Amazon is ever going back to Best Buy for those products," said Pachter, who estimated that Best Buy would experience a 10 percent decline in traffic over the next two or three years.
"That might not equal a 10 percent decline in revenue because I think these are lower-end products. Probably more like a three or four percent decline in revenue. But it's the highest-margin revenue. If I bought a Belkin charger for $13.15 and it's $24.99 at Best Buy, certainly Amazon didn't sell it to me at a loss. They probably bought it for $10 or $12. But Best Buy is losing $12 or so of profit. That's gonna bury them."
Related: Short Interest in Best Buy Rises Again
Pachter has a Sell rating on Best Buy, but the stock has performed well for those who bought it at the start of the year. Shares of the retailer have increased more than 253 percent since January 2.
On November 19, Best Buy announced that it had posted a profit of $54 million during its fiscal third quarter. This was a significant increase over the year-ago period, when the company reported a $10 million loss.
For a full clip of Benzinga's interview with Michael Pachter, click here.
Disclosure: At the time of this writing, Louis Bedigian had no position in the equities mentioned in this report.
Posted-In: Amazon Belkin best buyAnalyst Color News Analyst Ratings Tech Interview Best of Benzinga
View Comments and Join the Discussion!