Microsoft's First Xbox TV Series Slated For 1H 2014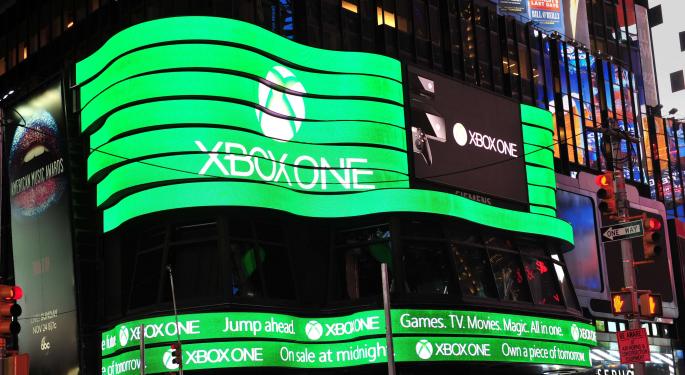 Microsoft (NASDAQ: MSFT) plans to launch its first Xbox TV shows during the first half of 2014.
According to Variety, Entertainment and Digital Media President Nancy Tellem said that she hopes the company can "put something up" in the first or second quarter.
Speaking at Variety's Dealmakers Breakfast, Tellem explained how Microsoft's online gaming and entertainment service, Xbox Live, differs from the competition.
"We aren't Netflix, we aren't Amazon, we're a different animal," she said, as quoted by Variety. "We're neither or we're a little like them. It all depends. The lack of black and white and this is the template and this is what we're following is very difficult. As we continue to do deals everyone's going to get more comfortable."
Xbox Live Gold, the paid version of Microsoft's service, has 48 million subscribers worldwide. That's eight million more than Netflix, which has 40 million global subscribers.
But, Netflix can be viewed on a wide variety of devices, including Blu-ray players and any Mac or PC. Xbox Live Gold can only be accessed through Xbox 360 (which has sold 80 million units worldwide) and Xbox One (which has sold two million units).
In March, Amazon Prime was estimated to have garnered 10 million subscribers. The company is believed to have added five million additional subscribers through October.
Amazon has not released sales data for any of its Kindle devices, but the Consumer Intelligence Research Partners estimates that there are 20.5 million Kindle e-readers and tablets currently being used.
Related: Will Xbox One's Non-Interactive Entertainment Features Trump PlayStation 4?
"There's a clear move among digital media companies to have their own proprietary content," Colin Sebastian, Senior Research Analyst of Internet and Interactive Entertainment at Robert W. Baird & Co., told Benzinga. "Microsoft, as they try to build a larger user base in the living room, they're gonna see that as one area where they need to invest."
Baird said that Microsoft can do that organically by green-lighting its own shows, by purchasing content from other production studios, or by signing an exclusive deal with a content producer.
"Or a mixture of all of the above, which I think a lot of these companies are doing," said Sebastian. "I think Microsoft is taking a page out of Amazon and Netflix's playbook, all in the interest of becoming the aggregator of content in the living room."
Sony, which just released its fourth game console, could follow suit.
"I think Sony probably has a library of content that they could use on the PlayStation [Network], if they choose," Sebastian added. "It doesn't sound like something Nintendo would probably do though."
Michael Pachter, the Managing Director of Equity Research at Wedbush Securities, feels that while Sony could deliver original video content over PlayStation Network, the company may not take action right away.
"Sony owns a lot of TV content, so is better positioned than Microsoft to do this," Pachter told Benzinga via e-mail. "But their units don't collaborate well, so I doubt we will see anything from them in the near term."
Related: Sony, Netflix Team For Original Series From 'Damages' Creators
As far as Xbox is concerned, Pachter is not convinced that video content will lure new customers overnight.
"I think that the originals will have very little impact, almost imperceptible," he said. "Nobody will join Xbox Live for $60 per year to watch one show; it would be cheaper to buy the DVD. They might once critical mass gets to 5 or 10 shows, but not in the near term."
Xbox may or may not prove to be a hub for original content.
According to Variety, Microsoft is currently trying to figure out if TV series should be only on Xbox or simply best on Xbox.
In the latter scenario, shows could be enhanced with a degree of interactive features that are only accessible on Microsoft's consoles. Some interactive elements are already planned for live sporting events.
When Xbox One was unveiled on May 21, Microsoft announced that acclaimed filmmaker Steven Spielberg had signed on to produce a brand-new Halo TV series exclusively for Xbox Live. At the time, Tellem referred to the show as a "premium TV series," but did not indicate whether or not consumers will have to pay extra to watch the show.
"If you're a subscriber to Xbox Live, you probably have a certain (as a consumer) expectation that content like that might be included," said Sebastian. "But there is a precedent set by games like Halo where you have the subscription and you buy content on top of that. I think it might be a good way for Microsoft to increase the number of Xbox Live users if they were to have some content that was unique or proprietary, but that would require that subscription."
Beyond Halo, Tellem recently told attendees at TheWrap's Power Women Breakfast that she has the ambition to make a show as grand as Game of Thrones.
Disclosure: At the time of this writing, Louis Bedigian had no position in the equities mentioned in this report.
Louis Bedigian is the Senior Tech Analyst and Features Writer of Benzinga. You can reach him at louis(at)benzingapro(dot)com. Follow him @LouisBedigianBZ
View Comments and Join the Discussion!
Posted-In: Colin Sebastian Game of Thrones HALOAnalyst Color News Rumors Analyst Ratings Tech Best of Benzinga