J.C. Penney Given a $1 Price Target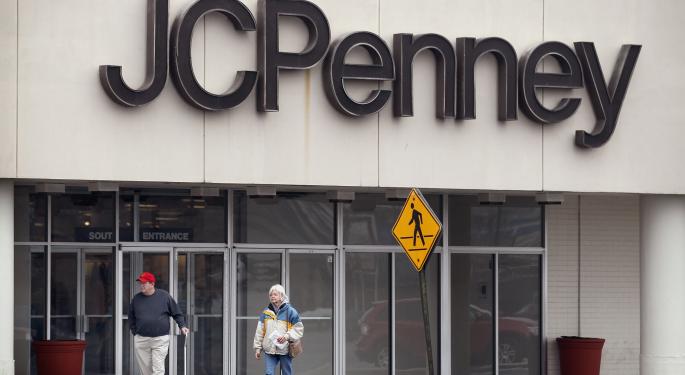 What makes for a really bad day at J.C. Penney's (NYSE: JCP) corporate headquarters?
When your stock is reiterated a "Underperform" and a $1 price target is placed on it. There are certainly a significant amount of people who advise never to listen to an analyst, but judging by Monday's performance, the $1 price target was enough to send investors running and shorts feeling a lot better about their bet.
The stock is down 3.7 percent today at $6.76—84 percent lower than its high of $42.68 in February of 2012 and down 66 percent year-to-date. It doesn't take a research report to judge Wall St. sentiment in this case but a $1 price target is shocking.
Why the downgrade? According to the report by Imperial Capital, "We are maintaining our Underperform rating on the shares, but we are lowering our one-year price target to $1 from $5. Our new $1 price target is based on the notional "option" value of the shares, given our increasing concerns the company may engage in a financial restructuring in 2014."
While that sounds ominous, the report isn't quite as bad as it sounds. The basis of the report is that the company may have the ability to stage a turnaround but investor sentiment, not helped by the media, continues to push the stock lower.
"Over time, we anticipate traffic and sales to recover, but the improvement in financial performance in F4Q13 may not be sufficient to instill confidence for equity investors and vendors."
Related: Barnes & Noble, J.C. Penney See Short Interest Rise
It goes on to note that short interest in J.C. Penney was 26 percent as of 8/23/13 (as of September 30, it was 38.6 percent.) High short interest might cause a large-scale short squeeze if unexpected good news surprises investors or a high-profile, deep-pocked investors announces a long position. In April, a regulatory filing revealed that George Soros' Soros Fund Management amassed a 7.9 percent stake in the company sending the stock soaring 11 percent the next day.
But in the end, the report doesn't see a lot of hope for the stock. "…we fundamentally believe the stock is overvalued and likely dead money over the next couple of years."
Disclosure: At the time of this writing, Tim Parker had no position in the companies mentioned.
Posted-In: George Soros imperial capital J.C. Penney Soros Fund ManagementAnalyst Color Price Target Analyst Ratings Best of Benzinga
View Comments and Join the Discussion!