Junk Bond ETFs Rebound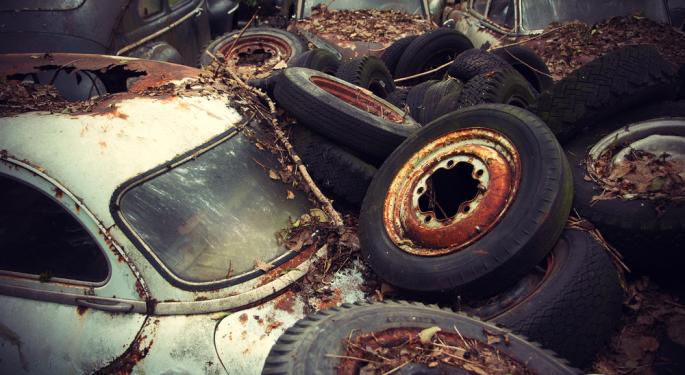 Exchange traded funds offering exposure to high-yield bonds were decked in May and June on fears of Federal Reserve tapering and the subsequent rise in 10-year Treasury yields. It was a vexing scenario that challenged investors' affinity for a previously beloved income-generating asset class.
After all, junk bonds usually have lower durations, making them less sensitive to interest rate risk. The trade-off is credit quality risk. Things got so dicey for junk bond ETFs in May and June that some traders even turned to obscure inverse funds.
Investors pulled $2.2 billion from junk bond ETFs in June. Tidbits like that make for alarming though compelling headlines from those have been hazardously been attempting to call a bottom for high-yields bonds for the better of three years now. However, the naysayers have probably forgotten to mention that investors put $2.6 billion back into those ETFs in July, according to BlackRock.
Related: Nifty Junk Bond ETFs Your Broker Forgot to Mention
Due to improved equity and bond markets and robust economic data, "speculative grade issuers benefited from these macroeconomic tailwinds, enjoying a resurgence of issuance, lower yields, and a brightening outlook as downgrades slowed and the ratings outlook showed a less negative bias," said S&P Capital IQ in a new research note.
Since the start of July, the iShares iBoxx $ High Yield Corporate Bond ETF (NYSE: HYG), the largest high-yield bond ETF, has traded modestly higher as has the rival the SPDR Barclays High Yield Bond (NYSE: JNK). Those two ETFs have over $24.6 billion in combined assets under management.
"During July, the average speculative grade yield fell to 6.22%, from 6.59% at the end of June, due to a tightening spread. The speculative grade composite spread contracted to 483 basis points (bps) from 521 bps," said S&P Capital IQ.
Declining junk bond yields mean prices for the bonds are increasing and investors in ETFs such as HYG and JNK are earning capital appreciation in addition to yield. Additionally, tighter yield spreads with U.S. government bonds imply investors are less concerned about issuer credit quality. Still, lower yields have been used by critics of junk bond ETFs as a point of contention against the asset class, alleging that ETFs such as HYG and JNK may not be offering investors adequate compensation for the credit risk they are supposedly incurring.
HYG and JNK, both of which S&P Capital IQ rates Marketweight, have 30-day SEC yields of 5.19 and 5.51 percent, respectively. The research firm also has a Marketweight rating on the PIMCO 0-5 Year High Yield Corporate Bond ETF (NYSE: HYS). HYS has an effective duration of just over two years and a 30-day SEC yield of 3.5 percent. The fund has almost $2.9 billion in AUM.
Importantly for investors considering stakes in the aforementioned funds is that the high-yield bond outlook improved last month.
"Meanwhile, the outlook for speculative grade bonds also improved during the month of July. The downgrade to upgrade ratio fell to nearly 1:1.9 in July, from near 2:1 in June. Standard & Poor's Ratings Services downgraded seven U.S. speculative-grade companies and upgraded 13 in July. By comparison, there were 25 downgrades and 13 upgrades in June. By the end of July, the share of companies with positive outlooks and ratings on Standard & Poor's CreditWatch with positive implications inched higher, while the share of those with negative outlook or ratings on CreditWatch with negative implications declined," according to S&P Capital IQ.
New issuance was also decent last month at $16.7 billion, more than double the $8.2 billion seen in June. However, July's level was below the $23 billion monthly average for U.S. high-yield debt this year, according to S&P Capital IQ.
HYG has an effective duration of 4.23 years while JNK''s modified adjusted duration is 4.46 years. However, risks do loom with high-yield bond ETFs in the form of a potentially more rigid lending environment that could be brought on by higher interest and Fed tapering.
For more on ETFs, click here.
View Comments and Join the Discussion!
Posted-In: Analyst Color Long Ideas Bonds Short Ideas Specialty ETFs Markets Analyst Ratings Trading Ideas Best of Benzinga