Tesla's Model S Is A 'Laptop On Four Wheels' (TSLA)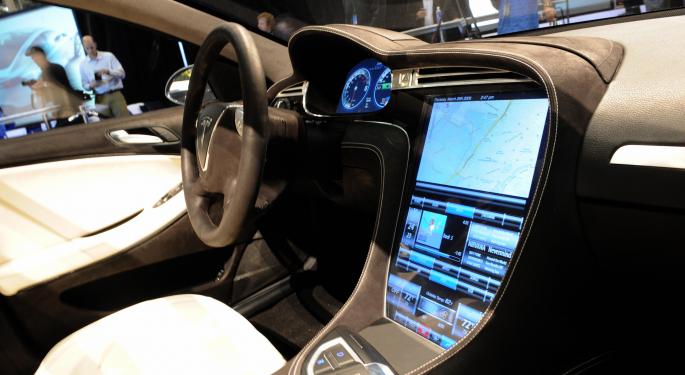 Tesla's (NASDAQ: TSLA) Model S and Model X come equipped with a beautiful touch display that dwarfs the full-size iPad.
Tesla isn't in the business of producing tablets, however. It created the Model S to change the automotive industry and redefine the merits of an electric car.
Even so, Global Equities Research analyst Trip Chowdhry argues that Tesla is not an automotive company. This is why some investors "got it wrong," he said.
"If you come from a technology background, you got the value right," Chowdhry told Benzinga. "Basically, Tesla is a transport-as-a-service company, and Model S just happens to be a mobility appliance. That means it's a laptop on four wheels. That's fundamentally what it is."
Related: Tesla Continues To Be A "Bloodbath" For Short-Sellers
Chowdhry came to this conclusion after research showed that "90 percent of the people who got attracted to the Model S is because of the 17-inch screen."
"That was the first thing people got attracted to," Chowdhry added.
"Most people who have [the] Model S are the people who are always looking forward, doing things in a new way," said Chowdhry. "They are young and old, but they are always gadget [enthusiasts]. If you want to see how big the market is for the Model S, basically every iPhone and every Android user -- their dream car is Model S. Not because of how it looks but because it has an extension of their smartphone in the car, which is the 17-inch screen."
While not every Model S owner may agree with Chowdhry's assessment, Consumer Reports noted the display's importance in its review:
"You're immediately greeted by the glow of a huge 17-inch video display that dominates the center of the dash and allows you to control everything, such as adjusting the suspension's ride height and setting up a new Slacker Radio channel," the publication wrote.
Brian Shannon, President of AlphaTrends.net, said that while the in-dash technology may lure a certain crowd, it is not necessarily the primary attraction.
"I think it's a cool-looking car," Shannon told Benzinga. "It's got great performance. Consumer Reports named it the best car they've ever test-driven. It seems like it's well-engineered. It's sexy-looking. It's got great performance -- and at a somewhat reasonable price for that performance. It's got the cool-factor, too. It's an electric car, and I think people are attracted to that as well."
Related: Tesla Soars After Q2 Results Beat Estimates
Both Shannon and Chowdhry agree that BMW's i3 will not hurt Tesla's Model S.
"I think it probably makes [the overall electric car market] more successful," said Shannon. "It just brings more competition out, profit margins get squeezed (like any business cycle). Someone like BMW is very well equipped financially to ride out that business cycle, and so far it seems like Tesla is as well with the backing of Elon [Musk] and his billions."
Shannon also said that he thinks "some major car manufacturer probably ought to buy [Tesla] at some point."
"I don't know if that's common thought -- [that Tesla is] a buyout candidate," he added. "But it seems like they're headed in the right direction. They're building the infrastructure to charge the cars as well. That could put someone in a real nice position to take them over."
Shannon said that he has "no clue" who the buyer might be, but noted that it could be one of the "major guys," such as General Motors (NYSE: GM).
"Who knows?" Shannon added. "I am just completely speculating here."
While mergers and acquisitions seem to be a monthly occurrence for tech companies, they occur much less frequently in the auto industry.
After failing to sell two of its divisions, Saturn and Hummer, General Motors decided to shut them down.
Ford (NYSE: F) had more success in unloading the Jaguar and Land Rover brands, which were purchased by Tata Motors. Ford also sold Volvo to Geely and discontinued the Mercury brand.
These sales and closures may prevent American automakers from considering any major acquisitions for the time being. But a lot could change between now and the time that Tesla decides (if it ever decides) to merge with another firm.
Disclosure: At the time of this writing, Louis Bedigian had no position in the equities mentioned in this report.
Louis Bedigian is the Senior Tech Analyst and Features Writer of Benzinga. You can reach him at 248-636-1322 or louis(at)benzingapro(dot)com. Follow him @LouisBedigianBZ
Have your say on the future of Tesla! Fill out the survey below and have your opinion heard:
Posted-In: AlphaTrends.net Android BMW Brian Shannon Elon MuskAnalyst Color Analyst Ratings Tech Best of Benzinga
View Comments and Join the Discussion!