Belus Capital's Brian Sozzi Says J.C. Penney Could Be the Next 'Circuit City, Blockbuster or RadioShack' (JCP)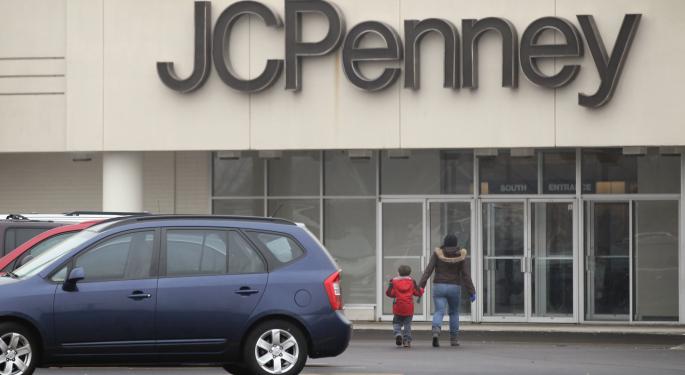 J.C. Penney (NYSE: JCP) shares plunged in late day trading Wednesday on reports from The New York Post that CIT (NYSE: CIT) was set to pull its inventory financing from the company.
Pulling of this sort of financing would be nearly a kiss of death for any retailer, not just one that is struggling with its liquidity, as is J.C. Penney. Without short-term financing for its inventory to pay vendors, J.C. Penney may not be able to place its orders with the key back-to-school and holiday seasons coming up.
"Story Makes Sense"
Brian Sozzi, CEO and Chief Equities Strategist of Belus Capital Advisors, spoke with Benzinga as shares plunged. "The story makes sense," he said, "because we were getting some rumors that the quarter was going to be weak."
Sozzi noted that the cash and liquidity position for the company is a weak point and the company relies on its short-term financing provided by corporate lenders such as CIT to finance its purchasing.
Weak Second Quarter?
The Post reasoned that CIT is backing out of financing J.C. Penney because the second quarter showed a massive deterioration in operating results. "We spoke to the company in June," continued Sozzi, "and management said that they saw a slight upturn in sales in June." However, he reasoned that either a) the second quarter was not as good as hoped when he spoke to the company or b) that April and May were just so awful that even a relatively modest up-tick in June was not enough to keep the company financed.
"If there's any consolation, it's that [the financing] is tied to smaller manufacturers, not the bigger guys like Polo," added Sozzi. Sozzi said that if the company were to lose one of the big brands, the company might be as good as dead.
"When I heard the story, I had this nightmare scenario in my head that reminded me of Circuit City, Blockbuster, and RadioShack (NYSE: RSH)." Sozzi noted that when big retailers lose their financing, it usually means they are close to insolvency; "that's retail history 101."
Shares Skid
J.C. Penney shares plunged on the news to a low of $14.10 after trading near $16.30 before the plunge. Shares closed at $14.60 and traded near $14.65 in the after-hours session.
Benzinga technical analyst and co-host of Pre-Market Info Joel Elconin weighed in on the charts and noted that the stock does not have much support after this drop. "J.C. Penney Looks to Have Major Support at its April 10th Close of $13.55; Back in March 09 it Closed at 13.71; Closed at 14.18 in Feb 09; 13.55-14 Looks to be a Range to Watch."
"14.07 Held in October 2002 and in 2009; February 2001 it Traded Down to 12.98 Which Provides the Lowest Known Support."
Posted-In: Analyst Color Technicals Hot After-Hours Center Markets Analyst Ratings Movers Trading Ideas Best of Benzinga
View Comments and Join the Discussion!