Apple Earnings Preview: Lackluster Quarter Expected (AAPL)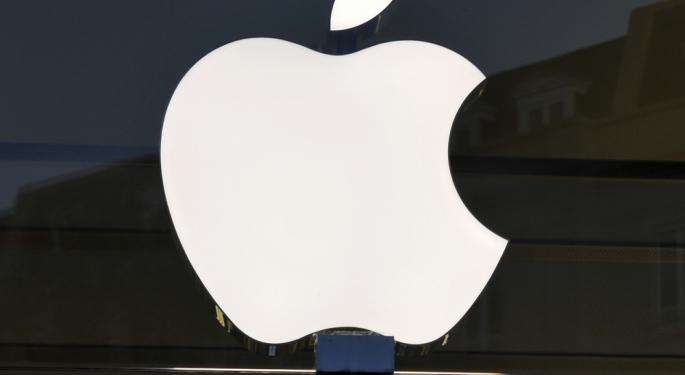 Apple (NASDAQ: AAPL) is expected to report fiscal third quarter results after the bell Tuesday.
The company is expected to report a lackluster quarter with anticipated EPS to decline from the same quarter a year ago on relatively flat revenue. Apple's stock has also massively underperformed the market over the period and is in need of a catalyst if it is to catch up.
Third Quarter Estimates
For the fiscal third quarter of 2013, analysts expect Apple to report earnings per share of $7.31, lower than the $9.32 reported a year ago by 21.6 percent. Revenue is expected to rise slightly to $35.09 billion from $35.00 billion a year ago, a gain of 0.26 percent.
Ahead of the earnings, analysts weighed in on the stock, with a few showing reservations ahead of the report. Many also highlight that future products could be key to Apple's success.
iPhone to Drive Upside
Morgan Stanley issued a note on July 17 previewing Apple's earnings. The firm maintained its Overweight rating and $540 price target ahead of earnings. Morgan Stanley expected EPS of $7.22, below consensus, on revenue of $33.5-35.5 billion, roughly in line with consensus.
"We believe Apple could ship at least 29M iPhones in C2Q13, above consensus of 26.5M," wrote the analysts. "Demand data from our AlphaWise Smartphone Tracker and US Telecom analyst Simon Flannery's estimates, and supply chain checks by our Asia/Pac Tech analyst Jasmine Lu all suggest 29-32M iPhone shipments." They also note that iPhone strength could mean that there is upside to their EPS estimate.
"Potential June Q beat, accelerating new iPhone builds, and broad investor expectations for conservative guidance make us positively biased into earnings but shares are unlikely to re-rate before new carrier distribution, new services, or new products are announced with the next catalyst the late September iPhone launch."
New Products In Focus
Société Générale also reiterated a Buy rating on the stock ahead of earnings and a $500 price target, but noted that this quarter could be weak. However, the firm believed that any indications of new products will be closely watched as they believe that the market is less concerned with past performance and more interested in future product lines.
"We believe that demand for the iPhone remains reasonable but that demand for the iPhone 5 has tailed off even more quickly than the demand for the 4S in 2012. We are anticipating 26.1m iPhone units sold within the quarter (Q3 FY12 26.0m, cs 27m), with the iPhone ASP falling to below $600 for the first time," wrote the analysts. "For the iPad, we estimate that 21m were sold, of which 4m were iPad minis. We expect sales of $35.1bn (cs $35.0bn, guidance $33.5bn to $35.5bn), with handset making up 43% and tablets 26% of total turnover."
"We think the key questions for Apple currently have less to do with quarterly numbers as Apple's product release schedule is now well understood or heavily leaked. So we will be looking for signs of new products such as the low-priced handset, which has been the subject of much market speculation, and possibly the iWatch. However, the CEO suggested at the last results conference call that we would have to wait until the fall for the introduction of new products."
Volatility Expected Ahead of Product Transition
Bank of America is also bullish on the stock but sees the potential for volatility over the next few months ahead of the new product releases. The firm reiterated a Buy rating and $540 price objective ahead of earnings.
"We model 16.5mn iPads in C2Q13, 16mn in C3Q and 37mn in C4Q (~21%/~15% of total revenue/GP), reflecting a launch of the iPad 5 in Sept. and the iPad mini 2 (with retina display) in C4Q," wrote Bank of America. "A lack of meaningful activity in the supply chain today for iPad mini seems to support our view, although visibility into C2H13 remains poor, and the iPad mini 2 launch in C4Q will largely depend on the supply chain's activities in Aug-Sept."
"iPhones remain the most important driver (~50%/~60% of total revenue/GP), and the supply chain appears active with the low-cost iPhone (e.g. panel, memory) today, consistent our view that iPhone 5S and low-cost iPhone will be launched in C3Q13. While we have not incorporated lower-cost iPhones into our estimates, we previously wrote that a launch targeting emerging markets could add ~$11-12bn revenue (6% accretion) and ~$1.00-1.60 EPS (3% accretion), over time."
Waiting Is Painful
Colin Gillis at BGC Partners wrote that "waiting for new products to launch has become painful" recently when he reiterated a Buy rating and $500 price target. He expects Apple to outperform the market heading into the second half of the calendar year.
"We continue to expect that Apple may outperform the index heading into its seasonally stronger second half of the calendar year and in front of an expected product refresh for its iPhones and iPads," he wrote. "That said, the product drought year to date in 2013 has been frustrating, and Apple has been slow to react to consumer desire for larger smartphone screens, entry level price points on new phones (not just old models), and the growing trend of subsidized/no- profit hardware."
Gillis actually sees upside to the current quarter's numbers, as he forecasts earnings per share of $7.60 and revenue of $36.0 billion. "The concern is that the company may repeat the pattern of the March quarter which included modest upside but worrisome June quarter guidance. As the product refresh cycle looms we expect both demand of the older products to wane, and an inventory drawdown to negatively impact unit shipments."
"Finally, Apple's international results may be negatively impacted by a stronger U.S. dollar. That said, we believe this possibility is already reflected in the shares and investors remain willing to see the potential of the product refresh in the second-half of the calendar year."
Light At the End of the Year
Piper Jaffray's Gene Munster sees a positive end to the year for Apple despite his view for an "uninspiring" quarter. He has a $655 price target, an Overweight rating and sees EPS of $7.10 and revenues of $34.4 billion for the quarter.
"For Apple's June report, we believe that the trends in the business (units/gross margin) are uninspiring, but that the trends will reverse as Apple introduces new products. We believe this is evidenced by EPS as we have earnings down 16% y/y in Sep-13, flat in Dec-13, and up 13% in Mar-14."
"In terms of the quarter itself, we note that Apple reported 4% upside to the midpoint of last quarter's guidance. Assuming the same upside implies $35.9B in revenue vs the Street at $35.2B. We expect midpoint of Sep-13 revenue guidance of $34.4B vs. Street at $37.8B due to lower iPad's. We continue to believe new products (iPhone 5S, cheaper phone, television, iPhone 6 larger screen, watch) over the next 6 quarters will move shares higher."
"Given Apple's new guidance policy, it is less valuable to try to use historical guides to predict how AAPL may guide Sep-13. The Sep-13 guide may depend heavily on whether the iPhone 5S launches in September or October. We expect the phone will launch toward the end of the quarter. The issue for Sep-13 is Street iPad numbers."
Weak Implications From Carriers
Jefferies is cautious heading into earnings as they note that numbers from carriers including Verizon (NYSE: VZ) hint at weakness. "Verizon iPhone activations were inline with our 3.8M est, which supports an inline to slightly better CQ2 for Apple depending on inventory adjustments; however, the key remains that CQ3 guidance is likely to be worse than expected."
Jefferies has a hold rating on Apple and a price target of $405.
View Comments and Join the Discussion!
Posted-In: Analyst Color Earnings News Price Target Previews Reiteration Intraday Update Markets Best of Benzinga