Hedged Yen ETFs Could Have Much More Upside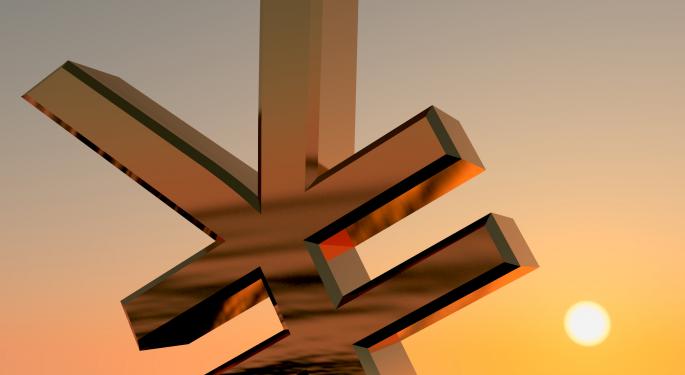 The yen is the world's worst-performing developed market currency this year and that has been excellent news for those equity-based ETFs that also offer a hedge against fluctuations in the dollar/yen currency pair.
Japanese Prime Minister Shinzo Abe's efforts to depress the yen have helped make the WisdomTree Japan Hedged Equity Fund (NYSE: DXJ) this year's most popular ETF in terms of inflows. More important than being the prettiest girl at the prom, DXJ has delivered in terms of performance, up more than 25 percent year-to-date.
Though less heralded, and that probably should not be the case, the db X-trackers MSCI Japan Hedged Equity Fund (NYSE: DBJP) has been a stellar performer as well as global central banks have boosted the hedged currency ETF theme.
With DXJ and DBJP each ranking among the top-performing ex-U.S. developed market ETFs this year, investors might perceive the trade as exhausted or that the yen does not have much further to fall. Then there is the mid-May through early June declines experienced by Japan ETFs that arguably stirred investors' conviction that the yen will stay weak and that the world's third-largest economy really is on the road to recovery.
Still, DXJ and DBJP are both up about eight percent in the past month, but with both funds trading well off their 52-week highs, value may remain with these ETFs, particularly if Credit Suisse's recent call on the yen proves accurate.
USD/JPY currently trades just over 99 and even though the yen has tumbled 20 percent against the greenback since November, Ray Farris, global head of currency strategy at Credit Suisse said he sees the pair trading to 120 in the next 12 months, Bloomberg reported.
The combination of continued monetary easing by Japan's central bank while the Federal Reserve gets closer to tapering stimulus "should amplify the effect of the BOJ's policy on the yen," Farris told Bloomberg.
At its May peak, USD/JPY traded around 103.20, according to data from Investing.com. That coincided with 52-week highs of almost $54 for DXJ and exactly $42 for DBJP. Each one-cent move in USD/JPY does not necessarily translate into a $1 move for these ETFs.
Using DXJ as the barometer, investors can see the ETF flirted with $54 when USD/JPY was slightly above 103, USD/JPY at 120 could easily result in $DXJ trading at or above $60, underscoring the utility of the hedge yen component and the fund's heavy allocation to Japanese exporters.
Investors should also note that Credit Suisse does not even have the most bearish call on USD/JPY. The bank's call of 120 is the third-most bearish for the second quarter of 2014, with the median call at 109, Bloomberg reported. Most analysts see the pair trading at 105 by the end of this year, implying DXJ and DBJP offer some medium-term upside from current levels.
Assuming the yen continues to fall against the dollar and forecasts such as 105, 110 and 120 are realized, a new ETF stands to be a beneficiary as well. The WisdomTree Japan Hedged SmallCap Equity Fund (NYSE: DXJS) debuted late last month as the small-cap equivalent of DXJ.
DXJS can be paired with large-cap Japan ETFs because the new fund is designed to be a play on the Japan reflation trade with a focus on recovery in the country's domestic economy.
DXJS allocates nearly 51 percent of its combined weight to consumer discretionary and industrial names and Japanese small-caps in those sectors derive an average of 79 percent of their revenue from Japan, but large-caps from the same groups garner an average of just 44 percent of sales from inside Japan, according to WisdomTree data.
For more on ETFs, click here.
Posted-In: Analyst Color Long Ideas News Short Ideas Specialty ETFs New ETFs Small Cap Analysis Price Target Best of Benzinga
View Comments and Join the Discussion!