Chinese Manufacturing Slumps Further In June; Liquidity Crunch Hurts Small Businesses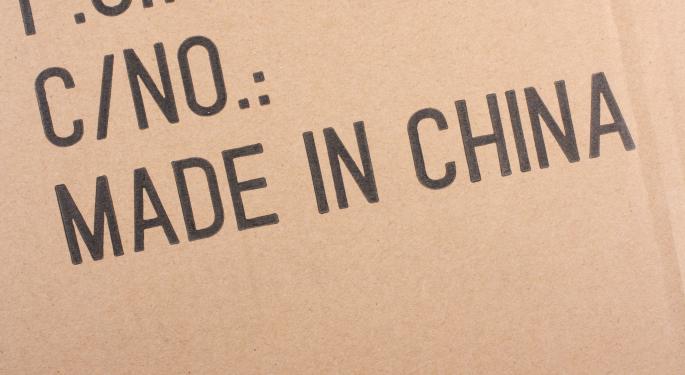 China's manufacturing sector showed signs of slowing again in June as two key measures of manufacturing output fell to four- and nine-month lows respectively in the country that accounted for nearly 38 percent of world GDP growth and 21.8 percent of emerging market growth in 2012.
Manufacturing Declines
The official reading of China's manufacturing Purchasing Managers Index declined in June to a four-month low of 50.1, in line with forecasts but showing a decline from May's 50.8. In February, the index declined to 50.1 which was the lowest reading since September's reading of 49.8.
Related: ISM Manufacturing Index Rises In June As New Orders, Production Rise, Employment Falls
The sign that China's manufacturing sector, which accounted for a massive 46 percent of GDP in 2012 and is China's largest economic segment, is bearish for the world economy as a whole. For reference, a reading over 50 indicates growth while a reading below 50 indicates contraction for the PMI and June's figure thus shows the slightest of increases.
The drop also raises fears that the recent spike in short-term borrowing rates and liquidity crunch among non-bank financial institutions has spread to the real economy. If this is the case, a much more profound contraction could be in the cards as similar interest rate spikes in the U.S. and other developed economies precluded a financial crisis that spread into a global recession in 2007.
Notably, output in the month actually rose according to the Bureau of National Statistics while new orders, a key leading indicator, declined but still showed slow growth in June. New export orders declined at the same rate as in May after bottoming in April, which could be a sign that global demand for Chinese goods may be bottoming and employment contracted at a faster pace than in May in the manufacturing sector.
Smaller Companies Feel the Pinch
The other manufacturing PMI released overnight by HSBC, which focuses on smaller and mid-sized enterprises vs. the official number which surveys the largest companies in China, declined further in June to a nine-month low. The HSBC China Manufacturing PMI fell to 48.2 in June from 49.2 in May on an expectation of 48.3.
Hongbin Qu, Chief Economist, China & Co-Head of Asian Economic Research at HSBC, commented on the release, saying, "Falling orders and rising inventories added pressure to Chinese manufacturers in June. And the recent cash crunch in the interbank market is likely to slow expansion of off-balance sheet lending, further exacerbating funding conditions for SMEs. As Beijing refrains from using stimulus, the ongoing growth slowdown is likely to continue in the coming months."
The recent liquidity crunch was expected to hurt smaller businesses more than large ones, as Credit Suisse China Economist Dong Tao said last week, as larger companies tend to have more cash and also have credit lines available for short-term needs. However, higher short-term rates tend to hurt smaller companies more and the recent slowdown of smaller companies relative to large ones confirms this relationship.
Markets Gain As Rates Decline
Chinese shares rose overnight despite the weak data as overnight rates continued to ease on hopes that the People's Bank of China was set to step in and inject liquidity into interbank markets. The Shanghai Composite Index, the benchmark index of the largest companies in China, rose 0.81 percent while the CSI 300 Index, which tracks 300 of the largest Chinese companies, gained 0.58 percent.
Meanwhile, overnight lending rates in SHIBOR (Shanghai Interbank Offered Rate) market declined 48.5 basis points to 4.456 percent after touching 13.444 percent on June 20. One week borrowing rates, another key measure of market liquidity, fell 74 basis points overnight to 5.423 percent after touching 11.004 percent on June 20.
Posted-In: Analyst Color News Emerging Markets Commodities Events Global Econ #s Economics Best of Benzinga
View Comments and Join the Discussion!