Toyota to Roll Out Competitively Priced Hydrogen Powered Car by 2015 (TM)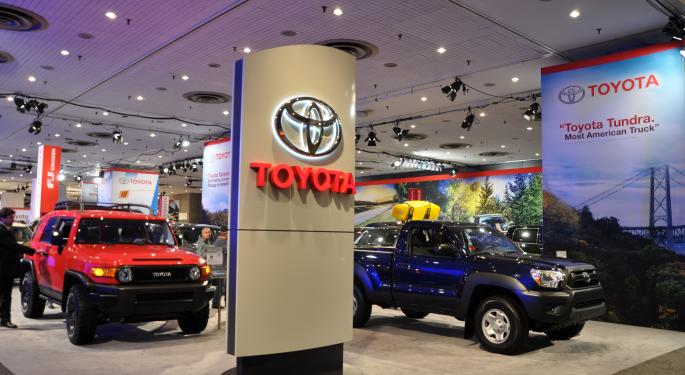 When was the last time you heard anyone discussing "hydrogen fuel cells?" Been awhile, hasn't it?
Well, get ready, they're back! So said Bloomberg, reporting the news that Toyota Motor Corporation (NYSE: TM) plans to roll out a hydrogen fuel cell powered car in 2015.
Hydrogen fuel cells have long made sense. They make electricity using the most abundant element in the universe and emit a harmless by product consisting only of water vapor.
Fuel cell-powered cars were hailed 10 years ago as the gasoline replacement vehicles of the future. General Motors Co. (NYSE: GM) predicted that millions of hydrogen fuel cell powered cars would be on the nation's highways by now.
So, what happened? The cars were deemed too expensive to produce. For one thing, the precious metals needed to produce fuel cell stacks cost a lot. Not to mention the high-pressure hydrogen tanks. Prototypes of hydrogen fuel cell cars have cost up to $1 million each. That's a lot – even for a car that burns hydrogen gas and spits out steam.
All this led John German, program director with the International Council on Clean Transportation environmental policy group to say, "We're now in the 'trough of disillusionment' for fuel-cell vehicles." German was citing a phrase from Gartner Research's "Hype Cycle" that charts viability as it relates to new technologies.
Attention shifted to hybrid gas and electric vehicles like Toyota's Prius and now, companies like Tesla Motors Inc. (NASDAQ: TSLA) and Nissan Motor Co. are pushing battery-only cars.
Cost is not the only drawback with hydrogen fuel cells. Commercial hydrogen is produced from natural gas. The process uses a lot of power and emits carbon – thereby defeating the purpose of using hydrogen in the first place according to critics.
It takes additional energy to compress the gas for storage and there are few fuel stations at present – all challenges to mass-use of hydrogen fuel cell powered vehicles.
Tesla chief executive officer, Elon Musk, cracked "Fuel cells should be renamed 'fool cells,' they are so stupid," in an interview in May.
Toyota sees it differently. Moreover, they have a record of success on which to back their opinion up.
In 1997, Toyota introduced the first mass-produced hybrid, the Prius, and has since sold almost 4 million, making the car the most successful alternative powertrain vehicle line ever.
Now, the company says it can produce a hydrogen fuel cell powered car that will cost in the neighborhood of $50,000. That isn't cheap, but it is competitive with the Tesla Model S, which goes for just under $70, 000.
Moreover, according to Toyota the car will go about 300 miles between fuelings.
Shares of Toyota were up 2.4 percent at $120.92 in early trading Thursday.
At the time of this writing, Jim Probasco had no position in any mentioned securities.
View Comments and Join the Discussion!
Posted-In: Analyst Color News Retail Sales Topics Events Analyst Ratings Media General Best of Benzinga