Boeing and Airbus Duke it Out in Paris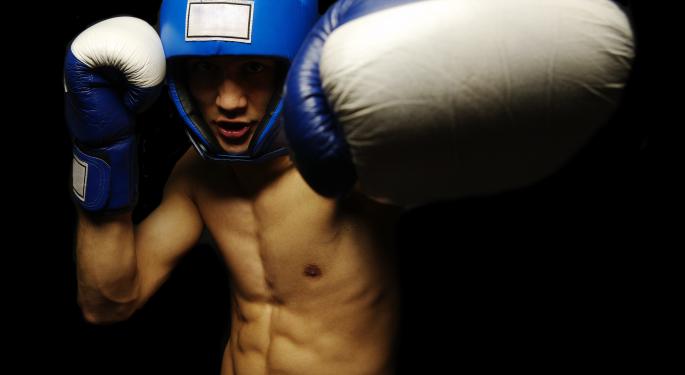 Boeing (NYSE: BA) and archrival, Airbus are going toe-to-toe, or perhaps more appropriately, wing-to-wing, at the Paris Air Show.
Both companies, according to The Associated Press, say they have promises for sales of their respective long haul, wide-body jets.
For Boeing, the list price on anticipated sales of 10 Dreamliner 787-10Xs to GECAS (General Electric (NYSE: GE)'s aircraft leasing operation) is valued at $2.4 billion, although as The The Associated Press pointed out, customers often obtain deep discounts on large multi-aircraft buys.
Airbus stands to gain $8 billion (list price) for its promised deal with Doric Lease Corp. involving 20 Airbus A380s.
According to Boeing, German airline Lufthansa is also on the books for an order of Boeing's long haul 777.
Both Boeing and Airbus hope to cash in on growing interest in their larger, more expensive long-haul jets
The rivalry between the two aviation giants, showcased at Le Bourget airfield outside Paris, is about more than bragging rights. Both airlines have had success selling smaller airplanes but the real money (and real profit) comes from the big models like the Airbus A380, designed to carry up to 800 passengers and Boeing's Dreamliner, which seats 365.
To compete with the smaller Dreamliner, Airbus created its new wide-body A350 with comparable seating of 350 passengers. Making use of fuel-efficient lightweight carbon fiber, Airbus hopes to usurp Boeing's toehold in that part of the long-haul market.
Ray Conner, chief executive at Boeing's civilian aircraft division doesn't seem to be worried. He said the newly revamped 777 isn't a lot heavier than the A350 and has the added advantage of being able to fly farther than the competition.
According to Conner, "The Airbus A350-1000 will be a generation behind on engine technology."
In addition to its Boeing order, Lufthansa, playing both sides of the aisle, confirmed a deal in March for 100 of Airbus's smaller A320 aircraft.
Los Angeles-based ILFC placed a firm order with Airbus for 50 short-haul A320neo jets. All-tolled, Airbus pending deals are worth $15 billion.
Boeing, however, isn't exactly throwing in the towel. "It's going to be a fight," Boeing's Conner said to journalists Sunday, according to USA Today.
"We look forward to it," he added. "I think that's going to be a great competition. Our customers are going to benefit from the fact that both companies are going to have a (competitive) wide body product line."
Despite the buzz about Airbus and its new A350, Boeing remains the world's leading seller of wide body passenger jets leading Conner to punctuate his comments with this: "I don't think anybody covers it better than the Boeing Company."
In early trading Monday, Boeing shares were up just under 1.5 percent at $103.32.
At the time of this writing, Jim Probasco had no position in any mentioned securities.
Posted-In: Boeing Co. General ElectricAnalyst Color News Retail Sales Events Analyst Ratings Media Best of Benzinga
View Comments and Join the Discussion!