The Elon Musk Bump: $127 Billion of Market Value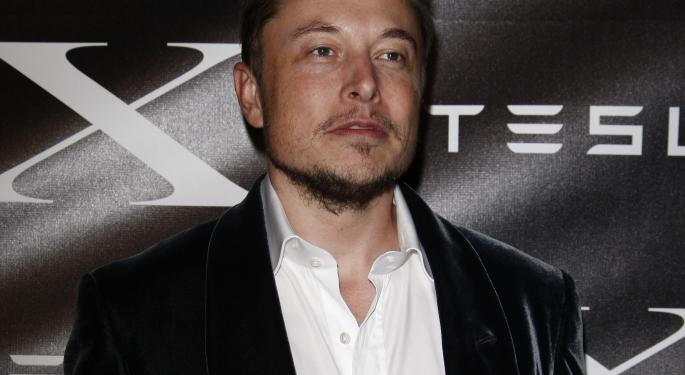 There are a few stocks that are publicly traded that have recently gotten the proverbial "Elon Musk bump" as the now-iconic entrepreneur and visionary stakes his claim in financial markets.
However, recent jitters over the long-term sustainability of the new technologies his many companies present, highlighted in this weekend's cover story in Barron's, only further raise the question: what is the true value of the Elon Musk brand?
Tesla Battle
Recently, a huge debate amongst analysts has surfaced over Tesla (NASDAQ: TSLA). Musk owns 25 percent of the $12 billion company as the founder, Chairman, CEO, and Product Architect. The stock has been on an absolute tear recently, effectively quadrupling from its 52-week low to Friday's close of $102.04.
The company has launched its latest car, the Model S, to much acclaim, so much so that the car won the coveted Motor Trend Car of the Year Award for 2013. However, Barron's highlighted some concerns over the car and the company in this weekend's issue.
"It will take time to discover how much sustained demand there is for a marvel priced above $90,000 (the price for a Model S Performance version, after a $7,500 federal tax credit). No one yet knows what portion of Tesla's initial buyers were "early adopters," unrepresentative of ongoing demand. Tesla irked analysts last month when it stopped disclosing its end-of-quarter order backlog -- which might have shed light on the issue -- after previously trumpeting a 15,000-unit reservation list."
"The Model S won't get Tesla profits to a level that justifies today's stock price. The company expects to sell 21,000 worldwide this year, and Musk told shareholders on Tuesday that the car's annual sales might eventually reach 30,000 or 40,000. At about the 30,000 units that most bullish analysts predict for 2014, Tesla might earn about a buck a share (if you don't count the expense of stock options) -- which means the $102 stock is flying at 100 times next year's earnings forecast."
Nevertheless, Morgan Stanley's auto team, led by Adam Jonas, still calls Tesla its number 1 North American auto pick with an overweight rating and a $109 price target. "As long-time auto analysts, we are naturally skeptical about the potential for electric vehicles to significantly disrupt the global market. That said, we believe Tesla is facing this challenge in the right way. And there is no denying the company has achieved an early level of product success that nobody in the industry had expected."
"Tesla's progress to date is thanks to a combination of technology, strategy and management execution. The last 2 weeks have seen a major shift in the addressable market for the Model S, the potential to monetize regulatory credits and its capital markets strategy that help de-risk the story and provide financial footing to up the ante on both EVs and the supporting infrastructure."
Goldman Sachs was more cautious on the stock when it reiterated its six-month price target of $61 on the stock and a neutral rating. "Post our factory visit, we see Tesla as well positioned to hit its 21K production milestone for this year. The 25% gross margin target is more of a challenge, in our view. That said, our meetings underscored that there remain some very significant cost levers to pull to improve GMs, and that the exit rate in 1Q'2013 was higher than the reported average for the quarter."
"While the company is no longer reporting formal backlog numbers, we were also encouraged by management commentary that points to improving US demand trends for the model S, as well as a significant growth opportunity in Europe and Asia."
Barron's also warned that the recent move in the stock looks a lot like a textbook short squeeze and the that the latest plans to finance future battery upgrades to ensure resale value jeopardizes the long-term health of the company's balance sheet. "Traders say that the recently unborrowable shares are available again and can be had for a single-digit interest rate, instead of last month's 90% vig. With the shorts in retreat, Tesla should trade more in line with its fundamentals."
PayPal Success
Elon Musk does have a track record of success, and this should be noted with his successful acquisition, ramp-up, and sale of PayPal to eBay (NASDAQ: EBAY). After founding online financial services company X.com in March of 1999, Musk merged with Confinity, founder of PayPal, in a 50/50 deal. The company later sold PayPal, the whole company, to eBay in October of 2002 for $1.5 billion, of which Musk owned 11.7 percent.
Now, PayPal is one of the most successful payment processing and p2p companies in the world and has been a large boost to eBay shares in recent years. Justin Post and Paul Bieber at Bank of America Merrill Lynch recently reiterated their buy rating and $67.00 price target, representing about 34 percent upside from Friday's close.
"Risks to our price objective are: 1) increasing competition for third-party sellers from Amazon (NASDAQ: AMZN) and potential eCommerce market share losses, 2) PayPal share loss on mobile from increasing competition from Google (NASDAQ: GOOG), Mastercard (NYSE: MA), Visa (NYSE: V), Square, Groupon (NASDAQ: GRPN), etc., 3) decelerating Marketplace growth and a lack of positive impact from Marketplace changes, 4) Asian competitive pressure on Int. GMV, 5) currency risk, 6) macro-headwinds, especially in Europe, and 7) elevated expectations for offline PayPal. The stock has been subject to heavy volatility in the past based on GMV growth and market share trends and this volatility could increase due to economic uncertainty."
Solar City
The last publicly traded company to get the Elon Musk Bump would be SolarCity (NASDAQ: SCTY). Musk provided the initial concept for SolarCity and remains the Chairman of the Board while his cousin Lyndon Rive is CEO and Co-Founder.
The Value of the Musk
The three companies that Musk has left a mark on all have competitors who are publicly traded, so investors can try to extrapolate the value of Musk's premium. For example, Tesla is an auto stock and one can use comparable auto companies as a proxy for the industry to extrapolate the premium that Musk's brand has on the companies. An easy metric to use would be to compare price-to-earnings multiples however, to also back out the fact that Tesla is smaller and growing faster than many of its counterparts, it is more prudent to use the PEG ratio as a comparable metric.
Tesla trades at a PEG ratio of 73.97 based on consensus forecasts of its 5-year average growth rate. Comparably, General Motors (NYSE: GM) trades at a PEG ratio of 0.66, Ford (NYSE: F) trades at a PEG ratio of 0.92, Toyota Motor Corp. (NYSE: TM) at a PEG ratio of 0.33, and Honda Motor Corp. (NYSE: HMC) at 0.72. Taking a market-cap-weighted-average of these four comparable companies, the average PEG ratio is about 0.54. Therefore, at least at Tesla, Musk's premium is a shocking 73.42 or about $101 billion in market cap.
At Solar City, the company has a market capitalization of $2.89 billion and a PEG ratio -0.71, as analysts expect sales to decline over the next five years. Competitors include First Solar (NASDAQ: FSLR), SunPower Energy (NASDAQ: SPWR), and Yingli Green Energy (NYSE: YGE). The weighted-average PEG ratio of these three stocks is -.26, implying that Musk is actually costing SolarCity about $1.31 billion in value, bringing the aggregate value of Musk to just under $100 billion.
Lastly, PayPal has been a large source of value to eBay. In the first quarter, PayPal contributed $373.1 million to eBay income. The analysts at Bank of America Merrill Lynch assume a 22 times earnings multiple for the segment in their sum-of-the-parts valuation, which brings the value of Paypal to $32.8 billion. Analysts at Credit Suisse, after first quarter earnings, noted that PayPal revenues should continue to grow low-single digits over the next five years, so assuming a 12 percent annual rate of sales growth and consistent segment margins of 24.1 percent, the segment's earnings should grow about 2.9 percent per year. Therefore, the segment's PEG ratio can be estimated to be 7.61.
Competitors to PayPal that are publicly traded include Visa (NYSE: V) and MasterCard (NYSE: MA). The weighted-average PEG ratio of these two stocks is 1.28, implying that the residual Musk value in PayPal is equal to $27.3 billion.
$127 Billion
Taking the sum of the Musk values in these companies, Elon Musk is worth about $127 billion to these three companies. To put that in perspective, according to Bloomberg live data of the world's richest 40 people, Musk's value to public companies is worth 75 percent more than Bill Gates, 90 percent more than Carlos Slim, and more than double Warren Buffet.
The numbers are staggering. Forbes estimates Musk's personal net worth to be about $2.3 billion as of March. Therefore, the value that he has left in companies has exceeded his wealth by more than 46 times!! Musk is the prime example of great innovation and excellent leadership leading to value creation not just for a few, but for many.
Posted-In: Analyst Color Entrepreneurship Barron's Price Target Success Stories Startups Intraday Update Markets Best of Benzinga
View Comments and Join the Discussion!